Are you ready to embark on a musical adventure through the enchanting world of Disney?
Get your guitar ready because, in this article, we have gathered the best Disney guitar songs that will transport you to magical realms filled with melody and storytelling.
Whether you're a beginner strumming your first chords or an experienced guitarist seeking a new challenge, this collection has something for everyone.
Join us as we dive into the beloved hits from movies like The Lion King, Frozen, Beauty and the Beast, and many more.
So, grab your guitar, unleash your inner musician, and let the Disney magic flow through your fingertips.
Let's embark on this musical journey together and let the melodies carry us to a world of imagination and wonder.
1. Let It Go – Frozen
To begin with, we have a smooth, anthemic beloved song from one of Disney's greatest successes.
Featured in the movie soundtrack Frozen released in 2013 and performed by Idina Menzel, this track is lovely and easy to learn.
The original version is on the Ab key and is played with the capo on the first fret.
The intro and chorus share the same chord progression: Em – C9 – D – A4 – Am with the last chord interspersed, first Am and in the second bar A.
What comes next is the pre-chorus that can be easily played just by strumming a two-chord progression, D & C.
Then, the chorus makes its appearance by playing G – D – Em – C three times, and in the last section Bm – Bb – C.
After that, the song follows the same structure, and the only variation is a bridge consisting of C – C/G played twice, then a D chord for a whole bar, and finally Em – C – D – Am – C that leads you to the final chorus.
2. You've Got a Friend in Me – Toy Story
This track is perhaps one of the best Disney songs ever. Composed by Randy Newman and Lyle Lovett in 1995 is a jazzy tune known by young and old alike.
Although this tune is pretty famous, isn't so easy to master.
First, includes some unusual chords such as augmented and diminished chords but through practice, you might learn how to play it.
The track also uses a capo but this time in the third fret, the intro starts with the progression C – E7 – Am – G#7 – C – G – C – Gaug – C9 – Gaug.
After that, the verse begins with two bars of complex chords, C – Gaug – C – C7 (or C9) and then F – F#dim7 (or C#dim) – C – C7 (or C9).
Then you have a less complicated chord progression: F – C – E7 – Am three times and then D7 – G – C – A7 twice but on the second time replace the A7 for an E7 after the C and play the intro melody and that's the end of the first verse.
Later on, the verse is repeated but instead of playing an E7 to come back to the intro, it plays a C7 that leads you to the bridge.
The bridge starts with F – B – C – B7 – C and the next section can be played in different ways but the easiest is B – B7 – Em – A7 – Dm – G.
When trying to learn this piece, stick to the video tutorial because chords are hard to fret, and rhythmic patterns vary throughout the song.
3. Circle of Life – The Lion King
In the 1994 film The Lion King, this lovely song by Elton John and Tim Rice has withstood the test of time.
This popular tune is really easy to play on guitar because consists of a bunch of cowboy chords.
The verse uses the progression G – Am – D – G – Em – Am – F – D and plays it twice.
What comes next is the chorus which has two sections: G – F – C – D and then G/B – E7 – Am – Eb – C – G – C – G.
Once you get the hang of it and remember the structure, you have learned the whole track. As you see, a simple and amazing track to play on guitar.
4. We Know The Way – Moana
Moana was a critically claimed 2016 film with lovely songs included in its soundtrack.
Among them, we have We Know The Way a power ballad composed by Opetaia Foa'i and Lin-Manuel Miranda.
This tune is simple because it uses only four easy chords.
The verse plays A – D – E – A and the choruses are D – A – E – A but the last one presents little variation: D – F#m – E – A – E – D.
5. Under the Sea – The Little Mermaid
Released in 1989 and composed by Samuel E. Wright, this cheerful track was based on the song The Beautiful Briny from the 1971 movie Bedknobs and Broomsticks.
This tune can be played either by strumming chords or playing arpeggios, the verse plays C – G7 – C four times and then F C G7 C twice.
The chorus is divided into two sections, the first going F – C – G7 – C and then C – F – G – C – C7. The second follows with F – G – Am – D7 and F – G – C – G7 – C.
6. Hakuna Matata – The Lion King
7. A Whole New World – Aladdin
8. How Far I'll Go – Moana
9. Bare Necessities – The Jungle Book
10. Beauty and the Beast – Beauty and the Beast
11. Once Upon A Dream – Maleficent
12. We Don't Talk About Bruno – Encanto
13. Un Poco Loco – Coco
14. I See The Light – Tangled
15. Can You Feel the Love Tonight – The Lion King
16. Try Everything – Zootopia
17. Lava – Lava
18. I'll Make a Man Out of You – Mulan
19. Life Is a Highway – Cars
20. Remember Me – Coco
21. Do You Want To Build A Snowman – Frozen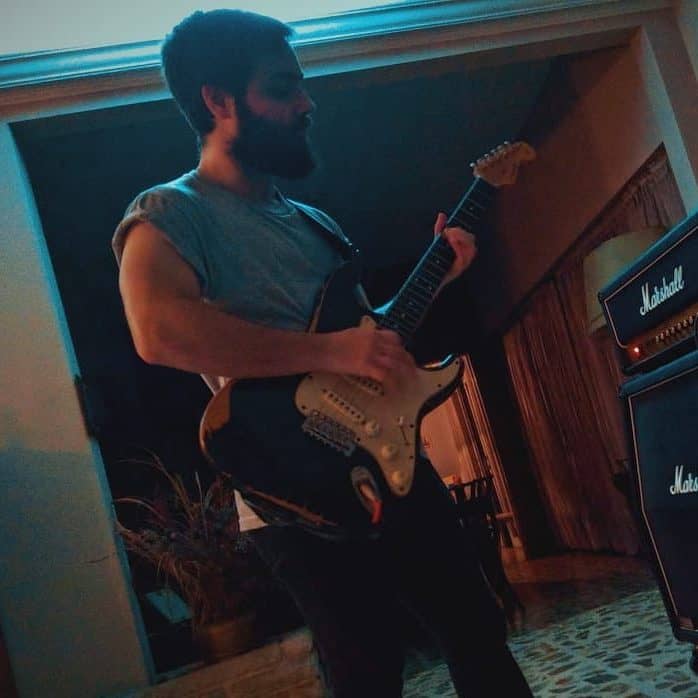 Hello there, my name is Ramiro and I've been playing guitar for almost 20 years. I'm obsessed with everything gear-related and I thought it might be worth sharing it. From guitars, pedals, amps, and synths to studio gear and production tips, I hope you find what I post here useful, and I'll try my best to keep it entertaining also.