When I think of "stadium" Rock bands the first two that come to mind are AC/DC and Queen.
But while the boys from down under have still been pretty active releasing new albums and touring over the last few decades, Queen's famous frontman Freddie Mercury died in 1991, a death that brought a lot of early attention to HIV.
And there was one posthumous studio album Made in Heaven released in 1995, but against all odds, Queen is still one of the biggest Rock bands almost thirty years later: a testament to their talent.
First of all, there was a much-hyped biographical drama film about the band's career released in 2018 (Bohemian Rhapsody).
They are also one of the most listened-to Rock bands on streaming services such as Spotify.
And now they are exploring the option of selling the rights to the band's music catalog for up to a billion dollars. Now that really is "stone cold crazy!
Basically, they managed to figure out that magic formula that appeals to older and younger generations.
Of course, their music was always bombastic and unapologetically over-the-top, though I feel like it was all done with a bit of a smirk, like a Mona Lisa smile.
Plus, Queen's guitarist Brian May has been in music gear news recently too, releasing a bright red signature amp from Vox Amplification, along with one of their little Amplug mini amp contraptions.
And whether you're into signature music gear or not, this leads us nicely into what we're really here for… May's amazing guitar playing.
There are definitely some Queen songs that take some real dedication to pull off perfectly, but not all of the band's music is that difficult.
And even for the tough ones, the band's popularity means that there are in-depth tutorials on how to play them in their original glory, or simplified (acoustic) versions for us mere mortals.
So take a look at these songs and have a try at your favorites or discover some new ones to push your boundaries.
Are you ready to rock?
1. Fat Bottom Girls
The intro to this song is immediately recognizable, and on the surface, it seems like this song predicted the fashion culture of the new millennium pretty accurately.
But if you listen closely to the lyrics it can get a little disturbing… well I just hope this song wasn't inspired by true events.
This song can be done using just chords if you are a true beginner and it sounds great. Just be sure to dial in a nice fat distortion tone with lots of sustain!
Here is how to play the song.
Verse 1: D A D G
D A D G F D
Chorus: D C G/B
D C A D G
D A D (play this line two times)
Verses 2 and 3: D A D G
D A D
Bridge: G D A D
G D A G
This can be played in standard tuning, but if you want to spice it up and add in some of the fills, put your guitar in Drop D tuning and check out the video tutorial below.
And here's a lesson:
2. Crazy Little Thing Called Love
Next, we have a perfect song that sounds like a love child between Elvis Presley and Roy Orbison.
And though Queen could do extremely complex songs such as Bohemian Rhapsody, this one shines because of its simplicity and infectious groove.
And since this one is all about the strumming rhythm, it's also perfect for acoustic guitar when you're hanging out with friends.
Here are the parts of the song.
Intro: D Dsus4 D
Verses: D G C G (two times)
D Bb C D (on the last verse keep repeating Bc C D)
Chorus: G C G
Bb E A
F E A
Bridge: Bb D Bb E A F E A
And here's a lesson:
3. Another One Bites the Dust
One of Queen's biggest hits is carried by its epic bass line, but that doesn't prevent guitar players from getting in on the action.
You can just play the bass line on your guitar and if you have an octave effect it will sound even better:
E-5-3–0—–0—–0———0—0–0–3–0-5–
And for the meat of the song, it's time to get funky with some barre chords and some loose-wristed strumming.
If you've never tried playing Funk music before, you'll have to get comfortable with the idea of rhythmically "squeezing" and releasing the chords with your fretting hand (it's not that hard but you might get some cramps until you build up the muscles for it).
The video tutorial below includes some special chord voicings and embellishments but beginners can try with these barre chords.
Intro riff
Verse: Em Am Em AM
Pre Chorus: C G (three times) Am B
Chorus: Em Am (three times) F#m A B7
Chorus refrain: A B (repeat as needed)
Outro: (A B) Em Am F#m A B
If you're playing this song by yourself, this would be a fun one to use a Wah pedal on, if you have one in your collection!
And here's a lesson:
4. Under Pressure (with David Bowie)
When David Bowie and John Lennon teamed up on the song Fame, most people were pretty disappointed.
But when Bowie and Queen collaborated on this epic tune, the results were as good as expected with two of Classic Rock's greatest vocalists sharing mic duties.
And this song is also famous for Vanilla Ice "sampling" it for the track Ice Ice Baby, a move that would later come back to haunt him in the courtroom.
Like Another One Bites the Dust, this has another great bassline to kick things off, but the song can be played using very easy chords and you can add some riffs from the videos to take it to the next level.
Here is how to play the rhythm guitar.
Intro, Verse 1, Verse 3, and first Bridge: D A G A (repeat as needed)
Verse 2, Verse 4: G A (three times)
D G A
Verse 5: G C (two times)
G A C F
G F A
Verse 6: D G A (two times)
D A (four times)
G A
Verse 7: G A D A (three times)
G A (two times)
D G A
Outro: D A D G A D
And here's a lesson:
Link to lesson (simplified acoustic version)
Link to lesson (original for more advanced players)
5. Radio Ga Ga (arranged for acoustic guitar)
6. Seven Seas of Rhye
7. You're My Best Friend
8. We Are the Champions
9. I'm in Love with My Car
10. One Vision
11. Death on Two Legs (simplified for acoustic guitar)
Link to tab (PDF file)
12. Bohemian Rhapsody (simplified for acoustic guitar)
Link to tab (for advanced players only!)
13. Keep Yourself Alive
14. Stone Cold Crazy
15. Bicycle Race
16. Now I'm Here
17. Innuendo
18. We Will Rock You
19. I Want to Break Free
20. Killer Queen (arranged for guitar)
21. Don't Stop Me Now
22. Love of My Life
23. Tie Your Mother Down
24. A Kind of Magic
25. Play the Game
26. Somebody to Love
27. The Show Must Go On
28. Friends Will Be Friends
29. Save Me
30. Good Old Fashioned Lover Boy
31. These Are the Days of Our Lives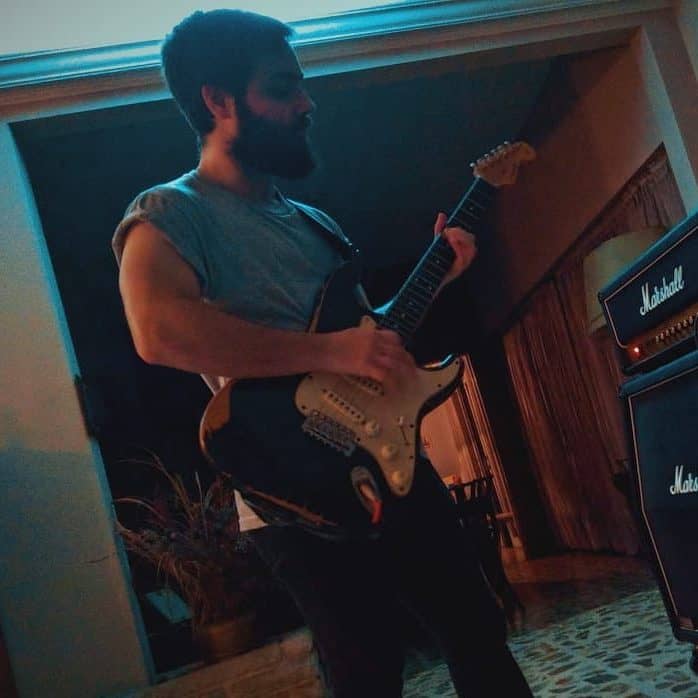 Hello there, my name is Ramiro and I've been playing guitar for almost 20 years. I'm obsessed with everything gear-related and I thought it might be worth sharing it. From guitars, pedals, amps, and synths to studio gear and production tips, I hope you find what I post here useful, and I'll try my best to keep it entertaining also.