If you're just starting out on guitar and you haven't trained your fingers to painfully contort themselves into the unnatural positions required to play chords yet, there may still be hope for you.
Because there are plenty of songs that can be played on one string, either the whole melody or others that can be stripped down to one string while still preserving the feeling of the song.
Now if you think it sounds silly, think again. Because there are actually whole genres of music throughout the world that are played on one-string zithers or guitars such as the Đàn bầu zither in Vietnam.
And with one string you actually have access to almost two full octaves of notes.
Depending on how many frets the guitar has and whether you can bend strings, you can actually get two whole octaves. That's nothing to sneeze at compared to many other instruments.
And the songs listed here may also be useful for bass players who want to try out guitar and get used to the smaller fretboard and lighter strings, or for very young kids whose hands aren't big enough to play in the traditional style yet.
Whatever the reason for your interest in playing songs on one guitar string, these are some great tunes to begin with.
Let's get started.
1. She's Lost Control – Joy Division
This classic Post Punk song, by gloomy Manchester boys Joy Division, has a great hook that is easy to play.
And the ascending chord part of the song can also be played like a bass line on a single string so that the whole song can be performed on just one string.
Here is how to play the hook of the song using the G string.
G|–7–7-7-7–7-7–5-7-5-3–3-3-3–5–5-5-5–5-5–3-5-3—-0–0-0-0–
And the interlude is like this.
G|—0–0—2-2-2–3-3-3–5-5-5—7-7-7-7-7…
If you enjoy this one, Joy Division has several other songs that you could play on one string too, such as Transmission, Twenty Four Hours and New Dawn Fades.
2. Misirlou – Dick Dale and The Del Tones
It turns out that playing on one string doesn't have to sound like a beginner exercise or an early Post Punk composition.
Genres like Surf Rock (and Heavy Metal) make considerable use of one-string riffs.
This one is actually based on an old folk song from the Arabic and Mediterranean regions (no one is really sure who wrote it). For all we know, it could have been written on a one-string instrument!
This surf version hails from the Sixties but many people know it from the Nineties Tarantino film Pulp Fiction.
And the song is played starting on the low E string and later the melody is switched to the high E string, so just choose one and go for it.
Be warned though, if you want to sound like the recording, you'll have to work up to a pretty fast (double) picking speed.
And as with all Surf Rock, crank up your reverb!
E|—–7s0-|-0-0-0-0-|-0-0-0-0-|
E|-0-0h1-4-5-|-7-7h8-11-8-|-7-7-7-7-|7-7-s-0-|
E|-0-0h1-4-5-|-7-7h8-11-8-|-7-7-7-7-|-7-7-7-7-|
E|-8-7h8-7-5-|-7-5h7-5-1-|-4-4-4-4-|-4-4-4-4-|
E|-5h8-7h8-7-5-|-7-5h7-5-#-|-1-4-0-0-
3. Day Tripper – The Beatles
This song features one of the coolest riffs ever. It may sound strange and discordant the first time you hear it, but it has a way of getting stuck in your head for days.
Most of the song uses the riff and you can do the chorus on one string if you want to.
Here is how to play it.
E|–0–3-4–7-12-10—7-14-7-10-12–
Now the chorus uses some chords (F# A G# C# B) which can be played on your low E string as well.
But since the F# is played for a while, I like to take advantage of the whole string and also slide to the higher octave F# to make it sound fancier (do this with all of the notes if you want).
E|—2–(14)——-5–(17)–4–(16)–9–(21)–7–(19)—
4. Head Like a Hole – Nine Inch Nails
This is the song that introduced Trent Reznor to many adoring fans, finally proving that Industrial Rock didn't have to sound like it was written by robots.
And it's very easy to do on one string as the main riff of the song is naturally played that way.
Plus the chorus can again be reduced to one string, especially with some nice distortion and some aggressive picking.
The chorus uses E F and A power chords and I use the octave trick that the song's main riff is built on to preserve the mojo. Just experiment and find a groove that you like!
Verse: E|–12-0-0-13-0-0-10-0-0-5-0-0-4-5-4-0—
Chorus: E|–12-12-0-12-12-12-13–12-12-0-12-12-13–0-0-0-0-0-0–5-5-5-5-17-17-17-17–|
5. Frere Jacques – Traditional
Frere Jacques is a common song to learn for beginner students playing piano, recorder, and many other instruments.
So if you have a kid who is starting to develop an interest in your hobby, this is a great one to teach them as a first song.
And there are lyrics available in English as well as the original French (Are You Sleeping, Brother John?).
For this one, we will be playing it in the key of D but you can really choose any string you want.
Here is the melody of the song.
D|—5–7–9–5—-5–7–9–5—9–10–12—-9–10–12———————–
D|–12–14–12–10–9–5—12–14–12–10–9–5—-5–0–5—-5–0–5—
6. The Pink Panther Theme – Henry Mancini
7. Sunshine of Your Love – Cream
8. Black Sabbath – Black Sabbath
9. Chicken in the Corn – Brushy One String
10. Perfect – Ed Sheeran
11. Happy Birthday Song – traditional
12. Pirates of the Caribbean Theme Song – Klaus Badelt and Hans Zimmer
13. Despacito – Luis Fonsi feat. Daddy Yankee
14. Seven Nation Army – The White Stripes
15. Smoke on the Water – Deep Purple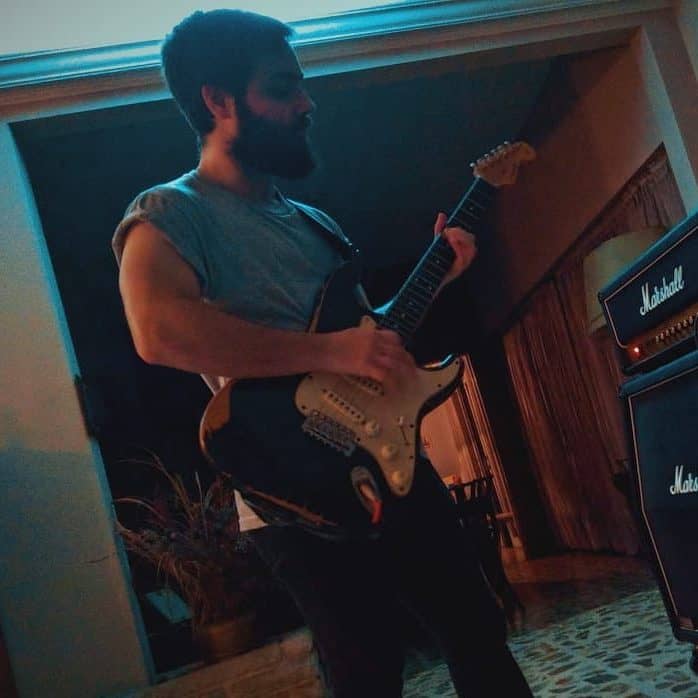 Hello there, my name is Ramiro and I've been playing guitar for almost 20 years. I'm obsessed with everything gear-related and I thought it might be worth sharing it. From guitars, pedals, amps, and synths to studio gear and production tips, I hope you find what I post here useful, and I'll try my best to keep it entertaining also.