Gabba Gabba Hey! Eat the Rich! Punx not dead!
Punk may not be dead, but it isn't as popular these days as it was at several points in the past, much to many parents' relief, I'm sure.
There are still a lot of people keeping the spirit alive underground though.
Although I'm pretty sure that "true" punks would agree that the core philosophy that the music scene was born from has been diluted or more likely simply assimilated into popular culture.
For example, many style choices that used to be considered Punk, such as seeing someone with ripped jeans, facial piercings, or their hair dyed blue or green is just the new normal now.
And one of the most popular Pop Punk groups ever, Blink-182, is definitely part of this conversation.
Because many people were quick to point out that the outrageous ticket prices being charged for their recent reunion tour weren't exactly in line with the spirit of the genre.
Plus, there's the irony of going to watch three middle-aged men sing a bunch of songs about being teenagers, right?
But whatever… it's all about enjoying the music and in most major cities you can still see great live music from local bands if you're willing to put in a little effort.
Or you can just enjoy listening to your favorite bands at home. And even better, you can learn to play some of the songs yourself!
And luckily for us, Punk Rock is one of the easiest styles of guitar-based music to play; it's almost always played entirely with power chords (and plenty of attitude).
After all, it was a reaction to Rock bands that were perceived as pretentious and overblown, with a desire to tear down the conventions of the previous generation that don't fit the worldviews of the current youth.
So if you need a little anarchy in your own life, these Punk and Pop Punk songs should help you get started!
1. Blitzkrieg Bop – The Ramones
The Who may have sang about wanting to die before they got old, but the guys from The Who are mostly still around today.
Meanwhile, the Ramones actually lived (and died) like they were burning the candle at both ends.
Because the band's first eponymous album was released in 1976 and by 2014, all four of the members that formed the band on that album were dead!
And they are not only one of the first and most popular Punk bands of all time, but I and many others consider them one of the best.
Unlike their British counterparts, they didn't have a monarchy to rally against, instead reimagining (mostly 1950s) Pop Rock in a new and sinister way.
And though they did use terms associated with the German military such as "blitzkrieg", they thankfully didn't go too far with Nazi parallels like some Punk bands did.
So here's how to play the definitive anthem of the genre and it's super simple to learn.
Intro and Verse: A D E (play three times) A D A
Chorus: D A D A D B D E
That's really all you need to piece the song together and feel free to use "full" barre chords if you want, as a lot of people say that Johnny Ramone tried to play that way for a fuller sound.
And here's a lesson:
2. Die, Die My Darling – The Misfits
Another band that helped define the genre brought something extra: an obsession with Horror B-movies.
And while most Misfits songs were from the 1980s, they really got a lot of attention in the 1990s and 2000s, especially when Metallica covered a few of their songs (this one, Last Caress and Green Hell) on their cover album Garage Inc.
For a Misfits song, this one sounds pretty good as far as the recording, because there are plenty of Misfits songs that sound like they were recorded on a cassette player in a basement (they probably were).
But with Punk Rock, that can just be part of the sound, and I don't mind the dirty "do it yourself" approach at all.
So if Halloween is coming up or you're just feeling evil, here is how to play this classic track.
Intro and Chorus: B G F# (two times)
E B E G B
Verse: B G F# (sometimes it goes "up" to B D C# instead)
And here's a lesson:
3. God Save the Queen – The Sex Pistols
Some Punk fans complain that the Sex Pistols' origins were pretty much the same as a Boy Band, with someone assembling, funding, and promoting them in order to sell clothes or something.
And I agree that it's definitely not the coolest origin story.
But the fact that this band is still talked about after so many years is pretty incredible, especially when you consider that they only released one album.
I seriously can't think of any other band or artist that achieved so much fame with a single record, can you?
And if you have never heard the album in question, or it's been a while since you've listened to it, you may be surprised just how great the songs on Nevermind the Bollocks, Here's the Sex Pistols really are.
There are actually some guitar solos too, even if they seem to be poking fun at other bands' more complex solos.
So although the Queen of England isn't with us anymore, you can still rock out to one of Punk's other famous anthems.
Here is how to play the song.
Intro: G# A (play five times)
A D C# (three times)
G# A (two times)
Verses: A D C# D (play three times)
A G# A G# A
(This is played twice for the first verse, three times for the second verse, and ¾ on the third verse, ending after the first A G#).
Chorus: E B D# E D#
E B D# E
E B D# E D#
E B E
Bridge: F# B (play three times) F# E
Outro: D C#m B (three times) A
Repeat the first line twice before ending by repeating G# A
And here's a lesson:
4. Chick Magnet – MxPx
Running alongside bands such as Green Day, Blink-182, and the Offspring in the 1990s and beyond, was a Christian Punk band called MxPx (originally Magnified Plaid).
But while most Christian bands (on the Tooth and Nail record label) stayed parallel to secular music, Mxpx was so good that they were eventually signed to big-time label A&M Records.
In fact, I don't think the band really considers themselves to be a Christian band at all these days, but their music at least covers some different topics than the pessimistic stuff that most Punk bands sing about.
So if you're looking for something a little more fun and light-hearted, then try Chick Magnet, which was one of the songs that helped get the band some airplay and mainstream fans.
Here is how to play the song.
Intro and Verses: C F
Chorus: Am F C G (play three times)
Am G
Interlude and Outro: C F G (the last line of the song uses C F C)
And here's a lesson:
5. Banned in D.C. – Bad Brains
6. Ever Fallen in Love (With Someone You Shouldn't've)- The Buzzcocks
7. When I Come Around – Green Day
8. Germfree Adolescents – X-Ray Spex
9. Dean's Dream – The Dead Milkmen
10. I Don't Want to Grow Up – The Ramones
11. I Wanna Be Sedated – The Ramones
12. Holiday in Cambodia – Dead Kennedys
13. Teenagers from Mars – The Misfits
14. Welcome to Paradise – Green Day
15. Should I Stay or Should I Go – The Clash
16. Train in Vain – The Clash
17. What's My Age Again – Blink-182
18. All the Small Things – Blink-182
19. Ruby Soho – Rancid
20. Stickin in My Eye – NOFX
21. Come Out and Play – The Offspring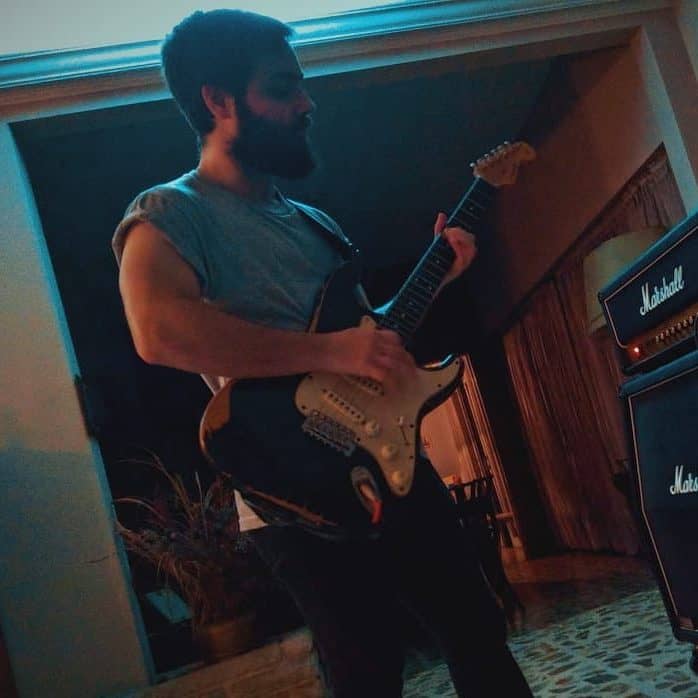 Hello there, my name is Ramiro and I've been playing guitar for almost 20 years. I'm obsessed with everything gear-related and I thought it might be worth sharing it. From guitars, pedals, amps, and synths to studio gear and production tips, I hope you find what I post here useful, and I'll try my best to keep it entertaining also.