Artists have always found inspiration in the seductive power of wealth and luxury.
Many songs have been created to honor and boast about the vast amount of riches a musician possesses.
But as usual, appearances are deceptive. Someone may sing their lungs out regarding how fat their wallets are; but of course, that doesn't mean such a person is a happy individual.
See, there's a dark side to fame and fortune as well, and some songs on this list will deal with that topic.
But enough with the babbling. Let's dive into these 25 songs about being rich once and for all, just like Scrooge Mc Duck would do into his pool full of golden coins!
1. Money, Money, Money – ABBA
After selling millions of albums worldwide, it's fair to say that ABBA members' pockets lack anything but money.
The song's lyrics deal with a woman who works hard for her money (yes, like Donna Summer's song). Unfortunately, assiduousness and perseverance never pay her off.
As a result, the woman decides to look for a rich man who will provide what she's needing.
2. Beautiful, Dirty, Rich – Lady Gaga
Gaga's debut album is packed both with classics and underrated gems.
The singer believes the lyrics of this song have to do more with the lifestyle of a wealthy person, whether one possesses enough money or not.
In other words, Beautiful, Dirty, Rich deals with partying and spending the little (or plenty) money one gets on drugs.
3. Material Girl – Madonna
From the Queen of Pop of the 21st Century, we move right on to the Queen of Pop of the 20th Century.
Material Girl is about being a golddigger.
That is to say, about a woman who restlessly searches to take advantage of wealthy men, in order to obtain money and, of course, the benefits that come with it.
After all, we're living in a material world baby!
4. Rich As Fuck – Lil Wayne feat 2 Chainz
Sex, money, power. There, I summarized the song in three words; you're welcome.
Rich As Fuck is the third single from Lil Wayne's tenth studio album I Am Not A Human Being II.
5. Rich and The Poor – Rival Sons
This one's about a romantic relationship between a young adult and a much older woman.
I believe the comparison between being rich and poor is not so much related to money, but to experience… if you know what I mean.
6. Bright Future In Sales – Fountains of Wayne
Perseverance, determination, and optimism (with realism, of course), are enough to secure anyone's future. That is, leaving unpredictability out of the equation, of course.
Bright Future In Sales is about a man who, you guessed it, believes will have a great future in sales.
A successful business will generate millions, with which the man will buy himself "lots of clothes and cars and fancy meals."
7. 7 Rings – Ariana Grande
It's not enough to have money. You also need to show it off!
At least, that is what this song stands for.
The music video does even more justice to this statement, exhibiting singer Ariana drinking champagne and wearing luxurious fur coats and jewelry.
8. Moneytalks – AC/DC
Although Moneytalks initially seems like an anthem to the endless benefits cash provides, it contains a different message.
Moneytalks deals with the scarce "feet-on-the-ground" lifestyle that being a millionaire produces for certain people.
9. Rich & Sad – Post Malone
Few song titles are so transparent and self-explanatory as Rich & Sad by Post Malone.
Indeed, money buys everything, except love and meaningful relationships.
10. Scarface (Push It To The Limit) – Paul Engemann
If you've watched the 1983's movie Scarface then you know the song righteously earns its place.
Scarface (Push It To The Limit) is mainly about power and how to keep it to the bitter end. Naturally, that power comes, in part, from the tons of laundered dollars one has in their bank account.
No other song could have fitted this movie better.
11. If I Had A Million Dollars – The Barenaked Ladies
The best song to practice Second Conditional if you're studying English grammar.
Naturally, we all have made ourselves this hypothetical question: what would I do if I had a million dollars?
Binge-spending? Investing? Gambling?
Buying pedal effect after pedal effect? Collecting hundreds of guitars?
Hey, why not!
12. Bitch Better Have My Money – Rihanna
This bold, energetic song mirrors the singer's confidence and assertiveness at the time of asking for what she deserves.
It's a self-empowering song that perfectly suits the feeling that owning money provides.
13. C.R.E.A.M. – Wu-Tang Clan
C.R.E.A.M. stands for Cash Rules Everything Around Me.
Quite a strong statement that depicts the constant struggle that those at the lowest button of the food-chain deal with every day.
It's a cruel world and many aspire to get away from the sorrows and punishments of the streetlife. Some others, far from escaping it, prefer to get tangled in the many benefits and vices that a luxurious and powerful life can create, even at the cost of a risky life.
14. I Get Money – 50 Cent
Unsurprisingly, 50 Cent's lyrics for I Get Money are line after line of continual boasting.
I Get Money has been remixed and sampled by a dozen of famous artists, including Chamillionaire, Ludacris, Nicki Minaj, and Daddy Yankee.
15. Easy Money – Billy Joel
The song Easy Money by Billy Joel was written for the film of the same name, which at the same time, was written and acted by American comedian Rodney Dangerfield.
16. Money Maker – Ludacris feat Pharrell
17. Money Talks – Rick James
18. Billionaire – Travie McCoy feat Bruno Mars
19. Rich Girl – Gwen Stefani feat Eve
20. Baby, You're A Rich Man – The Beatles
21. Money – Michael Kiwanuka, Tom Misch
22. ¿Por Qué No Puedo Ser Del Jet-Set? – Soda Stereo
23. Alone – Falling In Reverse
24. Got Money – Lil Wayne feat T-Pain
25. Millionaire – Kelis feat André 3000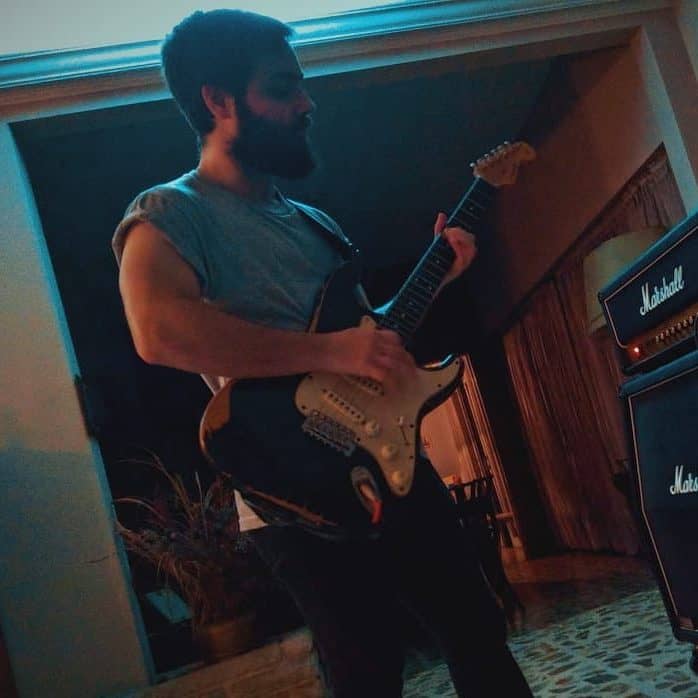 Hello there, my name is Ramiro and I've been playing guitar for almost 20 years. I'm obsessed with everything gear-related and I thought it might be worth sharing it. From guitars, pedals, amps, and synths to studio gear and production tips, I hope you find what I post here useful, and I'll try my best to keep it entertaining also.