The reflective qualities of mirrors have served as inspiration for many musicians. These songs often explore themes of introspection, self-reflection, and self-identity.
Sometimes, these songs are about examining one's flaws. Other times, about contemplating the past.
One way or another, be sure to check out some of these songs and discover the depth and complexity that mirrors can bring to music.
1. Mirror, Mirror (Look Into My Eyes) – Def Leppard
This one's from Def Leppard's second album High N' Dry, a Hard Rock masterpiece.
The lyrics resort to foresight with crystal balls and tarot cards. The singer begs the fortune teller to look into his eyes and tell him what lies ahead.
However, it has some romantic connotations as well. As if the narrator hopefully expects a future with the woman he loves.
2. In The Mirror – The Interrupters
"No matter how far I run / I always end up back here"
In The Mirror is the first single from The Interrupters' fourth studio album In The Wild.
The premise is simple: It's a song about acceptance; about staring yourself in the mirror, embracing your traumatic past, and eventually, moving on to a brighter future.
3. In The Mirror – KISS
KISS is one of the most recognizable rock bands.
Naturally, it's hard to forget their shocking and characteristic make-ups.
However, KISS has changed its image on more than one occasion.
From 1983 to 1996, KISS played without make-up.
The last album from that era was Carnival of Souls, which sound was characterized for resembling the grunge and alternative metal of that decade.
However, the album never received good reviews (if they got any!), which places In The Mirror on the top 5 obscure KISS songs.
So, if you never liked their party-rock, friendly-pop kinda tracks, you might want to give a try to this song and this album.
4. Dream of Mirrors – Iron Maiden
There was a point in Iron Maiden's career when bassist Steve Harris said "you know what? Let's make 10-minute-songs from now on"
Every other member said "What the hell, Steve? What the hell!!??"
But there was nothing they could do about it if they wanted to pay the bills.
Dream of Mirrors is one of the many examples of Iron maiden excessively prolonged songs, with a duration of nine and a half minutes.
However, it's a fantastic track, and one that may be considered a hidden gem from the 2000s Maiden compositions.
5. Devil In The Mirror – Black Veil Brides
In 2014, Black Veil Brides released their fourth studio album.
It contains this song which could probably be about dealing with self-loathing and low self-esteem.
Naturally, as most Black Veil Brides songs do, the message is to stand up and fight your inner demons.
6. Mirror – Lil Wayne feat Bruno Mars
With Mirror, Lil Wayne recalls his problematic past.
Luckily, this is what pushes him toward a brighter, more successful future.
Mirror contains a reference to the King of Pop Michael Jackson, where Lil says "So I'm starting with the man in the mirror… MJ taught me that"
And talking about Mr. Jackson…
7. Man In The Mirror – Michael Jackson
If you want to make a change, you'll have to put effort and energy.
Although some changes happen without warning (be it a traumatic experience, a sudden move to another city, and so), the ones that are consciously done bring the best results.
Oddly enough, Man In The Mirror was not written by Michael Jackson, being that one and Just Good Friends the two tracks in Bad credited to someone else.
8. Fractured Mirror – Ace Frehley
The last track on Frehley's first solo album.
Variants of this instrumental have been repeated in almost every solo long play the KISS guitarist has published.
9. I'll Be Your Mirror – The Velvet Underground
Written by legendary musician Lou Reed (and said to be one of his personal favorites), I'll Be Your Mirror hides a curious story.
Singer Nico was not providing the "right" vocals for this song, according to the rest of the band's expectations.
They pushed her to repeat the takes over and over again, until the poor woman burst into tears, due to the pressure.
Once she stopped crying, she sang one last time. That take was the one that made it to the album.
10. Objects In The Mirror – Mac Miller
According to American singer Mac Miller, Objects In The Mirror is not about a specific person.
He said that he simply took the emotion of something that happened in his life, then wrote a song about it.
11. Mirror Man – Captain Beefheart & His Magic Band
A fifteen-minute-long track that feels like a never-ending trip on drugs.
But take it easy, this one sounds pleasant, unlike the excessively chaotic album Trout Mask Replica.
12. El Espejo – Maná
Maná is one of the top successful Latin artists.
The direct translation from Spanish to English of this song is "The Mirror". Interestingly, the lyrics have more to do with religion than with mirrors themselves.
If you want to indulge in Maná's discography, we did an article discussing 13 of their greatest songs. Don't miss it!
13. Mirrors – Justin Timberlake
Mirrors reflect (in case you haven't noticed it yet…).
When you look inside one, you'll see another "you".
With that concept in mind, Justin Timberlake crafted this piece, where his "other you" is his significant other.
In other words, Timberlake found his other half. The one that complements him.
14. Room Full of Mirrors – The Pretenders
15. Hall of Mirrors – Siouxsie and The Banshees
16. Mirror, Mirror – Diana Ross
17. Shit Mirror – Nine Inch Nails
18. Killer In The Mirror – Set It Off
19. Mirror Man – The Human League
20. Smash The Mirror – The Who
21. Deep Dark Truthful Mirror – Elvis Costello
22. Shattered Mirrors – Coal
23. Phantoms In The Mirror – W.A.S.P.
24. Mirror In The Bathroom – The Beat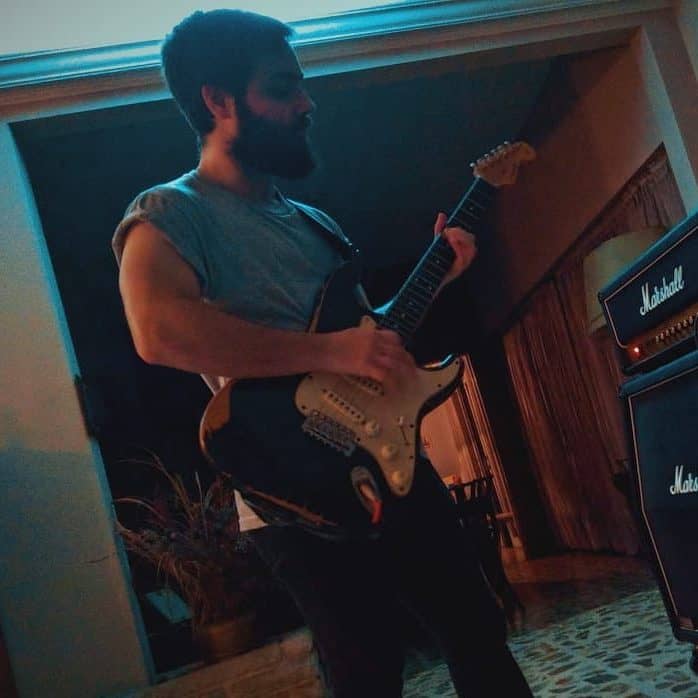 Hello there, my name is Ramiro and I've been playing guitar for almost 20 years. I'm obsessed with everything gear-related and I thought it might be worth sharing it. From guitars, pedals, amps, and synths to studio gear and production tips, I hope you find what I post here useful, and I'll try my best to keep it entertaining also.