Maná is known for being, arguably, the most popular Mexican group at an international level.
With over 40 million records sold, Maná is also regarded as one of the top-seller Latin-American artists of all time.
Not to mention, they have earned a wide variety of prizes, including Grammy Awards, MTV Music Video Awards, and Billboard Latin Music Awards, just to name a few.
Considering that they have such a vast musical trajectory, it's impossible to say they don't have some interesting songs to listen to.
However, to say they have a few hits it's to say a lie.
Here we have narrowed down some of the most memorable ones to get the "big picture" of this group from Guadalajara.
Check these 13 great Maná songs and let the Latin vibes run down your spine.
1. Labios Compartidos
We start this list with one of the most memorable power ballads in the entire Latin America region.
It reached the Nº1 spot in different lists, including the Top 100 in Spain, Colombia, and Mexico; the Argentina top 20, and the U.S Billboard Hot Latin.
Although Labios Compartidos is undoubtedly a pop song, one cannot deny the noticeable rock music influence it contains.
2. Rayando El Sol
Coming off from their second studio album Falta Amor, we find Rayando el Sol, a half acoustic, half electric song which gained lots of popularity during the 90s in Mexico (and later on, the entire South America).
Rayando el Sol has two different versions. The original one (which is attached above), and a re-make, featuring Spanish singer Pablo Alborán.
I encourage you to check the two versions and see which one you like the most.
3. Mi Verdad (feat Shakira)
If you were not convinced by the idea of Maná and Pablo Alborán making music together, then this other collaboration will most likely convince you.
In 2015, Maná and Shakira joined forces to create Mi Verdad, a song that, later on, would reach the first position in the US Latin Pop lists.
Mi Verdad is, without a shadow of a doubt, one of the most memorable collaborations in the whole of Latin American music history.
4. Oye Mi Amor
Oye Mi Amor has some well-made reggae-like guitar chords and keyboard notes that resemble the sound of a siku.
The title can be translated as "Hey, my love", and the lyrics are about a man begging a woman to leave her current boyfriend and choosing him instead as her partner.
5. Mariposa Traicionera
Mariposa Traicionera appears in Maná's sixth studio album called Revolución de Amor.
As expected, we find another single (and album) reaching the top 1 in the US Latin lists.
6. Amor Clandestino
Maná released a dozen of classics during the 90s and the 2000s.
However, the 2010's decade didn't put a stop to their creativity and uniqueness.
They kept on conquering the music world with songs like this one: Amor Clandestino.
An interesting fact about this song is that the official band's Facebook website made a survey, asking their fans which song they wanted to be the next-to-be-released single.
Between Amor Clandestino and El Verdadero Amor Perdona, the winner turned out to be the song that gained this spot.
But don't worry, the other song appears later on this list too!
7. El Reloj Cucú (feat Mabel)
El Reloj Cucú teaches us a valuable lesson: to speak up.
Sometimes, we may find ourselves entangled in a dramatic situation. Maybe we have lost a significant other, or are struggling with mental health issues.
The best we can do is to share our pain with someone we feel secure with.
More often than not, we'll discover that there're a lot of people who have experienced similar situations.
This helps us realize that, all in all, we're not totally alone.
Maná singer Fernando Olvera lost his father at the age of seven. This song helped him share his sorrows with the rest of the world, realizing that he's not the only person dealing with such a painful experience.
8. Corazón Espinado
This one is a bit of a tricky selection.
Corazón Espiando is not a Maná song. It belongs to Santana and comes from the 1999 album Supernatural.
However, the song features the entire group. Thus, we could say that it is a Maná song too.
Not to mention, Manà plays it live on every show.
So yeah, this one couldn't be left out at all.
9. El Verdadero Amor Perdona
"True love forgives", that's what the title of this song says.
No matter how much resentment, offense, and abandonment one carries in their heart.
At least, that's what Maná claims in this 2011 song.
What do you think about it? Do you agree?
10. Eres Mi Religión
One of the many love songs that Maná has written.
Eres Mi Religión is a form of showing gratitude to that person who has appeared and enlightened one's life.
11. ¿Dónde Jugarán Los Niños?
The song that gives title to the band's second studio album, which all in all, it's considered by many their all-time masterpiece.
12. Clavado en un Bar
One may translate this song as "Stagnated in a bar."
Needless to say, this is a drinking song, but with a sad and melancholic connotation.
There are no celebrations this time.
13. En El Muelle de San Blas
Last but not least, we include En El Muelle de San Blas.
It's (again) a sad-romantic song about a woman who has waited for her man to come back from sailing her entire life.
Unfortunately, despite the woman never leaving "San Blas bay", her man never returned.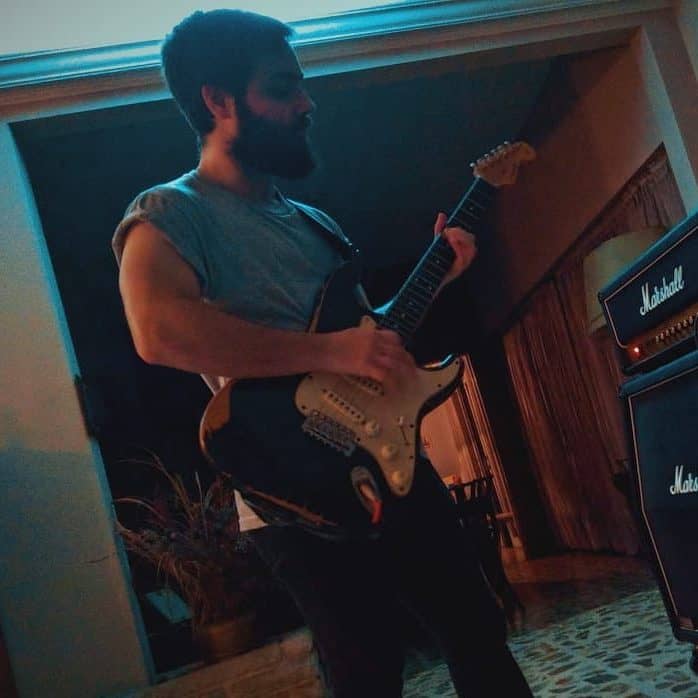 Hello there, my name is Ramiro and I've been playing guitar for almost 20 years. I'm obsessed with everything gear-related and I thought it might be worth sharing it. From guitars, pedals, amps, and synths to studio gear and production tips, I hope you find what I post here useful, and I'll try my best to keep it entertaining also.