Greed is polarizing.
Some people consider it a dangerous thing, while others think about it as a superior force that drives them to keep up with the grind.
Whether it's your opinion, I'm not here to judge but to provide you with the music that you are looking for.
In this article, you will find 21 of the greatest songs about greed, from very different points of view.
I hope you like them!
1. Greedy – Ariana Grande
The first song on this list is, oddly enough, not a song about money or material possessions.
Ariana Grande sings about being "greedy for love" and "physically obsessed" with someone else.
Naturally, jealousy is a form of greed, if you think about it. After all, you don't want to "share" that person with anybody else.
2. Age of Greed – Killing Joke
Killing Joke criticizes society in this song from their 1990 album Extremities, Dirt & Various Repressed Emotions.
The majority suffers because of a powerful and rich minority that is "privileged enough" to stay on top. However, even those must learn how to remain there.
Long story short, the lesson is that greed and corruption run the world and that even the prosperous suffer because of it.
At least, that's what Killing Joke claims.
3. Gold Digger – Kayne West (feat Jamie Foxx)
Some people earn their own money and possessions, then decide not to share any of those with anyone.
Some others take advantage of the money and possessions of someone else.
That's more or less the definition of a gold digger, and the reason Kayne West wrote this song.
4. Working Class Hero – John Lennon
Working Class Hero is one of the most memorable John Lennon creations.
This one doesn't deal as much with greed itself as some of the other tracks on this list.
All in all, it's a comment on how unjust life can be for a working-class man or woman.
Of course, greed is one of the many factors that contribute to life's unfairness.
5. Disease of Conceit – Bob Dylan
Similar to Lennon, Bob Dylan lambasts how certain aspects of society can ruin a human being, turning him/her into a "piece of meat".
Once again, greed manifests itself as one of these pressures that mount on someone's shoulders.
6. Greed – Buckcherry
Californian hard rock band Buckcherry released an album in 2013 called Confessions.
There, they published a song for one of the seven deadly sins: lust, sloth, envy, wrath, gluttony, pride, and of course, greed.
On a general term, "Greed" is, together with "Gluttony", one of the best tracks on the album, so you might want to check this one out.
7. Material Girl – Madonna
"We're living in a material world, and I am a material girl"
Accumulating for the sake of it is nothing but another form of greed.
Oh well, who am I to judge? You can keep on expanding your guitar collection.
It's never enough…
8. Greed and Gold – Seth Lakeman
English songwriter Seth Lakeman tells a gloomy story about a man murdering and stealing money from a rich woman.
Nonetheless, her ghost haunts this man for the rest of his life.
9. Money Power Glory – Lana del Rey
According to Lana, this song is, funnily enough, a cynical criticism of the critics during her rise to fame.
10. Greedy Soul – Liam Gallagher
In this song, the term "greedy soul" is used as an insult.
Because one thing is to be greedy, but another is to have that characteristic carved in your soul.
There's no way back in this last case.
11. Cadillac Dreams – KISS
It is not a surprise that the favorite things of Gene Simmons are money and power.
Cadillac Dreams might not be the most popular KISS song of them all (not even for KISS fans), but it's a celebration of ambition nonetheless and deserves a spot here.
12. I Want It All – Queen
Greed generates dissatisfaction. The more we have, the more we want.
Once we get more than just enough, we want to move on and gain everything.
But believe it or not, this behavior can lead to some positive results.
After all, wanting it all can move us toward our goals, achieving grandiose results, and helping others with our creations.
Naturally, Freddie Mercury was someone who used this idea as a motivator. Without it, we would have never got the chance to listen to Queen and classics like this one.
13. It's Money That Matters – Randy Newman
Randy proudly claims that having money is the only thing that matters when living in the USA.
This is not a critique of greed. On the contrary, this song says that without it, there's nothing else worth doing.
Do you agree with him?
14. Society – Eddie Vedder
"We have a greed, with which we have agreed"
In Society, Eddie expresses what many people believe: that the more you have, the more you want.
Greed ends up being a bottomless barrel. Filling it is futile.
15. Money (That's What I Want) – Barrett Strong
The date of this song goes back as far as 1959.
Barrett Strong sings that he not only needs money but wants lots of it.
After all, he has a loved one that gives him thrills, but you can't pay any bills with love, so what's the point?
16. Greed – Ann Wilson
Former Heart singer Ann Wilson exclaims how empty and energy-consuming it is to have greed as a motivator "installed" in our DNA.
We crave some fulfillment, look for it, get it, and immediately crave something else.
In the end, it seems that greed has nothing to do with taking up a decision, but rather, something that occurs naturally.
What do you think about it? Is there a way in which we can escape from it?
17. Lies Greed Misery – Linkin Park
In 2012, Linkin Park released their fifth studio album Living Things. There, we find the song Lies Greed Misery.
It's not their most popular track, especially when we compare it with other classics such as Burn It Down or Castle of Glass.
Nonetheless, this song made an appearance in the movie Abraham Lincoln: Vampire Hunter, so at least it gained a bit of popularity.
18. Greed – Godsmack
19. Land of Endless Greed – Bad Religion
20. Greedy Fly – Bush
21. I Want More – KALEO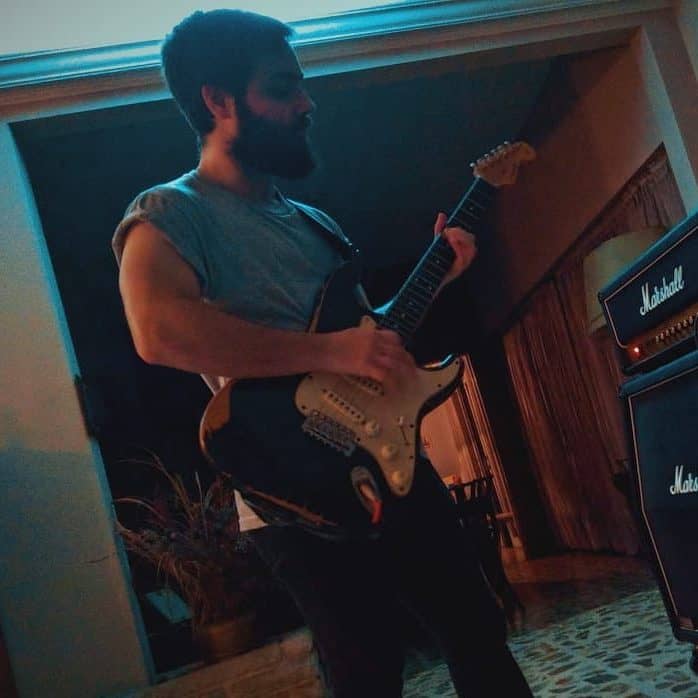 Hello there, my name is Ramiro and I've been playing guitar for almost 20 years. I'm obsessed with everything gear-related and I thought it might be worth sharing it. From guitars, pedals, amps, and synths to studio gear and production tips, I hope you find what I post here useful, and I'll try my best to keep it entertaining also.