Friends are often people who are like family to us, the family we choose rather than are born with.
We've also all missed a friend in our lives, it's a pretty universal emotion, either due to distance, time, or a falling out.
There are plenty of reasons to miss a friend and luckily for us, musicians have undertaken to write and sing about these experiences for us to enjoy and relate to when we get the chance
1. All We Are – One Republic
All We Are is a song from OneRepublic's debut studio album, Dreaming Out Loud, which was released on November 20, 2007.
All we are is left a little open to interpretation because the lyrics are widely applicable and relate to missing a friend or losing a friend or even losing a lover to a falling out.
There are not a whole lot of facts about this song, but needless to say, if you're missing someone who's been a dear friend to you, this song will be a good number on your playlist.
2. Hear You Me – Jimmy Eat World
"Hear You Me" was written in tribute to the band's friends, Mykel and Carli Allan.
The sisters were big supporters of the band in their earliest and even provided them with a place to stay while in Los Angeles in their earliest days.
"Hear You Me" definitely covers close friends you miss due to losing them to death.
The song also describes regret at not being able to express clearly your feelings for someone you cherished.
The song features Rachel Haden of That Dog on backing vocals.
Two alternate versions of "Hear You Me" are available. A 2002 Inner Ear session recording was initially released on both the audio and video portions of the Believe In What You Want DVD/CD set. Also, a demo of the song can be found on the bootleg Bleed American Demos.
The song has also been featured in the films Out Cold, The Butterfly Effect, and A Cinderella Story.
3. I'm Lost Without You – Blink 182
"I'm Lost Without You" lyrically relates to lost love, however, it's about missing someone's presence.
The song is also a sequential song that segues directly from the previous track, "Here's Your Letter", which relates to isolation, dislocation, loneliness, and miscommunication.
The theme of the song involves a lover pleading to his female companion to stay, and the song centers around this refrain: "Are you afraid of being alone? Cause I am, I'm lost without you."
The song is composed in A major, is in common time, and with a tempo of 92 beats per minute, which is notably slower than most Blink182 songs.
DeLonge stated that "the only way that you can really appreciate the song is if you have headphones and you dim the lights in your house and really sat there and listened to it."
4. Dude, I Totally Miss You – Tenacious D
"Dude, I Totally Miss You" is a track from the second studio album of Tenacious D, "The Pick of Destiny."
The song is pretty on the nose about its meaning, it's just a song about a guy missing his best friend and all the fun times they had together.
I would warn any more conservative listeners that the song has a lot more profanity in it than the other songs on this list, but I couldn't create this list without adding it in, because it's one of the purest bro songs out there.
5. This Is What Makes Us Girls – Lana Del Rey
This song reminisces on Lana Del Rey's wild youth, explaining things she and her friend did when they were young.
Many of the lyrics in this song conjure up feelings of nostalgia for time spent with a close friend.
It makes for a perfect listen when you're missing someone who you grew up with, the lyrics making for a perfect catalyst for the recounting of your own childhood mischief.
Either way, when you're missing a childhood friend, it's nice to have an accompanying song to reflect on, and more so, you could even send them this song to remind them how special they are to you.
The song has multiple versions, from the album version to three other demo versions, varying in length
Each demo version has a slightly different vocal take, quite different from the other demos of songs on the release album "Born to Die".
6. See You Again – Wiz Khalifa
Commissioned for the soundtrack of the 2015 film Furious 7 as a tribute to actor Paul Walker, who died in a single-vehicle accident on November 30, 2013.
The song was released on March 10, 2015.
Most of us know this song, but as far as the meaning of the song, it's about missing a friend who's died recently, but with the hope of reuniting with them in the afterlife.
"See you Again" became Khalifa's and Puth's biggest single to date. It spent 12 non-consecutive weeks atop the US Billboard Hot 100.
It reached number one in a number of other countries, from Australia to Switzerland.
The song also held the record for the most-streamed track in a single day on Spotify in the U.S, until it was surpassed by One Direction's "Drag Me Down."
The song was written in the key of B flat major with a 4/4 time signature and has a tempo of 80 BPM
7. I Lost A Friend – FINNEAS
A song from his debut EP, Blood Harmony, Finneas wrote and produce the song completely by himself.
The lyrics address Finneas losing touch with a childhood friend and regretting doing so, as well as wondering why he didn't do anything to change that.
The song is most appropriate for that time when you miss a friend who just seemed to drift away in the stream of life.
Luckily, there is some hope for the song. Finneas managed to rekindle that friendship and actually shared the song with his friend before releasing it as a way to say "this is how I felt at the time."
According to Finneas's statement to Rolling Stone, the process of writing the song was more of a "talk-through", meaning he tried to find rhymes after setting up a line.
The song received a mainly positive reception upon its release, however, it was also called a "run-of-the-mill, earnest singer-songwriter tune…" by NME's Will Richards
8. Real Friends – Camila Cabello
A song with a gentle acoustic guitar as its foundation, Cabello reflects on her life and asks for an honest friendship in this one.
The song is pretty minimalist in its production, with elements of reggae, Latin, and tropical musical.
This song isn't so much about missing a particular friend as it is about missing genuine friendship.
Cabello was inspired by her dissatisfaction and loneliness in her work-focused life in Los Angeles while she was recording her debut album, Camila.
The song was released a week after its recording with "Never be the Same" on December 7, 2017, as an instant gratification track to go along with digital pre-orders of Camila
It's speculated that the song is about Cabello's former girl group Fifth Harmony, which was later denied by Cabello.
"Real Friends" debuted in the top 100 in Canada, the Netherlands, Scotland, Slovakia, and Australia. The song never charted on the Billboard Hot 100 in the US, unfortunately, but it debuted on the Bubbling Under Hot 100 chart
9. I Miss You, I'm Sorry – Gracie Abrams
I Miss You, I'm Sorry is a bit more of a breakup song than it is about missing a friend, but it's not only lovers that break up.
In this song, Gracie Abrams reminisces about her regrets in a previous relationship, trying to sort through the jumbled emotions that follow a falling out.
The song goes on to touch on the temptation to try to piece together something irreparably broken, and we've all felt that at times.
10. Who Knew – Pink
A pop rock song, with elements of ballad and soft rock music in it too, Pink addresses a friendship loss, not due to a falling out, but rather to a death of a friend.
Pink sings about how they promised to be friends forever, the title of the song making the ironic statement "who knew that wouldn't be the case."
Upon release, "Who Knew" was pretty well received by music critics, who acclaimed it as a solid song on its album, "I'm Not Dead."
The song peaked in the top five in multiple countries, including Australia, the UK, and some charts in the United States.
"Who Knew" was one of the songs that helped propel Pink back into popularity in the United States, following her decline from 2003 to 2005.
The song was written to a male friend of Pink's whom she lost to drug abuse.
Pink also stated that "Who Knew" is her favorite song from her first compilation "Greatest Hits… So Far!!"
11. Sonny – New Found Glory
This song is about the death of someone who can often be our best friend in our youth, despite the age difference.
The lyrics leave it a bit open to really fit well with any kind of death of a loved one, but this song is specifically about the death of Jordan Pundik's (the band's lead singer's) grandfather.
His grandfather's name was Sonny.
I quite like this song because while it's a sad topic, the melody makes for a hopeful and optimistic feel to the loss mentioned in the lyrics.
A sort of ballad to give you strength and resilience when mourning.
12. Cul-De-Sac – The Wonder Years
This song has quite a bit of history to it for the writer.
Dan Campbell of The Wonder Years wrote this song about breaking off a friendship with a childhood friend, using the word cul-de-sac as a play on words, eluding to both an end in a road within a neighborhood and the dead end in his friendship.
The song details all the reasons why he decided to break things off with his childhood, having run out of options.
The song is seemingly about a friendship fractured by his friend's drug abuse.
I'd say the saddest lyric has to be "I thought my kids would call you uncle."
It's a real gut punch to anyone who's lost a friend they thought would always be around.
13. I Ain't Mad at Cha – Tupac
Released on September 5, 1996, two days after Tupac's death as the album All Eyez on Me's fourth and final single.
The lyrics focus on Shakur's past friends, love interests, and associates whom he had lost touch with.
The song is also considered one of Tupacs best songs, with Cheo Hodari Coker calling it "possibly the best song 2Pac has ever recorded."
The song charted well internationally, reaching No. 13 on the UK Singles chart and 58 on the Billboard Hot 100 Airplay.
The song wasn't released as a single in the United States, making it ineligible for charting on the Billboard singles charts.
The song was recorded on the same day that Tupac was released from prison. He went straight to the studio and recorded "I Ain't Mad at Cha" and "Ambitionz Az a Ridah." When he entered the studio, the beat was already complete and he wrote the lyrics and recorded the song all in a few hours.
14. Wish You Were Here – Pink Floyd
Lyrically, this song is considered to be a direct tribute to Syd Barrett, but on the documentary "The Story of Wish You Were Here", Gilmour and Waters separately describe the original concept that differs from this interpretation.
Gilmour described the lyrics as directed at himself, being present in one's own life.
Released as the title track of their 1975 album of the same name, "Wish You Were Here" is quite a creatively put-together song.
In the original album version, the song segues from "Have a Cigar" as if a radio had been tuned off of one station and onto another, with a couple of other stations in between.
The intro of the song was recorded to sound like a guitar player was listening to the radio and playing along.
As the acoustic part becomes more complex, the "radio broadcast" fades away and Gilmour's voice enters, while the rest of the band joins in.
Wish You Were Here was recorded at Abbey Road Studios, as part of the sessions for the entire album.
In the intro, Gilmour can be heard coughing, followed by some breathing right before the main guitar comes in. It's believed that he couldn't hold in the cough due to his heavy smoking at the time. When he heard the final take, he was so disappointed that he quit smoking cold turkey the following day.
The Experience edition of Wish You Were Here from 2011 "Why Pink Floyd…?" release campaign includes a version of "Wish You Were Here" featuring Stephane Grappelli on violin much more prominently than in the original recording.
15. When You're Gone – Avril Lavigne
This song is about being with someone you love and having to say goodbye and all the things that you miss about them.
According to Lavigne, she didn't intend the song to be a love song, but she was writing a slow song and the process just brought out all her emotions.
She stated that she didn't think the song was cheesy when she wrote it, but if she had written it as an older professional, it would have been lame.
The song did pretty well overall, reaching the top ten in a number of international charts, but never reaching number 1. Some critics claim that the song tries to match "I'm With You" but fails.
"When You're Gone" was voted Avril Lavigne's 8th best song.
The song has been used in other media, in MTV show "The Hills". It was also used in some other series and in a third-generation Toyota Alphard commercial.
10 More Songs About Missing a Friend
| | |
| --- | --- |
| Title | Artist |
| I Wish You Would | Taylor Swift |
| I'll Remember You | Thea Gilmore |
| Miss You | Gabrielle Aplin |
| Anytime You Need A Friend | Mariah Carey |
| Bad Blood | Taylor Swift |
| Don't Let Me Down | Joy Williams |
| Need You Now | Lady Antebellum |
| Don't Speak | No Doubt |
| People You Know | Selena Gomez |
| The Greatest | Lana Del Ray |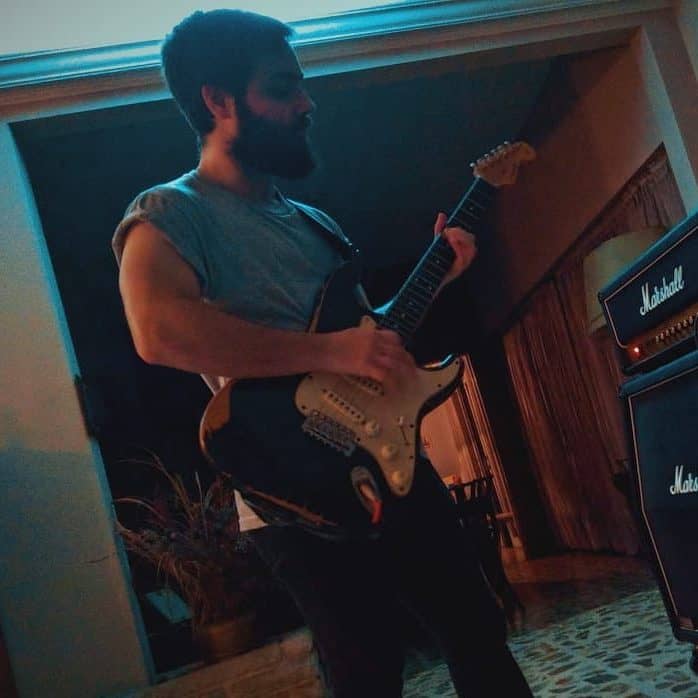 Hello there, my name is Ramiro and I've been playing guitar for almost 20 years. I'm obsessed with everything gear-related and I thought it might be worth sharing it. From guitars, pedals, amps, and synths to studio gear and production tips, I hope you find what I post here useful, and I'll try my best to keep it entertaining also.