Depending on the situation, leaving is either a great thing or a sad situation.
The songs we'll be looking at today are about just that: leaving.
Some of them are sad and look at the losses of leaving a life behind, while others are about being left or leaving an old life for a better one.
Regardless of what you're looking for, you're bound to find a song on this list to enjoy.
1. Good Riddance – Green Day
Good Riddance was originally written by Billie Joe Armstrong as a song to express the frustrations he felt when his girlfriend at the time left him to move to Ecuador.
He was pretty upset about it, but the song wound up being a mixture of sincere and positive words and a vale of sarcastic responses.
The song became a huge success with the emo scene at the time and found mainstream success too, with "normal" kids appropriating the song for its seemingly positive message.
Armstrong later stated that the song was all about the people you brave life with and hoping that when you part ways, they have the time of their lives anyway.
2. Bye Bye Bye – NSYNC
Who remembers N'Sync? This was the quintet boy band that Justin Timberlake started out in.
The song Bye Bye Bye is arguably one of their biggest songs and was written about a girl the group was breaking up with for being a pain in the behind.
The song is pretty reminiscent of that early 2000s Boy Band sound, with loud commercial pop beats and way too much dancing.
The pop sound aside, it's a fun song to listen to if you're really into pop and hip-hop music.
3. Careless Whisper – George Michael
Officially released by Wham!, this was George Michael's first breakaway song.
Careless Whisper explores the guilt felt by George after he cheats on a partner, and his inability to "dance" with them in the same way after this betrayal.
Funny enough, George Michael kind of hates this song, he wrote it when he was just 17, while he was passing the time on a bus.
He didn't give much thought to the lyrics and was later disillusioned by the fact that so many enjoyed the song, despite its contents.
It's his own fault for making something so catchy.
4. Goodbye Stranger – Supertramp
Goodbye Stranger seems to be a song about a one-night stand.
Supertramp makes a potentially awkward situation into a joyful song to sing along to.
Who would have thought that such an unusual topic would make for such a soulful song?
5. If You Leave Me Now – Chicago
One of Chicago's biggest hittest, topping the billboard Hot 100 and Adult Contemporary back in 1976, the year of its release.
The song has recently also seen a resurgence in popularity after being featured in Grand Theft Auto V, both on the Los Santos Rock Station and at the end of a mission titled Monkey Business.
The song is a touching ballad where the singer spends most of the song begging their beloved not to leave.
The composition is also quite impressive for a pop song, with the vocal arrangement having won the band 2 Grammys.
6. Candle In The Wind – Elton John
Candle In The Wind is a tribute song that Elton John dedicated to Norma Jean or Marilyn Monroe as most knew her.
The song chronicles her rise to fame and her tragic death shortly after.
The song was later rewritten for Princess Diana of Wales, who died in a car accident in 1977.
Candle In The Wind is ultimately a song about someone who died too young but lived brighter than most.
7. These Boots Are Made for Walkin' – Nancy Sinatra
Nancy Sinatra, the daughter of Frank Sinatra, recorded this song after hearing it performed by writer-producer Lee Hazlewood.
The song was never really hers as far as writing, but she made it her own by the way she performed it.
It's also been a mainstay for young girls throughout the past few generations, with the message being a girl power anthem of leaving behind a cheating partner that you're too good for.
8. Go Your Own Way – Fleetwood Mac
This album was written during the fallout of many relationships within the band.
Go Your Own Way was written by their lead male vocalist Lindsey Buckingham.
At the time Lindsey was dating Stevie Nicks, whom he'd been with for eight years. Nicks has said that this song is the hardest to sing live in concert with Buckingham – but it's considered a fan favorite song, so she struggles through it.
There's a story that the band gave an early demo of the song to an LA DJ to test out audience responses.
The DJ said the song wouldn't work on the radio, because of its complicated rhythm.
It was only then that Buckingham added the acoustic guitar layer that runs throughout the song, saying later that the acoustic guitar part "was the glue that brought the whole song into focus."
I must agree, the song wouldn't sound the same without that acoustic rhythm running through it.
9. Un-Break My Heart – Toni Braxton
Un-Break My Heart is about the pain of someone leaving you, with Braxton begging for their lover to come back and say they'll love her again.
Funny enough Toni Braxton said she didn't like the song, she stated she was tired of singing heartbreak music and wanted to do something better.
Despite her dislike of the song, she knocked it out of the park, with the song achieving international success.
10. 50 Ways to Leave Your Lover – Paul Simon
An interesting 70s pop song if you haven't heard it.
Paul Simon wrote this song shortly after his divorce from his first wife Peggy Harper.
It's interesting that he was able to make a song out of what must have been a difficult time for him, it seems that a bit of that tragedy inspired the guitar progression in the verses.
However, the song doesn't stay dark and sad, it breaks through into a bright chord and picks up a dancy beat.
It's one of those songs that's simple enough to enjoy but complex in that its theme changes throughout, with a sort of contrast between the verses and chorus.
11. Leaving New York – REM
Leaving New York is Michael Stipe's plain expression of his love for the city of New York.
The song was written as a bit of a response to the 9/11 tragedy, but the lyrics themself are devoid of political charge.
12. So Long, Farewell – Oscar Hammerstein II
"So Long, Farewell" is sung by the Von Trapp children in The Sound of Music, each with a small solo, for their father's party guests before they go to bed for the night.
The song is later reprised by the entire Von Trapp family at the Kaltzberg Festival.
It's a really old fashion song with a lot of orchestral embellishments, but the focus remains on the choral singing of the children.
13. American Pie – Don McLean
American Pie is Don Mclean's magnum opus.
It was an enigma for a long time, with the meaning of the song being full of pop culture references and poetic vagueness to it.
There's actually a whole web page dedicated to understanding the song, but it's become irrelevant since McClean explained the meaning of the song in 2015.
14. On The Road Again – Willie Nelson
Willie Nelson wrote this song on an airplane barf bag while playing the role of an aging rocker in the film Honeysuckle Rose.
It's a song capturing the desire to travel as a musician.
15. Hey Thats No Way to Say Goodbye – Leonard Cohen
Cohen wrote this song during his stay at Penn Terminal Hotel.
Amidst a lot of discomfort, he produced this romantic song.
It's split into three verses, with the hook being at the end of each verse and acting as the chorus in a sense.
The song tells of two lovers that have spent a night in a hotel and now must part ways, but Cohen reminds his lady not to be sorrowful about them leaving each other.
16. Farewell, Angelina – Bob Dylan
17. If You Leave Me Now – Chicago
18. Goodbye My Friend – Aaron Neville and Linda Ronstadt
19. Sugar Mountain – Neil Young
20. Goodbye Blue Sky – Pink Floyd
21. Ruby Tuesday – Rolling Stones
22. Leaving on a Jetplane – John Denver
23. She's Leaving Home – The Beatles
24. If Leaving Me is Easy – Phil Collins
25. Goodbye Stranger – Supertramp
26. Hit The Road Jack – Ray Charles
27. Already Gone – Kelly Clarkson
28. Begin Again – Taylor Swift
29. Breakaway – Kelly Clarkson
30. Changes – David Bowie
31. Closing Time – Semisonic
32. Come Home – OneRepublic
33. East Bound and Down – Jerry Reed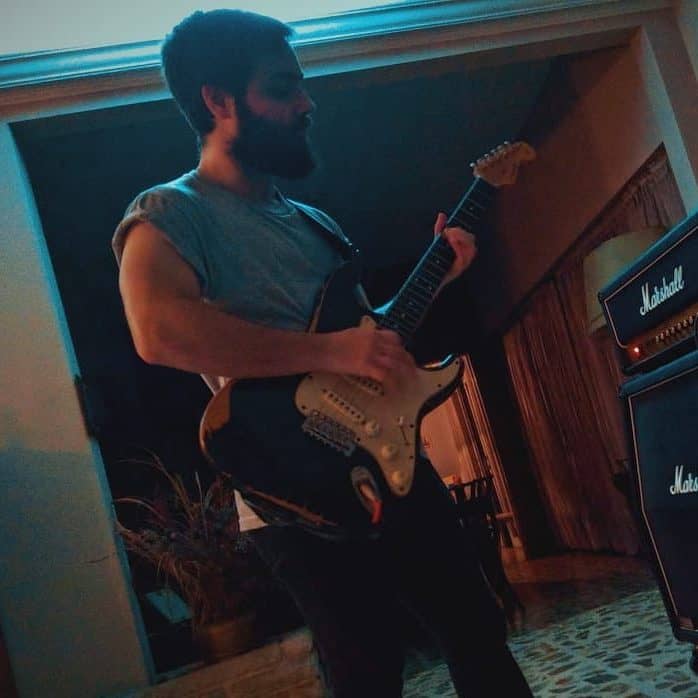 Hello there, my name is Ramiro and I've been playing guitar for almost 20 years. I'm obsessed with everything gear-related and I thought it might be worth sharing it. From guitars, pedals, amps, and synths to studio gear and production tips, I hope you find what I post here useful, and I'll try my best to keep it entertaining also.