Nobody likes a liar, and yet we've all lied at some point in our lives.
Lying seems to be intricately tied in with the human condition and as inescapable as it is, it's become a bit of a poetic mechanism these days.
Today's list is all about songs to do with lying, both about being lied to and about being a liar.
I suppose most of us might come to this list because we feel we have been lied to and need an outlet to channel the pain or frustration, but you'll likely find that you can relate to the songs about the giving end too. Who knows?
1. Love the Way You Lie – Eminem
Eminem and Rihanna reflect on their past abusive relationships in this song.
Skylar Grey wrote the chorus for this song, with her reflecting on her own abusive experience with the music industry.
Love the Way You Lie is basically a song about being destroyed by someone you loved, while also experiencing their total lack of empathy for you.
2. Lyin' Eyes – Eagles
Lyin Eyes is a song that's told more in story form, following a young woman who's gold-dug her way into a rich man's house, but still finds herself unfulfilled.
She then cheats on him with a younger man and later reflects on how she got to this point, lying to everyone throughout.
It's a song that's a bit of a double-edged sword, making you feel for both her victims and the protagonist herself.
3. Little Lies – Fleetwood Mac
The band's last top 10 hit, Little Lies is still an iconic Fleetwood Mac song for any fan today.
Little Lies sees Christine Mcvie reprising her singing role after a four-year band hiatus and telling the story of a lost love due to eroded trust.
The song sings about the protagonist being better off apart from the subject of the song, all while the vocals are surrounded by that classic 80s pop sound that Fleetwood Mac helped to define.
4. How Do You Sleep? – Sam Smith
Released back in 2019, How Do You Sleep was Sam Smith's departure from the overdone heartbreak ballads of the past.
This song features a more dance-like trance-like beat and centers around a lying lover, so the theme still remains the same.
I suppose I could have just as easily taken any one of Smith's other songs for this list.
5. White Liar – Miranda Lambert
I don't think you can listen to Country music without themes of lies and betrayal coming up.
White Liar is set apart a little in that it's a mixture of Rock and Country.
Lambert was inspired by Buddy and Julie Miller while listening to a lot of their music with a friend of hers, they then started working on a tune and wrote this song.
6. Say My Name – Destiny's Child
Say My Name was one of Destiny's Child's breakthrough tracks off their second and pivotal album.
The song originally featured the original band members during recording, but Latavia and Letoya were replaced and only found out when the music video dropped.
It's funny how a song about lying to your lover was also produced with deception surrounding it…
7. Take It on the Run – REO Speedwagon
You might remember this song from way back, originally titled "Don't Let Me Down", "Take It On The Run" became the band's second of 5 career top 10 hits.
It was one of several songs on the album inspired by deceit and cheating and other related problems the band members were going through at the time.
It still makes for a cool old rock song to jam to, especially when you're feeling pent-up rage about being betrayed by a lover.
8. You Lie – The Band Perry
A pretty catchy country song about a lover that lies too easily.
The Band Perry manages to make a really simple concept sound really cool, with multiple similes in the chorus that only country music tends to make.
9. Before He Cheats – Carrie Underwood
Okay, I promise to stop with the country songs for a bit after this one.
Before He Cheats is probably one of Carrie Underwood's biggest songs, and is well-known for its explosive chorus and Underwood's amazing vocal prowess.
The song is a catchy tale about a girl taking revenge on her cheating boyfriend by destroying his pickup truck.
PS don't vandalize your ex's stuff.
10. Liar – Camila Cabello
Liar puts the listener in the driver's seat of the song, with you being the liar along with the narrator.
Liar is a song about lying to yourself about someone you like because you know that they'd hurt you if you gave in to temptation.
11. Cry Me a River – Justin Timberlake
Cry Me a River is a revenge song, plain and simple.
It was a response from Timberlake to his then-girlfriend, Britney Spears's infidelity.
It's about finding out you've been cheated on and then moving on and doing better, leaving the other person realizing what they missed.
12. Lie To Me – 5 Seconds of Summer
Lie to me is what you get when you take the sound of The Police and modernize it with 5 Seconds of Summer's sound.
The band wrote the song shortly after their hit Youngblood.
The song is about trying to move on from a past relationship that just didn't work out and reflecting on past mistakes.
The chorus has the singer asking their ex to lie to them about if they still have feelings, so it becomes about being unwilling to face that lost relationship.
13. Lies – En Vogue
En Vogue, the female pop group sings not just about a liar in this song, but about the topic of lies itself.
The song is a mixture of swingbeat, R&B, and dance-pop, and sees the girls taking turns singing about how lies destroy lives and affect communities.
It's a decent throwback song if you had a pop group phase.
14. Don't You Lie to Me – Chuck Berry
A catchy 12-bar blues track from Chuck Berry's youth. Don't You Lie to Me is a song about being sick of being lied to and confronting a liar.
Berry manages to keep a cool and collected attitude while singing a song with pretty accusatory lyrics, I guess that's the blues keeping him cool.
15. Liar – Sex Pistols
A bit of in-your-face British punk rock.
The Sex Pistols' track Liar is about calling someone a liar. It's one of their less well-known songs but it's a pretty good listen if you're wanting to blow off some steam.
16. Lies – The Knickerbockers
A 1966 rock track.
You can actually hear the early distorted guitar sounds playing through the riff.
The Knickerbockers are probably a band you've not heard of, but they were really quite good in their time, and while they definitely sound like a late 60s band, they also show the influences of the growing rock n roll movement.
Lies is a groovy song with "lies" used as the hook, while the singer directs their anger and words toward a dishonest girl who left him and broke his heart.
It's fast-paced and the song feels like it's over as quickly as it starts, but it's a great listen.
17. Beyond Belief – Elvis Costello
Elvis Costello is extremely underrated as a lyricist and it shows in this song.
Beyond Belief is even pleasant to read, without the singing and music, it's almost poetry.
Layered with a lot of wordplay and subtext, Beyond Belief's dark atmosphere and resolve into a powerful refrain make for an infectious song about dishonesty.
18. You Know I'm No Good – Amy Winehouse
In another song where the other person is the liar, Amy Winehouse uses her drug addiction and substance abuse as an excuse for her infidelity in this song, with her ultimately admitting she cheats herself by doing this.
You Know I'm No Good tells a dark tale of Winehouse's tumultuous relationship with her boyfriend, showing warning signs of her toxic behavior, yet he takes her back each time.
19. I Don't Believe You – Bob Dylan
Bob Dylan pulls out his accordion to make us sad in this simple acoustic song.
I Don't Believe, otherwise known as "She Acts Like We Never Have Met" tells the story of Dylan spending a night of passion with a woman, becoming infatuated with her, but she only pretends that she doesn't know him.
In that sense, it's a song of facing someone who lies about having known you but has shown you the most intimate part of themselves.
20. Sweetest Lie – The Goo Goo Dolls
The sweetest lie you can live is that you're in love with someone who doesn't love you back but you deceive yourself that they do.
At least that seems to be the case with this Goo Goo Dolls song.
It's another song about basically lying to yourself but also trying to convince the other person that they're lying to themselves.
Lies are a tricky thing.
21. Beautiful Liar – Beyoncé
"Beautiful Liar" was the first collaboration between Shakira and Beyoncé.
The song is notably influenced by a mixture of Shakira's Latin and Middle Eastern sounds with Beyoncé's contemporary hip-hop and R&B sounds.
The song is about two women who discover they have been cheated on by the same man and instead of wasting their time on him, they agree that he is not worth fighting over.
22. Suspicious Minds – Elvis Presley
23. Lie – NF
24. Lips Are Movin – Meghan Trainor
25. Jive Talkin' – Bee Gees
26. Don't Lie – Black Eyed Peas
27. Would I Lie to You? – Eurythmics
28. Liar – Queen
29. Honesty- Billy Joel
30. Would I Lie To You? – Charles & Eddie
31. Tell Me a Little Lie – Huey Lewis and the News
32. Bad Liar – Selena Gomez
33. Bad Liar – Imagine Dragons
34. Said I Loved You… But I Lied – Michael Bolton
35. If Your Girl Only Knew – Aaliyah
36. Dear Lie – TLC
37. You Lie – Reba McEntire
38. Policy of Truth – Depeche Mode
39. The Heart Won't Lie – Reba McEntire
40. Lie to Me – Bon Jovi
41. La‐La‐La‐Lies – The Who
42. Your Love Is a Lie – Simple Plan
43. It Wasn't Me – Shaggy
44. Always The Last To Know – Del Amitri
45. Glass Animals – Heat Wave
46. Rolling in The Deep – Adele
47. Love Don't Lie – Def Leppard
48. I'd Lie for You (and That's the Truth) – Meat Loaf
49. Lie to Me – The Pretenders
50. I Love You So I Told You a Lie – Ted Nugent
51. No Time To Die – Billie Eilish
52. Liar Liar – The Castaways
53. Hate Me – Ellie Goulding, Juice WRLD
54. Who Is It? – Michael Jackson
55. Kisses Don't Lie – Rihanna
56. I Lied – Nicki Minaj
57. Liar – Britney Spears
58. Lying to Myself – David Cassidy
59. Liar – Henry Rollin
60. Liar Liar – Hunter Valentine
61. I'm Not Calling You A Liar – Florence and The Machine
62. Shakira Session #53 – Shakira, BZRP
63. Lie Lie Lie – Serj Tankian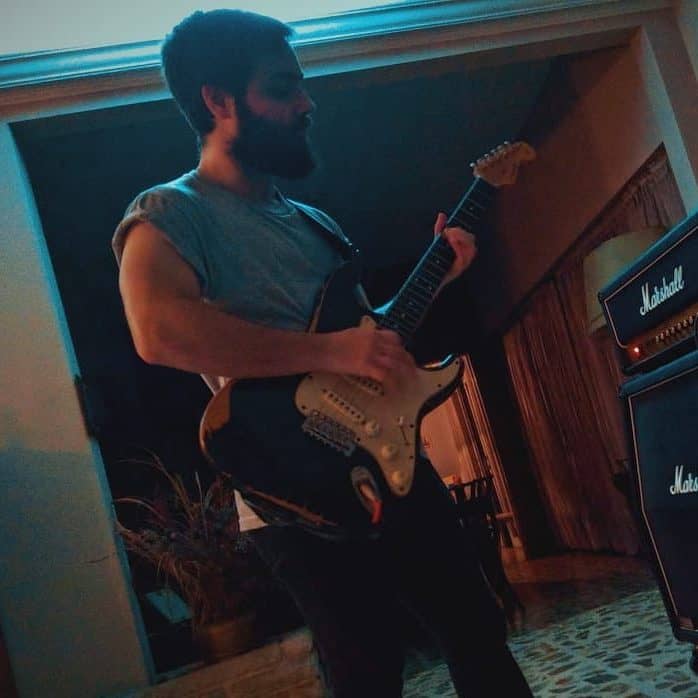 Hello there, my name is Ramiro and I've been playing guitar for almost 20 years. I'm obsessed with everything gear-related and I thought it might be worth sharing it. From guitars, pedals, amps, and synths to studio gear and production tips, I hope you find what I post here useful, and I'll try my best to keep it entertaining also.