When most people think about cheating, we think about cheating in a relationship, but someone can also be a cheater in the sense that they connive and rob people of things.
Today we'll be looking at songs about all topics related to cheating and how singers have responded to this concept.
Some chose to encourage us to take revenge, others encourage us to cut them off and others still have sung songs about being a cheater of one sort or another, so you can be guaranteed to relate to at least one song here.
1. Before He Cheats – Carrie Underwood
They say hell hath no fury like a woman scorned and this song is all about that!
The song details the aftermath of a scorned woman finding out her lover cheated on her and taking it out on his prized truck.
Carrie Underwood wastes no words in this song expressing how she feels about cheaters, and throughout not only the lyrics, but also the music video, you can see how her emotions slowly grow and grow until they become a hurricane of destruction.
It's best not to cheat, especially not on a country girl.
2. Cry Me A River – Justin Timberlake
Flipping the script, cry me a river was Timberlake's response to being cheated on.
He wrote it in response to his then-girlfriend Britney Spears after a difficult phone call they had. It was intended as a revenge song to a degree.
In the music video, Timberlake even went so far as to hire a Spears lookalike.
The song is about a heartbroken man who moves on from his past and responds to his girlfriend now wanting him back.
3. Jolene – Dolly Parton
Jolene is less a song about being cheated on and more about being worried that someone will seduce the person you love.
In this song, Parton sings about Jolene, a particularly attractive and seductive woman who is known for stealing other women's men.
Jolene is inspired by real events in Parton's life, about a red-headed bank clerk who flirted with her husband at his local bank around the time they were newly married.
4. I Heard it Through The Grapevine – Marvin Gaye
I heard it through the grapevine is a song that was initially written by Norman Whitfield and Barrett Strong for Motown Records in 1966, it was only made famous by Marvin Gaye in 1968.
This song is about finding out that the person you love has been unfaithful to you and is planning on getting back together with an old flame.
Sometimes people do this, and it sucks to find out, but it's good to know you aren't the only one who's gone through this.
5. Don't Get Mad, Get Even – Aerosmith
Terrible advice from a half-decent song. "Don't Get Mad, Get Even" is all about revenge cheating.
The structure of the song is a little weird and it's considered one of their worse tracks off the Pump album, but Aerosmith gives a unique take on being cheated on.
That aside though, if you're looking to get amped up after finding your girlfriend "with her skirt up to here" then who am I to judge what you should do?
The point of it though is that the world can be unfair and people mistreat us, but we shouldn't give in to getting upset about it.
We shouldn't try to get even either though.
6. Call Your Girlfriend – Robyn
An electro-pop dance song that isn't about being cheated on but actually about cheating!
In it, Robyn sings to the listener that it's time for them to move on from their current girlfriend.
Frankly, it's a weird song for me, the dance track and upbeat tempo make it a good club song but not really something to be taking advice from.
7. Between the Cheats – Amy Winehouse
Amy Winehouse wrote this song while she was still single, but it was about a fictional husband who she warned to remain faithful.
The song is kind of about two lovers who have a tough time staying loyal to one another, but the woman still claims to love the man.
The phrase "between the cheats" is a reference to both the lovers and how they're both not very faithful.
8. I'm Not The Only One – Sam Smith
Sam Smith has a penchant for writing tragedy-laced love songs and "I'm not the only one" is just such a song.
It's a song about being in love with someone who you know isn't being faithful to you and how it tears you apart.
As is often the case, the guilty person resorts to gaslighting and denial of their deeds.
The song deals with coming to terms with being cheated on but doesn't give much of a respite or happy ending, rather leaving the listener with the sad feeling of living with the heartbreak.
9. Mr. Brightside – The Killers
Mr. Brightside is such an upbeat song, it's difficult to feel like the Killers were singing about being cheated on.
The song narrates the singer's thoughts as he agonizes over where he thinks his lover could be and lives in the fantasy of seeing her cheating on him.
It can often be that way, when we suspect someone of being unfaithful, we start to conjure up all sorts of scenarios about where they really are when they say they're somewhere and you don't believe them.
10. You Oughta Know – Alanis Morissette
This has been called the ultimate "Bad breakup song" and Morissette doesn't pull any punches in the lyrics.
This song is about having been scorned and left and hurt, but wanting to get back at the person who left you.
The lyrics allude to the fact that the other person moved on a little too quickly after the breakup for it to not have been intentionally done.
11. It's Not Right, But It's Okay – Whitney Houston
A song about a woman confronting her lover about his infidelity.
The song details all the little ways she caught him out while also stating that it's not the first time she's been through this.
It's a sad thing when you get cheated on and to be so more than once must sting extra hard.
But Houston manages to make it a resilient tune in the chorus and the outro, stating that she'll be alright and make it through.
And the same should be said for others, being cheated on is a reflection of the other person's lack of self-worth, not yours.
12. Bust Your Windows – Jasmine Sullivan
A good song about taking out your hurt on the person who hurt you.
While I wouldn't advise such retaliation, the song's spirit is what it's all about.
Bust Your Windows is very reminiscent of Before He Cheats, but with an R&B feel instead.
13. She Don't Have to Know – John Legend
This song would fit in well with Amy Winehouse's "Between the Cheats".
It's a similar concept, but from a guy's perspective, about a man cheating on his girlfriend, who knows it's wrong but is justifying it by saying he doesn't need to tell her.
The woman he's with is also cheating on her partner which makes them both really meant for each other.
Not sure what inspired Legend to write this song though, but it's not a fantasy I want to share in common with him.
14. Should've Said No – Taylor Swift
Taylor Swift has a habit of writing break-up songs and heartbreak songs, but this one has a bit more of a real personal sting to it for her.
According to the Country Weekly magazine, Swift was inspired to write this song after finding out her boyfriend at the time had cheated on her.
There's even a secret message in the album booklet about who it is.
15. Lips of An Angel – Hinder
Lips of an Angel puts you in the shoes of a man who's fighting feelings for his old flame.
The song picks up with him answering a phone call from his ex and admitting to her how he still has feelings for her.
I can't say I've been in the same situation before, but I know that sometimes old relationships still carry the residue of old feelings and in that case, it's better to cut ties completely and to work through the unresolved feelings until you're able to move on.
10 More Songs About Cheating
| | |
| --- | --- |
| Title | Artist |
| Thru Your Phone | Cardi B |
| Little Lies | Fleetwood Mac |
| I Write Sins Not Tragedies | Panic! At the Disco |
| White Liar | Miranda Lambert |
| Marvins Room | Drake |
| This Kiss | Carly Rae Jepsen |
| Don't Bother | Shakira |
| A Woman Knows | Kenny Chesney |
| Part-Time Lover | Stevie Wonder |
| Shout Out to My Ex | Little Mix |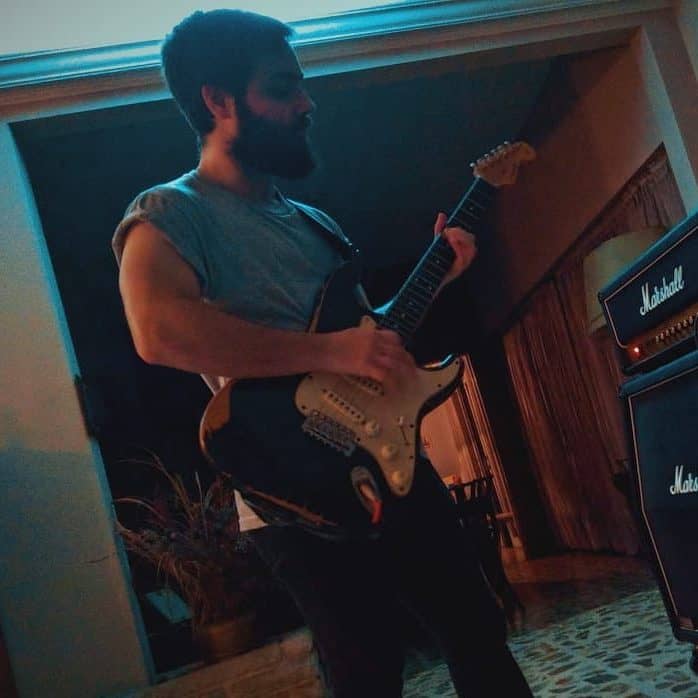 Hello there, my name is Ramiro and I've been playing guitar for almost 20 years. I'm obsessed with everything gear-related and I thought it might be worth sharing it. From guitars, pedals, amps, and synths to studio gear and production tips, I hope you find what I post here useful, and I'll try my best to keep it entertaining also.