Struggling with addiction has to be one of the hardest experiences in anyone's life.
It takes away everything from you, step by step.
This "dark chapter" in anyone's life has been experienced by hundreds of musicians, thus, leading to some deep creations.
Here we present 31 fascinating songs about addiction. I sincerely hope they serve as a warning of how dangerous this lifestyle can be.
Most importantly, though, I hope they serve as a vivid example that recovery is not only possible but worth the effort.
1. One Day At A Time – Joe Walsh
American guitarist Joe Walsh wrote a song about the very first step toward recovery: acceptance.
Accepting that we've got a problem is far from being an easy task, but it's of pivotal importance to achieve inner peace.
2. Rehab – Amy Winehouse
The opening track of the legendary album Back to Black is a denial of addiction. After all, Amy is stating that she doesn't need rehab at all.
But come to think about it, it is in fact the opposite: it's about embracing it.
If you choose one path, then you're neglecting the other one.
3. That's Why I'm Here – Kenny Chesney
In That's Why I'm Here, Kenny discusses all the problems emerging from addiction, like missing key moments with your kids and wife.
4. Mr. Brownstone – Guns N' Roses
"I used to do a little but a little wouldn't do, so a little got more and more"
The line says it all… unfortunately.
5. Rock Soldiers – Frehley's Comet
Original KISS guitarist Ace Frehley has undergone plenty of near-death experiences.
Rock Soldiers narrates one of those moments when he crashed while drunk driving.
Nowadays, Ace Frehley is happily sober and has left his demons behind.
6. I'm Not A Vampire – Falling In Reverse
Ronnie Radke, the founder of Falling In Reverse, tells his tragic experiences while attending rehab, both in these lyrics and in this goofy music video.
7. Sickman – Alice In Chains
Grunge monster Dirt is known for being one of the top-seller albums of the 90s.
It's also known for its dark and gloomy songs, narrating about heroin addiction (and other depressing themes).
Sickman is one of those tracks that deal with drug addiction.
8. Life Is Beautiful – Sixx:A.M.
Bassist Nikki Sixx has learned what addiction is about the hard way.
He is a heroin survivor who literally passed away (but came back to life) due to drug overdose.
In 2007, Sixx published a book called "The Heroin Diaries: A Year in the Life of a Shattered Rockstar", recalling his living nightmares and much more. I highly recommend reading it.
9. It's Been Awhile – Stained
A devastating story in which singer Aaron Lewis shares his experience with addiction, and how it destroyed his most significant relationships.
10. Interstate Love Song – Stone Temple Pilots
Singer Scott Weiland battled with heroin addiction for years.
This song, however, is not just about his internal battles. More precisely, it's about how the addiction affected his relationship with former girlfriend Janina Castaneda, and how Weiland pointlessly promised her to stay away from drugs.
11. Drug Me To Hell – Murderdolls
"Sobriety's so far away from me" sings Wednesday 13 in this heavy and somber track from the album Women and Children Last.
The title is a witty play of words, referring how drug abuse can lead you to the deepest level of Hell.
12. Under The Bridge – Red Hot Chili Peppers
Not only has Anthony Kiedis struggled with drug addiction, but with sex addiction as well.
This one, however, is about the living hell of experiencing the first one.
13. The Death of Me – Asking Alexandria
Sadly, addiction has taken over thousands of lives.
In The Death of Me, we get a more positive but challenging view regarding this topic.
Drugs and alcohol may be hard-to-beat enemies, but you've got the guts to not let them be the death of you.
14. Dead Men Tell No Tales – Motörhead
Lemmy Kilmister was known for being a heavy drinker and drug enthusiast.
He has been under the effect of a dozen drugs without regrets, but he has always loathed heroin.
Dead Men Tell No Tales is an anti-smack song, which is not a surprise considering that he lost the only woman he has ever loved due to this drug.
15. Rocks Off – The Rolling Stones
16. She Talks To Angels – The Black Crowes
17. The Last Fight – Bullet For My Valentine
18. Sober – P!nk
19. Breaking The Habit – Linkin Park
20. Animal I Have Become – Three Days Grace
21. Dear Sobriety – Pistols Annie
22. Jane Says – Jane's Addiction
23. My Drinkin' Problem – Hank Williams III
24. Trick of The Wrist – Michael Monroe
25. An Old Friend of Mine – Joe Nichols
26. Whiskey Lullaby – Brad Paisley (feat Allison Krauss)
27. Sexual Addiction – Alleycat Scratch
28. Whiskey In The Morning – Buckcherry
29. Rehab – Machine Gun Kelly
30. Dark Times – The Weeknd (feat Ed Sheeran)
31. Sober – Kelly Clarkson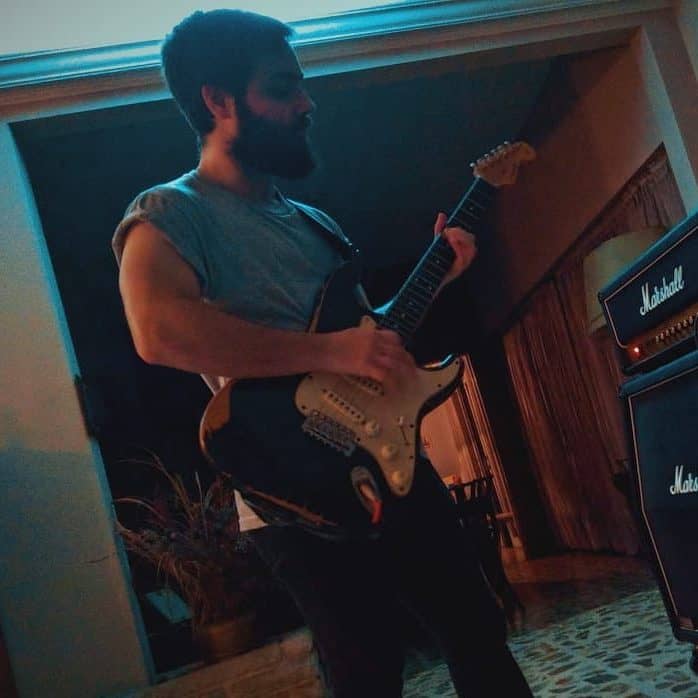 Hello there, my name is Ramiro and I've been playing guitar for almost 20 years. I'm obsessed with everything gear-related and I thought it might be worth sharing it. From guitars, pedals, amps, and synths to studio gear and production tips, I hope you find what I post here useful, and I'll try my best to keep it entertaining also.