There is nothing more beautiful in this world than watching someone (probably off-key) singing their heart out. Karaoke takes this and somehow.
Makes it better by letting friends and strangers alike join in. Here are 33 of the best songs to make that happen with.
1. Walking on Sunshine – Katrina and the Waves
From the first note of this song, you know the person singing is bringing the energy.
Katrina "feels like love" while she walks on sunshine, and so will everyone who hears you jamming out to this classic.
This song can be sung alone or with a group, making it a strong first entry on our karaoke list.
2. Man! I Feel Like a Woman – Shania Twain
Every girl knows this song.
Every. Single.
One.
It doesn't matter if there are two twenty-somethings singing or five forty-somethings singing, this song will always get performed at karaoke so make sure you get it in early before some overly-intoxicated women steal your thunder.
Regardless of who gets to it first, the audience will have a good time watching you do your best.
3. A Thousand Miles – Vanessa Carlton
This song bridges between a meme and a karaoke song.
Its popularity comes online, but don't let that slow you down.
Once people hear that opening piano medley, they'll know you mean business and will more than likely sing along with you.
The song itself isn't difficult to sing so make sure you bring the passion or else you'll fall flat.
4. Mr. Brightside – The Killers
If there are four or more white people in the room when you perform this song, you're going to have a good time. Mr. Brightside has power over white people that very few songs can replicate.
If you bust this song out in the latter half of the night, you are guaranteed to have backup singers who will be just as loud as you without the mic.
5. Wannabe – Spice Girls
YO, tell you what I want, what I really really want. What you want is a good time and the way to get it is with this song.
Be warned though, you may have some drunk girls jump up on stage with you to sing this one because while this song isn't meant to be sung alone, there is no upper limit to how many should be singing.
The more the merrier with this Karaoke classic.
6. I'm Gonna Be – The Proclaimers
Popularized by the TV show How I Met Your Mother, The Proclaimers give you everything you want in a drinking song.
This song has easy lyrics, a catchy chorus, and a call and response in it.
When jamming in the car this song is best for two people, but in karaoke, everyone can sing along and feel like they belong.
7. Back To Black – Amy Winehouse
This song takes a slower, slightly sadder beat and is more intended for those in karaoke who want to show off their singing ability (as are most Amy Winehouse songs).
This song is best used just before the midpoint in the evening before people get too drunk so they can appreciate your talents without thinking the song is too slow.
8. Don't Go Breaking My Heart – Elton John and Kiki Dee
Our first true duet, this song exploded during its first release in the 70s and hasn't slowed down since.
A go-to classic for couples at karaoke night, please do your best to withhold singing along loud unless actioned to do so.
9. My Heart Will Go On – Celine Dion
Titanic fans, anyone?
The movie was released the same year as the song did and with both garnering international acclaim, the song and movie have been forever intertwined.
Be prepared for the performance of your life because Celine brought it for us.
The least you can do is match her energy.
You will never be alone with this song, people will either join in with you or whistle and clap when you start reaching those high notes.
10. I've Had The Time of My Life – Bill Medley and Jennifer Warnes
Popularized by the 1987 hit "Dirty Dancing", Bill Medley and Jennifer Warnes bring our second duet to the list.
This song is much more difficult to sing though, so if you're a well-seasoned karaoke couple then you can consider giving this one a shot.
This is the first song on our list that is unforgiving in its performance.
If you don't have the pipes for it, maybe don't try it tonight.
11. Summer Nights – John Travolta and Olivia Newton-John
Another karaoke duet, this song is generally not reserved strictly for couples.
The overlapping vocals and on-beat do-wapping are probably the most difficult parts of the song so if you have a sense of rhythm you'll be fine performing this Grease classic.
Extra points if you can hit Newton-John's ad Travolta's notes at the end.
12. Everybody – Backstreet Boys
Arguably the easiest song to sing on this list, all you need to know is how to read the screen.
Everyone knows the beat of this song, and everyone loves singing along to it; this song is a breeze.
If you're struggling at all, just tough it out until the chorus and everyone will jump right back in with you.
13. Dancing Queen – ABBA
I take. it back.
This is the easiest song to sing on this list.
The notes may be a little more spread out than Backstreet Boys' but the words are slower and this is quite arguably the most popular song you can sing in karaoke.
If this song isn't sung, the night is missing a beat.
14. I Want it That Way – BackStreet Boys
Yes, another Backstreet Boys song (don't worry, there's another ABBA one coming next as well).
This song has always been a go-to for jamming out, but four years ago Brooklyn Nine-Nine made a cold open using this song and it has resurged since its early 2000s prominence.
Bring a few friends up to sing this one, it will help recreate that boy-band magic.
15. Mama Mia – ABBA
How ABBA got away with making as many hits as they did will forever elude me.
This list is.
Stopping after two ABBA songs but if the songs here haven't inspired the right song yet, I encourage you to sift through more of their work.
Mama Mia is ABBA's most definitive track and works so well with a duet or group. Highly recommend it.
16. Africa – Toto
Even with its slow start, everyone knows where this song is going.
This song has had a hold on modern media for some time, including a bit from Saturday Night Live with Jimmy Fallon and Justin Timberlake.
If you aren't able to hit the high notes in the chorus, make sure you have someone with you who can.
While most songs in karaoke require passion, this song might be the most demanding on our list.
17. Total Eclipse of The Heart – Bonnie Tyler
Another slow piano song intro, but this one does not speed up.
Instead, this ballad gets more and more intense as it goes on.
This song is not for the faint of heart – if you have one strong singer and one there for moral support, this song is perfect for you.
One of you sings "turn around" and the other sings everything else.
Make sure you're well warmed up before this one.
18. Gold Digger – Kanye West
Not a lot of people know it's Jamie Foxx on the chorus vocals, but everyone knows of this song. If you've got a quick mouth then you should sing this one.
The verses are pretty easy to keep up with and if you've got a backup singer belting out "she give me monay" every few lines then you've practically got the whole.
Song down-pat already.
19. Before He Cheats – Carrie Underwood
Inspired by scorned women everywhere, Carrie Underwood created a song. Back in 2005 that has.
Ann matched energy in the world of Country.
This song is so strong that people who say they "don't like country" exclude this song on principle because it's so good.
This is a favorite of girl groups and if you see them getting on stage, be aware if any of them are singing a little too hard.
20. Don't Stop Believin' – Journey
Just a small-town girl, livin' in a LONELY world.
This 1981 classic rose to prominence during that one scene of The Sopranos and then again when Glee came into the picture.
Ever since then, Journey has been a marquee song in karaoke bars around the globe.
21. Sweet Caroline – Neil Diamond
No karaoke list is complete with Neil Diamond.
As long as one other person is in the bar with you, this song will always be a hit.
The lyrics are easy, the pace is slow, and the words are iconic. What more could you want?
22. Wrecking Ball – Miley Cyrus
A favorite for those looking for a passionate single-person performance, Miley's 2013 hit gives the singer all the leeway in the world with her almost spoken-song verses, letting the tiger give their all during the chorus, often accompanied by some dramatic dancing.
23. My Way – Frank Sinatra
This is usually a nearing-the-end-of-the-night song. Frank Sinatra literally talks his way through 75% of the song but once he starts actually singing it is a tough act to beat.
Warm up appropriately for this one, because not only are the notes strong but they are held for quite some time.
If you can sing this one well, you're looking at a couple of free drinks for sure.
24. Kiss From A Rose – Seal
One of the best songs to sing that we have no idea what it means.
Seal released this song almost 30 years ago and to this day nobody quite knows what the lyrics mean.
That said, Seal sings it so well that nobody bothered to ask him.
What matters more in this song is putting your heart behind the performance and probably bringing a buddy up to feel it out with you.
There really isn't another song like this one, this song is a trap card.
25. Piano Man – Billy Joel
Other than "Closing Time", there isn't a song that sends off a karaoke night like this one.
Billy Joel gave us one of the best songs to sing together and the best part is, it's super easy to sing.
The vocals don't reach too far until after you've warmed up into the song and everyone knows the words so you won't be alone as you end the night strong.
A great song choice.
Just be aware that it might be the last performance of the evening.
26. Someone Like You – Adele
27. When I Was Your Man – Bruno Mars
28. You're Still the One – Shania Twain
29. All Too Well – Taylor Swift
30. Bad Romance – Lady Gaga
31. Perfect – Ed Sheeran
32. All of Me – John Legend
33. Can't Help Falling In Love – Elvis Presley
We hope this let helps you in your karaoke decision-making or at least inspires you to sing another song that might not have made this list. Good luck!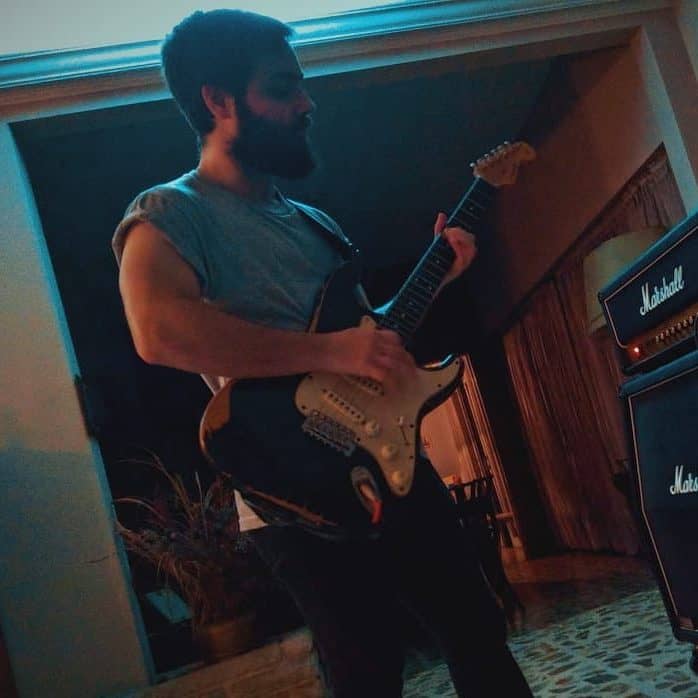 Hello there, my name is Ramiro and I've been playing guitar for almost 20 years. I'm obsessed with everything gear-related and I thought it might be worth sharing it. From guitars, pedals, amps, and synths to studio gear and production tips, I hope you find what I post here useful, and I'll try my best to keep it entertaining also.