What do you think of when you think of cowboys?
Country folk?
Hard worker?
Those that choose to live a lonely life due to their lifestyle.
From movies, tv shows, and songs; the lifestyle of cowboys is really the same generic country boy living on a farm or out west always working, kind of a rebel.
Whereas nowadays the definition is changing to it really is about those that are living on the road, or have a lonely work/lifestyle with a strong work ethic who is proud of it.
1. Should've been a Cowboy – Toby Keith
Sung by Country legend Toby Keith the song is one of the most-played country songs of the 1990s.
As big of a hit as the song was and still is, Toby has mentioned that it only took him a few minutes to write the song.
He got the inspiration while he was out and he overheard a friend say to another friend that he should've been a cowboy when a girl rejected him while the guy was wearing hunter's clothes.
He said he went to the bathroom and wrote the song.
2. Cowboy – Kid Rock
The song is about him envisioning himself as a cowboy on his way to California with a bottle of beer and an attitude.
The song is known as a breakthrough for Kid Rock.
The song is a country rap style and was the artist's first song to reach Billboard's top 100.
3. Cowboy Take Me Away – The Chicks
The song was written for one of the bandmates and her boyfriend, once she met her now husband Charlie, she pictured him whisking her away.
The song even made a huge impact on then-pre-teen Taylor Swift, as she mentioned that she would practice her guitar and would do a gig at a coffee house.
4. Space Cowboy – Kacey Musgraves
The song is about the artist's lover who tells her that he needs some space and wants to leave.
In the song, she goes on about how there is no point in changing his mind or doing anything about it and that all she can do is say goodbye.
She says you need to make peace with what leaves and doesn't belong as something better will come.
5. Cowboy Casanova – Carrie Underwood
One of the fastest climbing songs she's made so far with the single reaching double platinum.
Now while others have continuously asked who the song is about, Underwood has mentioned in interviews it's not necessarily about anyone specific and her normal vocabulary has cowboy in it so if the song matches someone else, that's probably right.
6. Like a Cowboy – Randy Houser
Randy mentioned in an interview he grew up around rodeos and they reminded him of Cowboys because they were always traveling.
He says that nowadays, musicians are considered cowboys because they are always on the road and are a lot like old cowboys.
Listening to the song it definitely feels like it's meant for cowboys but also for anyone who is traveling about and that's just what Houser wanted, it doesn't have to be a song for cowboys only it can be anyone with that type of living style.
7. A Cowboy Can – Josh Ward
The song paints a picture of a cowboy who lives in the open fields, while the song lyrics go on about days on the ranch and the hard work-ethic cowboys have, but also bringing in the loneliness cowboys must have due to their lifestyle.
Ward has said this song should be for anyone who has a cowboy heart.
8. Asphalt Cowboy – Jason Aldean
The song is about a truck driver who is always sacrificing and working hard and loses time with his girl to make ends meet.
From his lyrics about "I don't want to leave your side" to "I'm on a ride that won't let me go" you can hear the struggle.
Jason Aldean was trying to write a song for those that have the cowboy lifestyle, and he really succeeded at it.
9. Ain't Always the Cowboy – Jon Pardi
This song gives a little twist to the name cowboy, where it's not always the cowboy who leaves; but the girl this time doesn't have anything to hang on to, and "gone's just what they gonna do".
Pardi gives an explanation to the song that it's an anthem for the girls trying to do their own thing.
A "happy leaving song" says Pardi but the girl isn't the only one that has to always stick around, they need to chase their dream, be independent, and do their own thing.
10. Cowboys from Hell – Pantera
A metal classic that couldn't be left out of this list.
Cowboys from Hell addresses how the band was seen when they first started out since it was rare for a band that started in Texas to be making it into the international metal scene.
Times have really changed since then.
11. Ghost Riders In The Sky – Johnny Cash
12. Cowboys Don't Cry – Oliver Tree
13. If I Was a Cowboy – Miranda Lambert
14. Smalltown Boy – Orville Peck
15. Cowboy Songs – Chris LeDoux
16. Cowboy Like Me – Taylor Swift
17. Cowboy Song – Thin Lizzy
18. Cowboy – Lindemann
19. Rhinestone Cowboy by Glen Campbell
20. The Cowboy In Me by Tim McGraw
21. The Cowboy Rides Away by George Strait
22. Rock and Roll Cowboy – Jason Aldean
23. Wanted Dead or Alive – Bon Jovi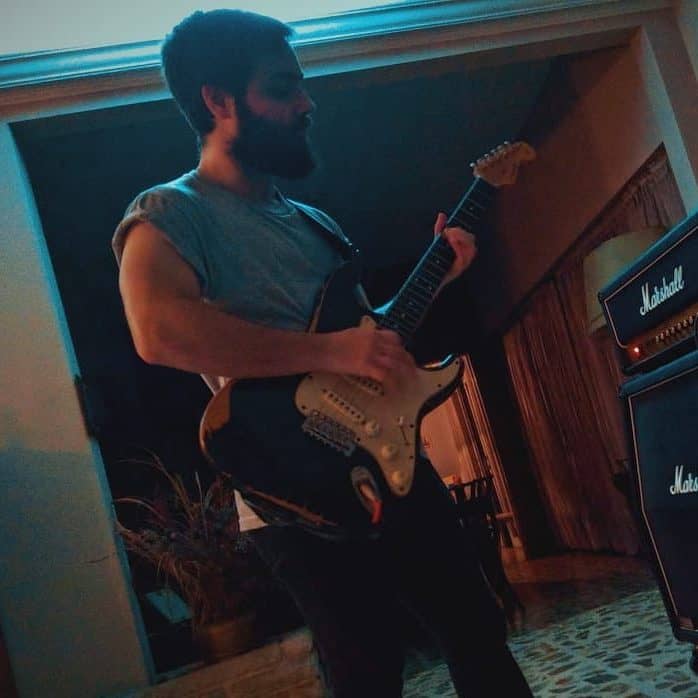 Hello there, my name is Ramiro and I've been playing guitar for almost 20 years. I'm obsessed with everything gear-related and I thought it might be worth sharing it. From guitars, pedals, amps, and synths to studio gear and production tips, I hope you find what I post here useful, and I'll try my best to keep it entertaining also.