Space is the final frontier.
We can only imagine the vastness, the emptiness, and the immensity of space. Yet, painting that black picture in our heads is good as a humbling exercise.
It reminds us we're just a little gear in the universe's huge machinery.
These are the attempts humans have made to turn the scary notion of the infinite into a source of beauty and joy all of us can appreciate.
These are some of the best songs about space that ended up being the soundtracks of our Earth-bound lives.
1. Space Truckin – Deep Purple
"Space Truckin'" is part of the critically acclaimed 1972 record Machine Head by British hard rockers Deep Purple. It is the album's seventh and last song.
2. Don't stop me now – Queen
"Don't Stop Me Now" appears in Queen's 1978 album Jazz.
3. Black Hole Sun – Soundgarden
"Black Hole Sun" was (and still is) one of the biggest hits of the Alternative Grunge band Soundgarden. It was written by Chris Cornell and released as the third single of the band's critically acclaimed 1994 record, Superunknown.
4. Rocket Man – Elton John
"Rocket Man" is a timeless classic by Elton John originally released as the lead single for Honky Château on April 17th, 1972.
5. Space Oddity – David Bowie
"Space Oddity" went on to become a timeless classic after being released in 1969 as the opening track for David Bowie's second album, David Bowie.
6. A Space Man Came Traveling – Chris de Burgh
Chris de Burgh released "A Spaceman Came Travelling" as part of his second studio album called Spanish Train and Other Stories, in 1975.
7. We are all Made of Stars – Moby
"We Are All Made of Stars" was the first single of Moby's sixth studio album, 18. It was released in 2002.
8. Contact – Daft Punk
"Contact" belongs to Daft Punk's critically acclaimed 2013 album Random Access Memories. The band placed this song as the thirteenth and final track of the record.
9. Calling Occupants of Interplanetary Crafts – Klaatu
10. E.T. – Katy Perry
11. Jupiter Crash – The Cure
12. Andromeda – Paul Weller
13. Intergalactic – Beastie Boys
14. The Alien – Dream Theater
15. Aliens Exist – Blink 182
16. Fly me to the Moon – Frank Sinatra
17. Supersonic Rocket Ship – The Kinks
18. Looking for Astronauts – The National
19. Cosmic Love – Florence and the Machine
20. Starman – David Bowie
21. Space is the Place – Sun Ra
22. Loving the Alien – Velvet Revolver
23. Sail to the Moon – Radiohead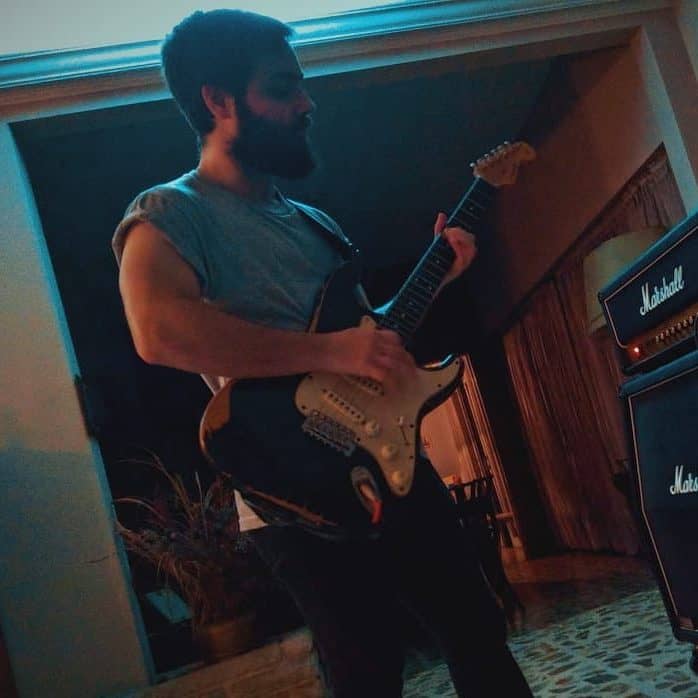 Hello there, my name is Ramiro and I've been playing guitar for almost 20 years. I'm obsessed with everything gear-related and I thought it might be worth sharing it. From guitars, pedals, amps, and synths to studio gear and production tips, I hope you find what I post here useful, and I'll try my best to keep it entertaining also.