Get out of here Purple Haze. And close the door on your way out.
Today is all about black. And wow, there are a lot of songs that make reference to this color.
I mean, obviously, it's popular in rock, heavy metal, and gothic music but it goes far beyond that.
So what does it mean? Are all of these songs really about a color?
At the most basic level, black is simply the absence of light, thus why it's often associated with evil or something negative such as the Black Death plague.
But today we're going to explore some of its many meanings such as cultural identity for Africans and the African diaspora, mourning clothes, depression, bad behavior, drinking yourself silly, etc.
So dim the lights and let's get started!
1. Black Sabbath
Now the album of the same name is what most people consider to have given birth to the Heavy Metal genre and I believe even the term itself was first used to describe Black Sabbath too.
As the first track on the first Black Sabbath album, this was the song that was the introduction to the band for many people.
This time, black is of course just good old evil.
And this song is scary as hell even after all these years. When Ozzy starts singing about Satan sitting there and smiling, you might find yourself looking around the room uneasily.
2. Miss Black America
This is a short but very sweet song that begins with a man talking with his young daughter and asking her what she wants to be when she grows up.
This was a track (not a single) off of Mayfield's first album as a solo artist and along with We the People Who Are Darker Than Blue was a shining example of the Black American experience.
I love artists like Barry White and Al Green too, but while they were making love songs, Mr. Mayfield was talking about some really meaningful stuff in his music before most of us were even born.
What I'm really trying to say is that Curtis Mayfield was awesome!
Written by: Curtis Mayfield
Year Released: 1970
Album: Curtis
3. Back to Black
Whether you loved her or hated her, I don't think you could call Amy Winehouse a poser.
Because a lot of her lyrics were about what a "bad girl" she was and to her detriment, her songs were pretty autobiographical.
So in this song about a broken relationship, going back to black basically means returning to depression and addiction: hard liquor and whatever controlled substances she had laying around.
Ms. Winehouse, unfortunately, joined the 27 Club with Kurt Cobain, Jimi Hendrix, Janis Joplin, and Jim Morrison.
But thankfully she left us some great songs to listen to.
Written by: Amy Winehouse and Mark Ronson
Year Released: 2006
Album: Back to Black
4. Back in Black
This song came off of AC/DC's first album recorded after the death of their prior singer Bon Scott.
And here black can refer to bad behavior and burning the candle at both ends (Bon Scott was the singer on Highway to Hell by the way) but I think it is also a reference to wearing black clothes to a funeral.
Don't be fooled though; this isn't a sad funeral dirge, it's more of a tribute and a raucous one at that.
What else is there to say? Everyone knows this song.
Written by: Brian Johnson, Angus Young, and Malcolm Young
Year Released: 1980
Album: Back in Black
5. Fade to Black
This Metallica song is about death, suicide, and mortality in general. You know… Metallica stuff.
So here fading to black is a reference to the end of a film (or life) before the credits start rolling.
I guess they could have called it Cue the Credits but that wouldn't be very Metal would it?
Written by: Metallica
Year Released: 1984
Album: Ride the Lightning
6. Gonna Be A Blackout Tonight
How about some Celtic punk rock for a change of pace?
This is a cover song by Dropkick Murphys and references turning out the lights during wartime air raids.
Dropkick Murphys sing about drinking alcohol in a lot of their songs too so there's probably a double entendre going on here. Bottoms up!
Written by: Woody Guthrie
Year Released: 2003
Album: Blackout
7. Black No. 1 (Little Miss Scare-All)
Here's one about a Gothic Rock lady who dyes her hair black, "1" being the classification of the darkest hair dye (the single version on Youtube is under 5 minutes but the album version is 11+ minutes.).
Now Type O Negative was usually a pretty dark band but there was a lot of humor thrown in to balance things out.
Great guitar riffs and tone too!
Written by: Peter Steele
Year Released: 1993
Album: Bloody Kisses
8. Fell on Black Days
Here we are back to black connoting a sense of depression and/or misfortune.
Back in the 90s, Soundgarden was one of those bands that managed to crank out hit after hit. This was the 5th single from the album!
Like many of the frontmen for bands in the Grunge era, Chris Cornell was another great talent lost too soon but he and Soundgarden / Audioslave left us a lot of music to enjoy.
Written by: Chris Cornell
Year Released: 1994
Album: Superunknown
9. Black Market
I think it's time for a song where black doesn't have a negative meaning and this is a great one.
There's some wordplay going on here since a black market usually refers to purchasing something that isn't sold quite legally or aboveboard.
But per the album cover, black market is a reference to an African marketplace here and the album is indeed inspired by African music.
And bass players should take note as the album of the same name has a couple of songs featuring acclaimed electric (fretless) bassist Jaco Pastorius who had just joined the group.
Finally, for anyone who has a budding interest in Fusion Jazz, Weather Report's albums Black Market and Heavy Weather (1977) are a great place to start.
Written by: Joe Zawinul
Year Released: 1976
Album: Black Market
10. Black Dog
Great song but before you go overthinking what it's about… stop.
It's not a reference to Winston Churchill's problems with depression, which he referred to as his "black dog". At least Led Zeppelin wouldn't admit it if it was.
But the lyrics are inspired by Blues music, which would fit the "black dog" depression theme.
However, the accepted story is much simpler and apparently, there was a black Labrador Retriever dog that hung out around the studio where they were recording their 4th album.
And that dog got a song named after it.
So sometimes black just means black.
Written by: Jimmy Page, Robert Plant, and John Paul Jones
Year Released: 1971
Album: Led Zeppelin IV
33 More Great Songs with "Black" in the Title
| | |
| --- | --- |
| Title | Artist |
| Black Magic | Swollen Members |
| Black Ice (Sky High) | Goodie Mob (featuring Outkast) |
| Black White Blue | Front 242 |
| Black | Pearl Jam |
| Black Tie White Noise | David Bowie |
| Black Opium | Rick Ross (featuring DJ Premier) |
| Blackacidevil | Danzig |
| Black Celebration | Depeche Mode |
| Black Swan | BTS |
| Black Flag | King's X |
| Black Betty | Ram Jam |
| Out of the Black | Royal Blood |
| Black Roses | Charli XCX |
| Black and White | Three Dog Night |
| Black Cherry | Goldfrapp |
| Black Curtains | Megadeth |
| Black Napkins | Frank Zappa |
| Say It Loud – I'm Black and I'm Proud | James Brown |
| Black Hole Sun | Soundgarden |
| Man in Black | Johnny Cash |
| Black Magic Woman | Fleetwood Mac |
| Black or White | Michael Jackson |
| Lady in Black | Dire Straits |
| The Black Angel's Death Song | The Velvet Underground |
| Black Gold | Soul Asylum |
| Paint It Black | The Rolling Stones |
| Black Mirror | Arcade Fire |
| Here in the Black | Gary Numan |
| Black Moon | Killing Joke |
| Supermassive Black Hole | Muse |
| Blue on Black | Kenny Wayne Shepherd Band |
| Blackbird | The Beatles |
| The Blacker the Berry | Kendrick Lamar |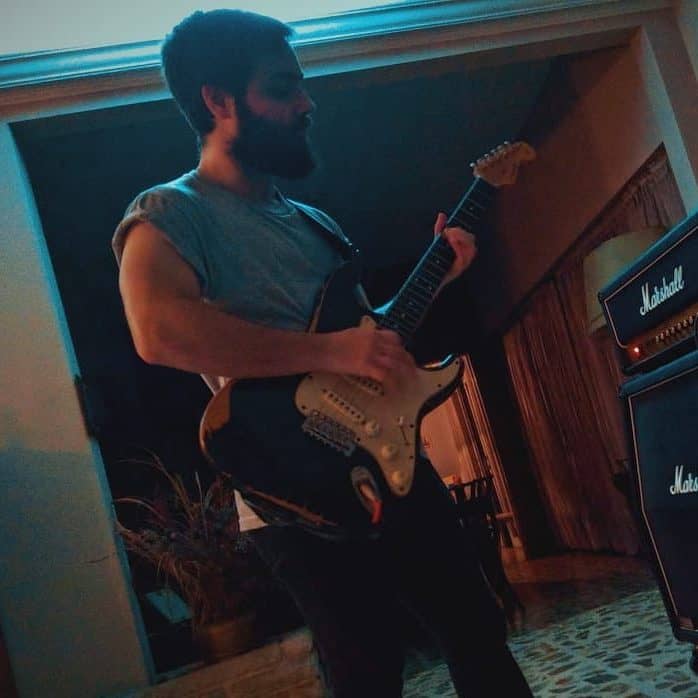 Hello there, my name is Ramiro and I've been playing guitar for almost 20 years. I'm obsessed with everything gear-related and I thought it might be worth sharing it. From guitars, pedals, amps, and synths to studio gear and production tips, I hope you find what I post here useful, and I'll try my best to keep it entertaining also.