A moon is a natural satellite that orbits around a planet.
Almost every planet in our Solar system has one, including planet Earth.
Our beloved moon is in charge of the rises and falls in the sea levels, and provides light in plain darkness.
Not only that, but it has also become a source of inspiration for thousands of artists over thousands of years.
Paintings, poems, music, you name it.
For now, we'll just stick to music with a collection of great songs about the moon.
Let's go!
1. To The Moon and Back – Savage Garden
Let's kick this list off with a rather melancholy track.
To The Moon and Back presents the experience of a young girl who avoids any type of contact with people due to past trauma.
2. Fly Me To The Moon – Frank Sinatra
Fly Me To The Moon was not written by Sinatra. But as usual, he has turned it into the definitive version.
It's a love song where a man asks a woman to go to space and play among the stars.
3. Bad Moon Rising – Credence Clearwater Revival
The cheer-up melody highly contrasts with the lyrics of a moon foreshadowing the end of the world.
Hurricanes, floods, earthquakes, and bolts of lightning. You know, the full-pack for an Apocalypse.
4. Red Hot Moon – Rancid
Rancid is a punk band, but their reggae and ska influences are impossible not to notice.
Red Hot Moon is one of their many songs where punk and ska become a unique hybrid.
5. Moonlight Shadow – Mike Oldfield (feat Maggie Reilly)
Despite the comforting melody, the meaning of Moonlight Shadow carries gloomy connotations.
It's a story about a murder in plain moonlight, where a woman witnesses her boyfriend dying in front of her.
6. Bark At The Moon – Ozzy Osbourne
The lyrics are about a werewolf who returns from the dead with a thirst for blood and slaughter.
Both in Bark At The Moon's music video and album cover, Ozzy Osbourne appears personified as this nightmarish werewolf.
7. Moondance – Van Morrison
Artist Van Morrison prefers to keep his music as cryptic as possible.
Therefore, there's no 'real' meaning behind this song.
But that only makes it more interesting. All in all, the connotation behind any piece of artwork is, more often than not, left to personal interpretations.
Why do you think the song was named Moondance, then?
8. Harvest Moon – Neil Young
Without a shadow of a doubt, musicians have a strong bond with natural elements, including the moon.
However, Neil Young takes that fact and pushes it to the limit.
Neil has taken this celestial body as his source of guidance and mentioned it in 28 different songs.
9. Blue Moon of Kentucky – Elvis Presley
This song is Elvis's B-Side from That's Alright (Mama), his first single with Sun records.
It was originally written by Bill Monroe in 1946.
10. Blue Moon – Beck
Beck took inspiration from an Elvis song of the same title.
No, not the one we find in the previous entry, but another Elvis song with a similar title.
According to Beck, the line "The lies you tried to hide behind your eyes" is about Elvis's beginnings in music, and how he ended up changing due to the music business.
11. Shame On The Moon – Bob Seger
In this Bob Seger cover song, we find a reflection of man's wild impulses that, oddly enough, mostly appear during nighttime.
12. Man On The Moon – R.E.M.
Singer Michael Stripe was inspired by comedian Andy Kaufman.
Andy would make Elvis impersonations which Stripe was very fond of. As a result, he tried to make one in a line of this song.
But Elvis is not the only celebrity mentioned here. Andy Kaufman himself is named in the first verse.
We can also find early rock band Mott The Hoople, wrestler Fred Blassie, and biologist Charles Darwin, among others.
13. Walking On The Moon – The Police
Walking On The Moon has a funny story behind its creation.
One night, Sting returned overly drunk to his hotel room. He started wandering around it trying to get back to normal, all the while saying "walking around the room".
The next day, he changed the idea to "Walking On The Moon" since it sounded more interesting.
14. Moon Over Bourbon Street – Sting
Sting wrote yet another song where the moon makes its presence.
This time, though, there is no alcohol involved in any way.
On the contrary, the inspiration came after Anne Rice's novel Interview With The Vampire.
Although Sting also said it's related to a night in New Orleans where he felt he was being followed by someone…
15. Moonlight Drive – The Doors
Moonlight Drive appears in The Door's second studio album Strange Days.
However, this track dates back even prior to their debut self-titled album. More precisely, it's the very first song ever recorded by the Californian group.
It originated as a poem written by singer Jim Morrison, but Manzarek suggested it became a song.
16. Sail To The Moon (Brush The Cobwebs out of The Sky) – Radiohead
This tune is dedicated to Yorke's son and appears in the studio album Hail to the Chief of 2003.
17. Moon Song – Phoebe Bridgers
18. Moonlight Serenade – Glenn Miller & His Orchestra
19. Moon River – Frank Ocean
20. Drunk On The Moon – Tom Waits
21. Moon At the Window – Joni Mitchell
22. Talking To The Moon – Bruno Mars
23. Moon – Björk
24. Moondance – Nightwish
25. Half Moon – Janis Joplin
26. Child of The Moon – The Rolling Stones
27. Shoot The Moon – Norah Jones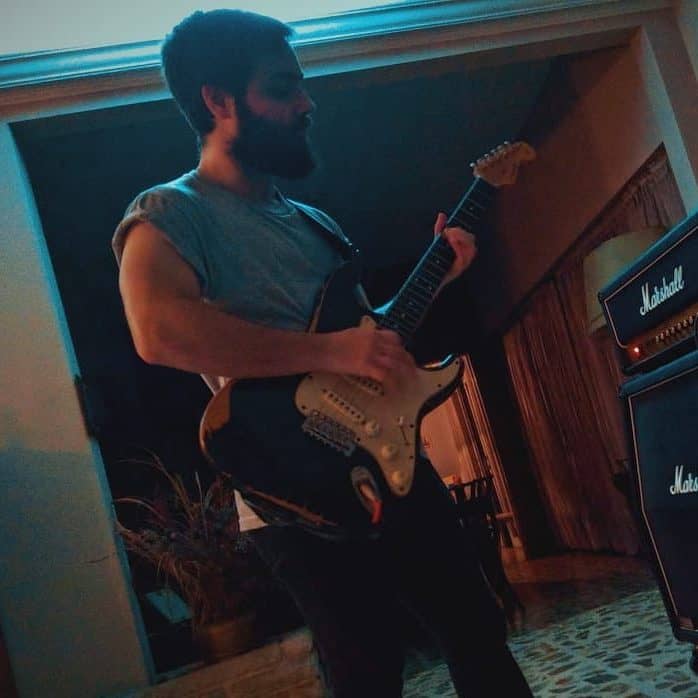 Hello there, my name is Ramiro and I've been playing guitar for almost 20 years. I'm obsessed with everything gear-related and I thought it might be worth sharing it. From guitars, pedals, amps, and synths to studio gear and production tips, I hope you find what I post here useful, and I'll try my best to keep it entertaining also.