Whoever you are, whatever you do; you will face moments of hardship that will make you get up and try again.
These setbacks can be due to a relationship gone bad, or difficulties with your friends, family, job, or you name it.
We all fall at one time or another, but being resilient is paramount to living a fulfilling life. Just like Buddhists say: pain is certain, but suffering is optional.
So, here are 27 songs that can help you cope with those moments that require an extra percentage of strength, self-love, and determination.
These songs about moving on touch on so many topics, there's surely something in here to help you today.
1. I Will Survive – Gloria Gaynor
"I Will Survive" became an anthem for broken hearts around the world. It was released as the second single from Gloria Gaynor's sixth studio album, Love Tracks, released in 1978.
Although this song is written from a female perspective and talks about moving on after a bad breakup, over the years, people have identified with it when overcoming any difficult situation.
Dino Fekaris, the song's lyricist, didn't write the song about a failed love experience but about being fired from Motown Records, where he was a staff writer.
2. I Will Always Love You – Whitney Houston
"I Will Always Love You" was originally written and recorded by Dolly Parton in 1973. Whitney Houston's utterly famous version with a ballad arrangement became an international hit as the soundtrack of the 1992 movie, The Bodyguard.
The feeling that the song conveys in the lyrics is that of the certainty that two lovers are not compatible even though they still love each other.
Often, the message of the song gets misinterpreted and some people even play this broken-heart song at their wedding.
Whitney Houston co-starred in The Bodyguard with Kevin Costner. The actor agreed to postpone the shooting for an entire year because that's the time it took for Whitney Houston to be available. The actor wouldn't settle for any replacement.
3. Wake Me Up When September Ends – Green Day
"Wake Me Up When September Ends" was the fourth single from Green Day's seventh studio album, the worldwide successful American Idiot, released in 2004.
The song was written by Billy Joe Armstrong, Green Day's guitar player, singer, and main composer. He wrote it to remember his dad who died of cancer on September 1st, 1982. According to the singer, as he got back home from the funeral, he locked himself up in the bathroom asking his mom to wake him up when September ends.
The music video for the song goes for over seven minutes and stars Evan Rachel Wood and Jamie Bell. The topic of the song is changed and there's no reference to Armstrong's dad but to the war that came after September 11th attacks.
All the explosions that happen during the video clip are real.
4. Let It Be – The Beatles
"Let It Be" is the title track of the band's 1970 homonymous record. It was released as the lead single for the album.
Paul McCartney's mother passed away when he was 14. She's the main inspiration for this song.
Although many people think that the reference to "Mother Mary" is biblical, the Beatle is talking to his mother.
5. Irreplaceable – Beyoncé
"Irreplaceable" belongs to Beyoncé's second studio album, B'Day, released in 2006.
The main theme of this acoustic-driven song is a woman talking to her lover who has been cheating on her. The song's title is ironic since she tells him that he's completely replaceable.
The lyrics for this girl-power anthem were written by Ne-Yo. He got inspiration from an unfaithful lover his aunt had.
Although Ne-Yo wrote this song as a country tune thinking of Shania Twain and Faith Hill as interpreters, Beyoncé's performance of it makes the audience think it was penned especially for her.
6. You Learn – Alanis Morissette
"You Learn" belongs to Alanis Morissette's breakthrough record, her third studio album, Jagged Little Pill, released in 1995.
The message Morissette is trying to push through in this song is that of taking life as a continuous learning experience. This comes from a very common saying that goes "Live and Learn". In other words, it means accepting whatever negative events life brings.
This song's lyrics give the album its title. It comes from the line "Swallow it down (what a jagged little pill).
7. New Rules – Dua Lipa
"New Rules" is the name of Dua Lipa's debut studio album, released in 2017. This song was the album's lead single.
The rules that Dua Lipa sets in this song are an effort to get away from an ex-relationship that has gone wrong. In other words, those are rules not to do something she wants to do but knows it's bad for her.
When asked about the song, Dua Lipa said that she wrote the song that she wish she had when she was breaking up with someone. She claims that the lyrics come from her "taking charge".
The video clip for this song, with over 2.5 billion views on YouTube, is about girlfriends having each other's backs.
8. Survivor – Destiny's Child
"Survivor" is the name of this song and also of Destiny's Child's third studio album, released in 2001.
The main inspiration for this song was the reality TV Series in which contestants are left on an island to vote each other off. The series bears the same name as the song.
Destiny's Child lost three members in one year. The song tries to cope with that situation making a comparison between that drama and the one participants living on the island go through.
The ultra-tight, small outfits that the singers wear in the video clip were made entirely by Beyoncé's mom, Tina Knowles. She kept cutting and cutting until she left hardly any fabric for the performers to wear.
9. Stronger – Britney Spears
"Stronger" was released as a single. The song belongs to Britney's second studio album, the utterly famous Oops!… I Did It Again, released in the year 2000.
The song is an empowerment anthem. The lyrics show how every difficulty in love that the singer faces only makes her stronger.
There's a hidden reference to Britney's first hit, "Baby One More Time" in the lyrics when she sings "My loneliness ain't killing me no more".
Although the setting of the video is a futuristic world, the story revolts around Britney getting rid of her cheating boyfriend.
10. Since U Been Gone – Kelly Clarkson
11. Back to Black – Amy Winehouse
12. Cry me a River – Justin Timerlake
13. Don't Think Twice It's All Right – Bob Dylan
14. The First Cut Is The Deepest – Cat Stevens
15. Someone Like You – Adele
16. We Are Never Getting Back Together – Taylor Swift
17. Look at her Now – Selena Gomez
18. You're So Vain – Carly Simon
19. IDGAF – Dua Lipa
20. Bad Religion – Frank Ocean
21. So Yesterday – Hillary Duff
22. Ooh La La – Faces
23. Don't Hurt Like It Used To – Grace Carter
24. Love Yourself – Justin Bieber
25. There You'll Be – Faith Hill
26. Truth Hurts – Lizzo
27. When I'm Back on my Feet Again – Michael Bolton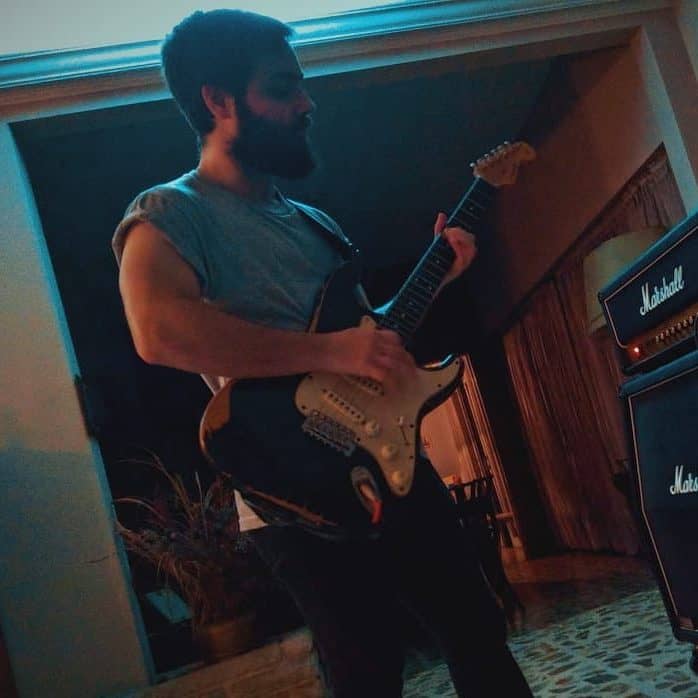 Hello there, my name is Ramiro and I've been playing guitar for almost 20 years. I'm obsessed with everything gear-related and I thought it might be worth sharing it. From guitars, pedals, amps, and synths to studio gear and production tips, I hope you find what I post here useful, and I'll try my best to keep it entertaining also.