Ah, April.
The wettest month of the year.
Famous for bringing May flowers and housing the second-most-popular chocolate holiday of the year.
But April is more than just rain and Easter, and there are a bunch of songs about the month to prove it.
Here's a list of fourteen songs about the month of April:
1. Pieces of April – Three Dog Night
Three Dog Night has the perfect song to start our list off.
Pieces of April is a song about springtime and love.
While it is a slow burn, the song does build toward the end.
A perfect song to sit and watch the ever-present rain during the month.
2. April Come She Will – Simon & Garfunkel
A quick song by Simon & Garfunkel, under two minutes, "April Come, She Will" gives fans of the group exactly what they want.
The light vocals and easy guitar make this song a breeze to listen to, which is partially what the two sing about during their song.
Fancy that.
3. April Sky – Jesus and Mary Chain
April Sky is an indie song through and through.
The song itself is pretty simple but the electric guitar shining through without being overbearing is a trademark of the genre.
Jesus and Mary Chain sing about the sky opening up during a certain time of year.
Any guesses when that time is?
4. Sometimes It Snows in April – Prince
One of the more famous songs on the list.
Prince dances through the lyrics (as usual) of a much slower, near ballad of a song.
But just when you think you're listening to poetry, the chorus will come in and turn it back into a song.
5. April Love – Pat Boone
Back in 1957, Pat Boone sang this and clinched the top 10 singles at the time.
His smooth voice (as well as the audio quality, sorry Pat) is a dead giveaway for the era, and his lyrics ring true.
A song about budding love like the buds of flowers in April, to the cheers of women when he starts his song?
All too perfect, Mr. Boone.
6. April Fools – Rufus Wainwright
A late 1990s slept-on classic, Rufus is the first artist on the list who remembers the first of the month.
April Fools is almost a love song, only falling short because the artist doesn't seem to believe in it.
To actually fall for such a thing would make you an "April Fool".
7. April Sun in Cuba – Dragon
Dragon really called it how it was. A song about the April sun in Cuba is literally just that.
Being in Cuba where it's warm during the month of April.
1970s songs really didn't mess about when it came to titles.
8. April 29, 1992 – Sublime
The date on this track marks a date Sublime allegedly went and "spread a little anarchy".
While the band isn't really speaking to the month itself, not much more can be expected from Sublime in that capacity.
Fans of the group aren't listening to their songs for a commentary on springtime.
9. April Fool – Patti Smith
Patti Smith almost has the same song name and almost sings the same song as Rufus does, but both the differences are subtle.
While this song only sings about one specific April fool, she goes the distance "April fools" does not but believing in love and asks someone else to be her April fool.
Adorable, isn't it?
10. April In Paris – Ella Fitzgerald ad Louis Armstrong
Two of the most iconic singers of their time, the pair deliver exactly what's expected.
A slow, lovely tune about being together in Paris during that oh-so-special month.
The song itself is self-explanatory, but it's the voices singing it that make it so special.
11. April Lady – Smile (pre-Queen)
For those who aren't aware, Smile is the band that essentially made Queen the band it was.
The group only recorded a half dozen songs before becoming Queen, including this one about a beautiful girl who came in the springtime.
12. April Showers – ProleteR
Our most unique song on the list, April Showers is an electric house swing tune that'll get you in the mood for exactly that: swinging.
A perfect blend of old and new.
13. April – Deep Purple
Deep Purple has got to be one of the most famously underrated bands of their time.
Their progressive rock sound gave them a few hits, but their other work still has strong potential, but just seems to have gone unnoticed.
This 12-minute track will give you everything you want from the month of April and more.
14. April Showers – Sugarland
A country tune to round out the list, Sugarland finally delivers what no other artist has on the list: a simple "April showers bring May flowers".
A simple country tune, but with those lines it had to make the list.
In Conclusion
From love to foolishness to wet in the rain, April holds different meanings for different artists everywhere.
Whether it's about what's in the sky or someone catching your eye, be sure to give these songs a listen when springtime comes again.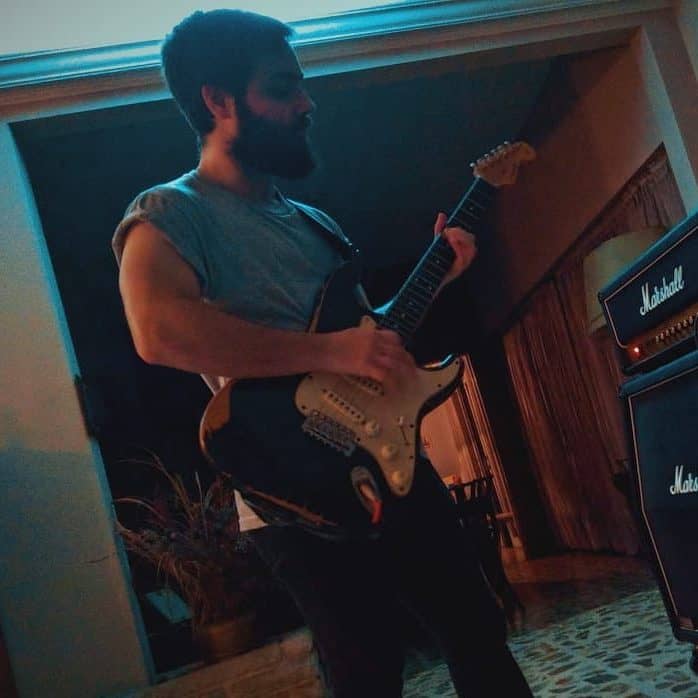 Hello there, my name is Ramiro and I've been playing guitar for almost 20 years. I'm obsessed with everything gear-related and I thought it might be worth sharing it. From guitars, pedals, amps, and synths to studio gear and production tips, I hope you find what I post here useful, and I'll try my best to keep it entertaining also.