Colors can evoke specific emotions, but the funny thing is that apart from the obvious ones such as "blue", some colors have different meanings for different people.
Whatever your interpretation is, you are probably not alone, and I'm sure that at least some of these 21 great songs about the color purple share something about how you feel.
Let's get down to it!
1. Purple Haze – The Jimi Hendrix Experience
Let's kick things off with a classic, and perhaps the most obvious song to pick for this list.
People often think about this song as an abstract and psychedelic piece, however, when asked Jimi Hendrix himself described it as a love song.
To each their own.
2. Purple Rain – Prince
Another mandatory pick for this article, and perhaps one of the sexiest songs ever.
Purple Rain talks about being with the one you love when the end of everything comes.
The purple color here refers to the mix of blue from the sky with red from blood.
Did you know about that deeper meaning?
3. Purple Stain – Red Hot Chili Peppers
From the Peppers' classic album "Californication" comes Purple Stain.
This song talks about the purple dye of a girl's hair staining your pillow.
Anthony, the lead singer for the band, said there's also another interpretation of the song, but that's one I won't discuss here.
4. Purple Sun – Cannons
With a lovely vintage vibe, Purple Sun is a love song set in a dream, where a girl hangs out with her loved one under a purple sun.
5. Purple Hills – D12
This is the radio edit (and censored version) of the song originally titled "Purple Pills".
As the original title implies, this is a song about drug abuse.
D12 had Eminem as a member, and his solo success made the group extremely popular.
6. Purple – Nas
American rapper Nas narrates the hardships of life on the streets.
The title of the song is commonly related to the "Purple Haze" (not Hendrix's song, but almost), the Sativa strain of cannabis, which the singer smokes to escape from the tough reality for some time.
7. Purple Hat – Sofi Tukker
This duo wrote Purple Hat after the musicians threw a wild party.
Tucker Halpern, one of the Sofi Tukker members, was wearing a purple hat and an animal print shirt that night.
As expected, the title of the song comes from that experience.
8. Purple Lamborghini – Skrillex & Rick Ross
One of the many singles launched for the 2016 DC movie Suicide Squad.
Rick Ross sings about being the most dangerous delinquent in town while driving his glamorous purple Lamborghini.
9. Morado – J Balvin
Morado translates as "purple" directly from the Spanish.
The song comes from the album "Colores" (the plural for color). In this record, each track is titled as a specific color, including gray, black, and white.
10. Purple – RETRIEVER
A beautiful love song with a melancholic aura that simply suits the title of the song.
11. Purple – Hollow Coves
This song narrates a longing to be spending some time with that special someone, drinking from a bottle, and gazing at the "purple sky".
12. Purple Snowflakes – Marvin Gaye
Christmas In The City, released in 1993, contains Purple Snowflakes as the opening track on the record.
13. Purple Hearts – Kendrick Lamar
In the US military service, when a soldier dies in battle, he or she is decorated with a purple heart.
Therefore, one could conclude that the song title is a reference to that symbol.
Although Lamar is not referring directly to earning a medal for fighting a real war, he might be comparing it with the daily war that sometimes life throws upon us.
14. Purple Rose – Kalabrese
Kalabrese mixes indie with electronica.
Purple Rose is the opening track to the musician's 2013 studio album Independent Dancer.
15. Purple, Yellow, Red, and Blue – Portugal. The Man
Purple Yellow Red & Blue is a song about debauchery and excessive indulging.
The story shows someone dissatisfied with their life, not wanting to work at all, and instead, eager to be a movie star.
16. Purple Zone – Soft Cell & Pet Shop Boys
A collaboration between two English synth-pop groups.
This song appears on the 2022 album Happiness Not Included.
17. Purple Heather – Van Morrison
Oddly enough, we don't get to see the title mentioned in the lyrics of this song.
Instead, "purple" is replaced with the word "blooming".
Of course, it makes sense anyway, since heather is a type of purple-flowered plant.
18. Purple Sky – Kid Rock
Purple Sky is a song originally titled Telephone Romeo, taken from Jason Boland & The Stragglers and re-arranged by Kid Rock for his album Born Free.
According to the singer, Purple Sky is about meeting the "chosen one". In this case, a girl next door he grew up his entire life with.
However, Kid Rock believes that you need to "go out and see it all first yet to realize that".
19. Start Wearing Purple – Gogol Bordello
Star Wearing Purple was released in 2006 but its composition dates back to 1995.
Eugene Hutz, frontman of Gogol Bordello, said the title of this song is a reference to a neighbor he used to have: an old lady who was completely dressed in purple all the time.
20. Purple Kisses – The-Dream
The meaning of the title is fairly straightforward: purple is the color of the lipstick-smeared kisses printed on the singer's body.
21. A Man In a Purple Dress – The Who
We close this list with a song from one of the most memorable rock bands from the 60s.
Nonetheless, this one appears in the 2006 album Endless Wire.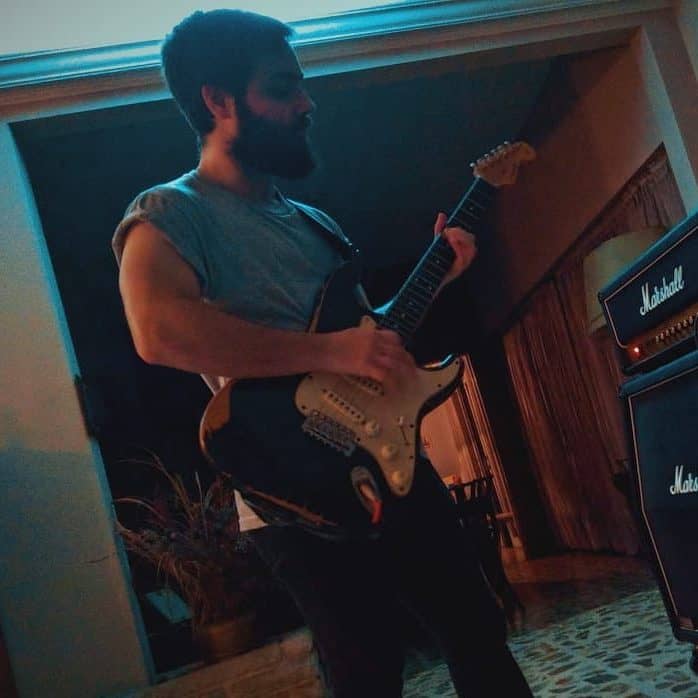 Hello there, my name is Ramiro and I've been playing guitar for almost 20 years. I'm obsessed with everything gear-related and I thought it might be worth sharing it. From guitars, pedals, amps, and synths to studio gear and production tips, I hope you find what I post here useful, and I'll try my best to keep it entertaining also.