Music was a powerful force in the 1960s, especially in the USA and the United Kingdom.
And while it prompted a lot of controversy with Beatlemania and the Hippie movement, a lot of the messages promoting peace were also a driving force behind protests against the Vietnam War.
It's not hard to see why the music had such a cultural impact as many people consider a lot of the songs from the era as some of the greatest music ever written.
Just take a listen to some of the songs, especially towards the end of the decade to find out why.
This list won't be covering any of the incredible Jazz music from the period, but don't worry because there are plenty of Rock, Soul / R&B, Avant-Garde, and Psychedelic songs to please just about anyone.
So let's get groovy!
1. Crimson and Clover – Tommy James and the Shondells
Just listening to this song will make you feel like someone slipped "a substance" into your food or drink.
From the sigh beginning of the track to the trippy tremolo effect on the guitar solo, this song totally nails the experimental mindset of the era.
And its expression of obsession with someone that the singer hardly knows is sure to resonate with everyone who ever felt shy around a teenage crush.
Written by: Tommy James and Peter Lucia
Year Released: 1968
Album: Crimson and Clover
2. Good Vibrations – The Beach Boys
There is no denying the presence of Surf Rock in the 60s and there are no better ambassadors than the Beach Boys.
Because Brian Wilson and Mike Love could crank out the hits like a well-oiled machine!
And "good vibrations" is a perfect description of the theme of the band: fun sun-soaked songs about life on the West Coast where there's not a cloud in the sky and nothing to worry about.
Sounds good to me!
Written by: Mike Love and Brian Wilson
Year Released: 1966
Album: Good Vibrations (single)
3. Femme Fatale – The Velvet Underground
The Velvet Underground teamed up with model Nico for a few songs on their debut album and the results were surprisingly good.
This was a band that may not have been selling out arenas, but they had a huge influence on later music and they weren't afraid to experiment.
And I consider their first album and White Light / White Heat (1968) to be their best release since band member John Cale left the group afterward and their later music just wasn't as good in my opinion.
Written by: Lou Reed
Year Released: 1967
Album: The Velvet Underground & Nico
4. She Brings the Rain – Can
An often overlooked but awesome part of the music from this era is Krautrock, an experimental offshoot from Germany.
And although hailing from Germany, the bands often used English lyrics for better marketing appeal.
And Can was one of the best with a long career of Avant Garde Rock albums, including the great Monster Movie (1969) and Tago Mago (1971).
This chill song was featured in the soundtrack for a German film released in 1969 and later included on a compilation album of songs the band did for soundtracks.
Written by: Malcolm Mooney, Holger Czukay, Irmin Schmidt, and 2 others.
Year Released: 1969 (album release 1970)
Album: Soundtracks
5. All Along the Watchtower – The Jimi Hendrix Experience
Hendrix put on one of the most famous performances at the legendary Woodstock music festival in 1969.
And though it's easy to get caught up in praising Hendrix for his innovative and melodic guitar talent, sometimes I think people fail to appreciate how good of a singer he was too!
And I think Jimi Hendrix also lent a bit of much-needed diversity to the early Rock scene.
I just wish we could have had the chance to hear what else he would have done if he hadn't died at such an early age.
Written by: Bob Dylan
Year Released: 1968
Album: Electric Ladyland
6. Dazed and Confused – Led Zeppelin
Led Zeppelin may be more commonly associated with the 1970s, but they released their first two albums in 1969.
And while it took them a while to get away from their Blues influences there are plenty of great tracks off of the first two releases including this classic song, Good Times Bad Times, Whole Lotta Love, Thank You, and Heartbreaker.
You can call it a liminal period if you want, but I love the early Zeppelin stuff and the signs of greatness are definitely there.
Written by: Jimmy Page
Year Released: 1969
Album: Led Zeppelin
7. Venus – Shocking Blue
This is another one that showcases that particular "groove" that bands had in the 60s.
And it is also different in that it features a female vocalist at a time when groups of 4 or 5 guys were all the rage.
Now I suspect a lot of people know this song from films or tv shows but have no clue who performed it.
But apparently, Kurt Cobain was a fan and Nirvana even released a cover of Shocking Blue's Lovebuzz as an early single.
Written by: Robbie van Leeuwen
Year Released: 1969
Album: Venus (single)
8. I Can't Help Myself (Sugar Pie Honey Bunch) – Four Tops
9. Ain't Too Proud to Beg – The Temptations
10. I Can't Explain – The Who
11. A Day In The Life – The Beatles
12. Walk Don't Run – The Ventures
13. Sunshine of Your Love – Cream
14. Be My Baby – The Ronettes
15. Over, Under, Sideways, Down – The Yardbirds
16. Baby Love – The Supremes
17. Daydream Believer – The Monkees
18. It's All Right – The Impressions
19. Sympathy for the Devil – The Rolling Stones
20. You're Gonna Miss Me – 13th Floor Elevators
21. The House of the Rising Sun – The Animals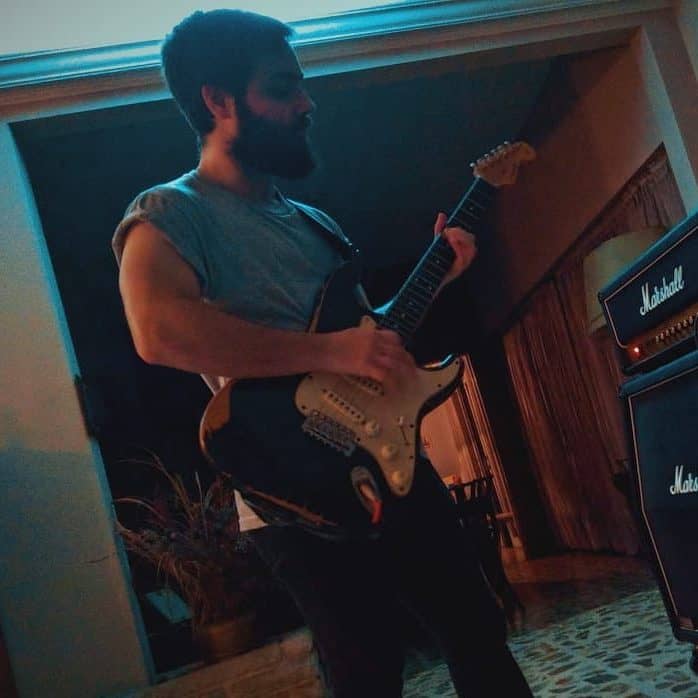 Hello there, my name is Ramiro and I've been playing guitar for almost 20 years. I'm obsessed with everything gear-related and I thought it might be worth sharing it. From guitars, pedals, amps, and synths to studio gear and production tips, I hope you find what I post here useful, and I'll try my best to keep it entertaining also.