While war is one of the most popular topics for video games, movies, and books, it seems to remain a sensitive topic in music.
But that's not to say that some musicians haven't tried their hand at it, especially in the genre of Heavy Metal music.
Now obviously most musicians aren't going to say that war is a good thing.
But there's a fine line to walk between protesting war and sounding disrespectful to those who serve(d) in the military.
Because there's a big difference between how war is portrayed in history books (casualty statistics) and actually being a soldier on the frontline who has to go through a living hell.
So I think that some of the best songs about war are by those who either served in the military or whose family members are veterans.
Heat up your favorite MRE and let's explore how war is portrayed in the world of music.
1. Fortunate Son
This classic by Creedence Clearwater Revival focuses on how the military draft in the USA was implemented during the Vietnam War.
And a "fortunate son" had parents who were either rich or powerful enough to find a way to keep their kids from being drafted.
There were certainly ways to avoid going to war from having a doctor claim you had a medical condition to saying you were homosexual.
But if you were just from an average family you were a fish in a barrel when mobilization started.
And John Fogerty, the main force behind Creedence Clearwater Revival, did get a draft letter from the US military but was able to join the Army Reserve rather than go abroad.
So there's some personal background to the song that makes it stand out from most of the other protest songs that were prevalent in the late 1960s.
Written by: John Fogerty
Year Released: 1969
Album: Willy and the Poor Boys
2. Sunday Bloody Sunday
Coming off of U2's album War is this hit song that describes a massacre of Irish protesters by British soldiers.
Never ones to shy away from political topics, U2 helped spread the word about the horrors of the Northern Ireland Conflict.
Although it is convenient to think of wars as having a beginning and an end, the truth is a little fuzzier and conflicts can simmer for many years (30 years in this case).
And the song's lyrics hit hard with their portrayal of families torn apart, disbelief, and the pointlessness of war and violence.
Written by: U2
Year Released: 1983
Album: War
3. War Pigs
Ozzy and crew let their feelings be known on the subject of war with this classic track.
While many Black Sabbath songs are about evil, here, the finger is pointed at those who are at the top of the food chain in the war machine.
Specifically, military generals and politicians are portrayed as controlling soldiers like pawns on a chess board.
And while warfare has changed a lot in the modern world, consider that opposing armies used to just line up across from each other and march forward.
Basically, if you were in the front like a pawn on a chessboard, you were as good as dead already.
And though the song doesn't get into the evils of war profiteering, I wouldn't assume that Daddy Warbucks (a character from the comic strip LIttle Orphan Annie) isn't going to be safe on judgment day either.
Because the message of the song is that war pigs will get justice in the afterlife as God gives them what they deserve.
Written by: Black Sabbath
Year Released: 1970
Album: Paranoid
4. Rooster
This haunting song is another one inspired by the Vietnam war and a soldier's personal experience.
Alice in Chains guitarist Jerry Cantrell's father was nicknamed "Rooster" and the song is about surviving the war though the real wounds are carried inside.
Some of the themes touched on are feeling caught between life as a soldier and the protests against the war back in America, the death of fellow soldiers, and missing out on seeing his children grow up.
The video for the song has some extra footage and like so many veterans Jerry Cantrell Sr. didn't like to talk about the horrors of his war experience.
Written by: Jerry Cantrell
Year Released: 1992
Album: Dirt
5. Camouflage
A hip hop song by Canadian rap group Swollen Members discusses military operations and the threats soldiers face from every angle.
I mean camouflage clothing may make it harder for the enemy to spot you but danger lurks everywhere when you're in hostile territory.
So on top of worrying about bullets and shrapnel, there's also typhoid, anthrax, diseases carried by mosquitoes, etc.
You get the idea: it's a dangerous world out there.
Written by: Swollen Members
Year Released: 2001
Album: Bad Dreams
6. The Battle of Evermore
What if you want to write a song about war but don't want your music to get involved in political arguments?
Well, you can just make the battle take place in a fantasy landscape like Led Zeppelin.
It seems that J. R. R. Tolkien had been a major influence on the band as this song plays out like something out of Lord of the Rings and other Led Zeppelin songs also reference Tolkien's books.
And like the famous fantasy novels, this one seems to have a happy ending with good triumphing over evil in the end.
Written by: Robert Plant and Jimmy Page
Year Released: 1971
Album: Led Zeppelin IV (untitled)
7. The Trooper
Songs about war were no problem for Iron Maiden and The Trooper is one of their most famous.
And being British they chose to base the song on The Charge of the Light Brigade in the Crimean War.
It's a pretty patriotic choice because it is also the subject of British Poet Laureate Alfred Tennyson and a classic early 20th-century film.
So although there is plenty of violence and horror in the song's lyrics, the bravery of the British soldiers is honored and romanticized.
Written by: Steve Harris
Year Released: 1983
Album: Piece of Mind
8. Buffalo Soldier
This famous reggae song is about African men who fought for the USA in the American Indian War.
They weren't really on the good side of the war in my opinion as their job was mostly to fight off Native Americans as the USA was being colonized.
But as a Jamaican, Bob Marley was well aware of how many nations (especially in the Caribbean) used people from Africa, India, and Asia to do their dirty work, whether it was fighting or working on a sugar cane plantation.
In a nutshell, the Buffalo soldiers were fighting someone else's war ("Stolen from Africa, brought to America. Said he was fighting on arrival").
So the overall meaning of the song is about the perseverance of the African diaspora, thriving and surviving no matter where they are.
Written by: Bob Marley and King Sporty
Year Released: 1983
Album: Confrontation
19 More Great Songs about War
| | |
| --- | --- |
| Title | Artist |
| Run to the Hills | Iron Maiden |
| These Colours Don't Run | Iron Maiden |
| Zombie | The Cranberries |
| War | The Temptations |
| For Whom the Bell Tolls | Metallica |
| Warriors | Thin Lizzy |
| They Walked in Line | Joy Division |
| Gonna Be a Blackout Tonight | Dropkick Murphys |
| Geography I | Front 242 |
| Soldier's Poem | Muse |
| Civil War | Guns N' Roses |
| Draft Morning | The Byrds |
| Bombs Away | The Police |
| War | Bob Marley & The Wailers |
| The Unknown Soldier | The Doors |
| The Dogs of War | Pink Floyd |
| Masters of War | Bob Dylan |
| American Soldier | Toby Keith |
| Holy Wars | Megadeth |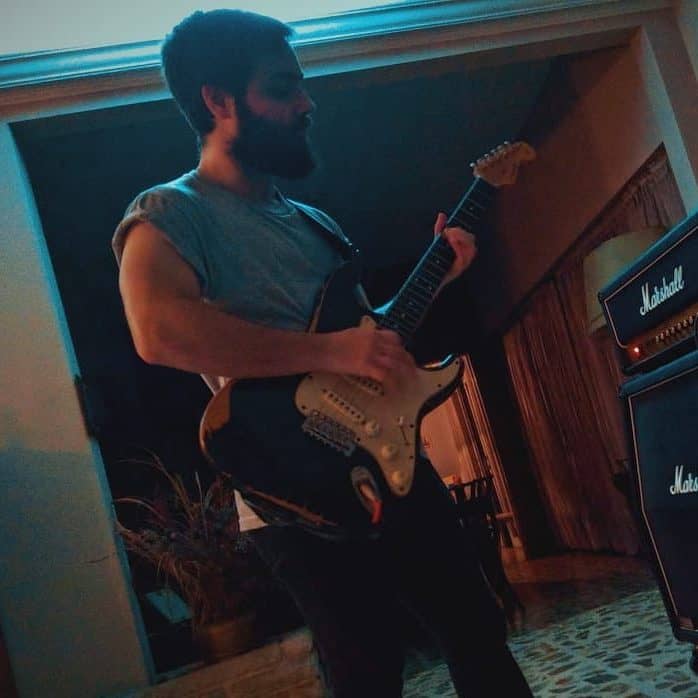 Hello there, my name is Ramiro and I've been playing guitar for almost 20 years. I'm obsessed with everything gear-related and I thought it might be worth sharing it. From guitars, pedals, amps, and synths to studio gear and production tips, I hope you find what I post here useful, and I'll try my best to keep it entertaining also.