Chances are you have a special Henry in your life.
Discovering songs that remind us of people that matter can be difficult, but it's so funny when you find one where not only the emotions match, but the name of the person in them also does.
In this article, I gathered 21 of the greatest songs about a Henry, or that are related to one in some aspect.
I hope you like them!
1. Henry – Henry Ate
It seemed plausible to start this list of songs about Henries not only with a song titled Henry but also with a band containing this name.
After all, it couldn't get more "Henried" than that, could it?
2. The Legend of John Henry's Hammer – Johnny Cash
The country musician Johnny Cash narrates the life of John Henry.
John Henry was an African-American folk hero, believed to have worked as a steel driver.
The original story says that John Henry won a race against a steam-powered rock-drilling machine. Unfortunately, John Henry died not long after winning the race due to a heart attack.
The man passed away while still holding the hammer in his hands. Needless to say, that hammer is the one Johnny Cash sings about.
Remember the name of John Henry, since you'll be seeing it more than once on this list.
3. Henry Martin – Alestorm
Henry Martin is a Scottish traditional folk song that narrates the story of a seafarer who becomes a pirate to feed and maintain his older brothers.
The song has been covered and versioned by many artists of different genres.
Here you'll find Alestorm's version because, well, it's made by a pirate-metal band from Scotland, which simply suits the song perfectly.
4. Love Henry – Bob Dylan
Yet another traditional song, this time arranged by American songwriter Bob Dylan for his 29th studio album World Gone Wrong.
5. The Ballad of John Henry – Joe Bonamassa
Once again, we find a song dedicated to the legendary John Henry and his mighty strength.
All things considered, The Ballad of John Henry is not much of a ballad, if we're honest.
One way or another, it's a fantastic song, with a heavy but friendly guitar riff, and the top-notch Joe Bonamassa voice.
6. The Ballad of Henry Darger – Natalie Merchant
Second "ballad" on the list, this time dedicated to a different Henry: Henry Darger.
Darger was an American writer and artist whose works were recognized posthumously.
His creations depicted fantastic worlds with children being tortured in some unnerving but interesting drawings and paintings.
7. Henry Russell's Last Words – Diana Jones
The song repeats the line "Oh how I love you, Mary".
Thus, we can conclude that Henry Russell's last words were indeed those.
Yeah, sorry if I spoiled the surprise…
8. Henry Boy – Bruce Springsteen
In 2016, Bruce Springsteen released the compilation album Chapter and Verse.
It contains tracks from different years throughout the musician's career.
Henry Boy dates back to 1972, but was never released until this album came out almost 45 years later!
9. Save The Bones For Henry Jones ('Cause Henry Don't Eat No Meat) – Nat King Cole
If you know a Henry that's vegan, you could pull his leg sending him this one.
10. Henry's Made a Lady Out of Lizzie – Harry Reser
The song title can be a bit "tricky". Nonetheless, it is a reference to business magnate Henry Ford.
Written by Walter O'Keefe, it has been recorded by lots of artists and jazz musicians, including Harry Reser, which we feature on this list.
11. I'm Henry VIII I Am – Herman's Hermit
An interesting fact about this track is that, when re-released in 1965, I'm Henry VIII I Am became the fastest-selling song in history at that time.
Before that, I'm Henry the Eight, I Am was published by singer Joe Brown, but didn't receive the wild success that Herman's Hermit version did.
12. More About John Henry – Tom T. Hall
Yes.
There's still more about John Henry.
Once again, we find a song about the steel-driving man which has captivated American culture so much.
13. Henry Thomas – The Lovin' Spoonful
A funny song about a cat.
Seriously, that's more or less the most accurate description possible.
14. King Henry – Steeleye Span
The Child Ballads are a traditional compilation of ballads anthologized by Francis James Child. The anthology dates back to the 19th Century.
One of those ballads is "King Henry", which British folk-rock group Steeleye Span made a version of.
15. Please, Mrs. Henry – Cheap Trick
Originally written and composed by Bob Dylan for the album The Basement Tapes.
For the sake of not adding yet another Dylan song, here you'll find a cover by hard rock group Cheap Trick.
16. John Henry – Leadbelly
Leadbelly was a blues and folk musician.
He also wanted to commemorate the story of John Henry, so he immortalized the legend in this song, just like Johnny Cash and Tom T. Hall would do later on.
17. Theo and Weird Henry – John Mellencamp
Theo and Weird Henry is a touching song that tells a story about, you guessed it, Theo and Weird Henry: Two friends who drove in a van with their "shirts wide open", looking for women, drinks, and a good laugh.
18. Why Henry Drinks – Drive-By Truckers
If you happen to have a friend or relative called Henry, and if that Henry has the habit of drinking heavily, then you might want to send him this song.
It's a slow rock song with lyrics about drinking (of course), fighting, and, oddly enough, drinking to avoid fighting.
19. Papa Won't Love You, Henry – Nick Cave and the Bad Seeds
If having 21 songs dedicated to a Henry is not enough for you, then I hope that knowing there's an entire album dedicated to one grants satisfactory results.
The album's name is Henry's Dream, and although not every song contains "Henry" in their titles, the opening track does.
20. Oh Henry – The Civil Wars
Found on the 2012 album Daytrotter Presents No. 1, which is a split with both The Civil Wars and The Lumineers.
21. The Closets of Henry – Guided by Voices
The last song on the list is this alternative rock tune made by the group Guided by Voices.
I sincerely hope you remember your friend Henry's closet whenever you listen to this one!
Wait… that would be a bit weird, don't you think?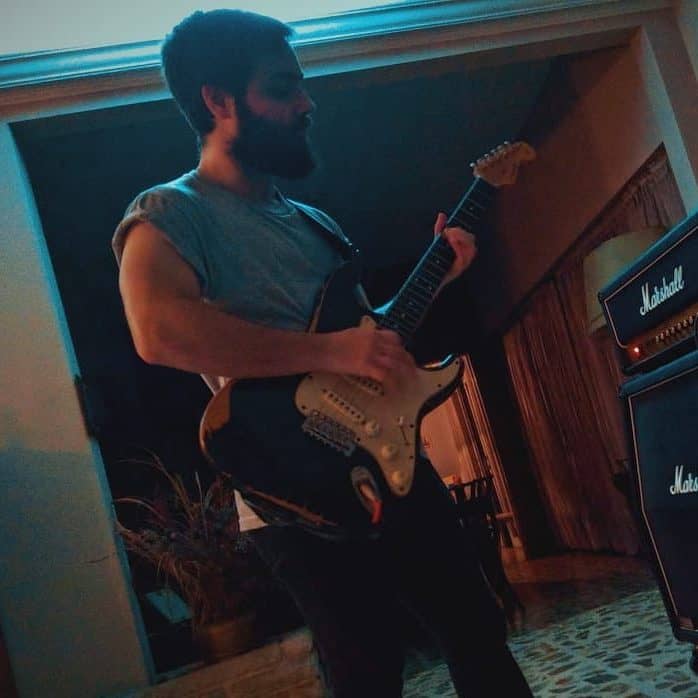 Hello there, my name is Ramiro and I've been playing guitar for almost 20 years. I'm obsessed with everything gear-related and I thought it might be worth sharing it. From guitars, pedals, amps, and synths to studio gear and production tips, I hope you find what I post here useful, and I'll try my best to keep it entertaining also.