Rain seems simple enough.
But of course, we have to go and make everything complicated.
Some people sincerely enjoy the rain and find it comforting, or see it as a sign of Spring finally arriving after a long hard Winter.
And for others, it's a source of life not only nourishing the earth but us as well, as it is needed for growing many staple foods.
People even used to pore over books called farmer's almanacs that would help them plan their crops to get the best weather and rain so they literally didn't starve to death!
Native Americans also had special rain dances to summon life-giving water to the parched land.
And then there are the people who can't seem to mentally escape from their own private worlds.
You know exactly what I'm talking about; "Oh I can't believe it rained on my special day, wedding, or parade! The universe must hate me"!
Okay, so I'm having a bit of a laugh with that one but it is a trope that appears in several songs.
There is another popular interpretation of rain too.
This one deals with the idea of the Biblical great flood caused by 40 days of rain, which wiped away everything except for one man (Noah) and his family.
Some people think maybe it's time for another one of those floods.
And music covers the gamut with a little something for everyone and interestingly a lot of this music was featured prominently in films.
So grab your umbrella and let's take a listen to some fantastic music that deals with rain.
1. Raindrops Keep Fallin' on My Head – B. J. Thomas
I want to kick things off with a classic.
Although rain is portrayed as negative here the overall feeling of the song is that the glass is half full rather than half empty.
Because although the character in the song has gone through some setbacks he is keeping his chin up and hoping for better "weather" in the future.
And after meeting a lovely young woman I would say he is off to a pretty good start.
Now there's no woman mentioned in the song's lyrics but the song was created for a soundtrack.
This song was written for the classic film "Butch Cassidy and the Sundance Kid" and the Youtube video shows a memorable scene from the movie.
The film stars Paul Newman and Robert Redford and the soundtrack was written by equally famous songwriters of the time.
And I don't just believe in exploring and appreciating the music of older generations, but I think films are also a part of cultural heritage.
I mention this because of something I have noticed while watching some people do reviews of different food brands on the internet.
A lot of people in their 20s and 30s have no idea who Paul Newman was when they come across the charity brand Newman's Own.
So if you're American and have never seen this film, you should consider watching it the next time you're stuck inside on a rainy day.
Written by: Hal David and Burt Bacharach
Year Released: 1969
Album: Raindrops Keep Fallin' on My Head (single)
2. Umbrella – Rihanna feat. Jay-Z
This song is beloved by many and is even a guilty pleasure for others who don't normally enjoy pop music.
I'm part of that second category and I can't deny that this song absolutely slaps on every level from the songwriting to Rihanna's vocal performance to the flawless production.
The song isn't overcomplicated in its concept, merely using an offer to share an umbrella during a rainstorm as a flirtatious invitation, but it works well and not everything has to be serious all the time you know.
I recently read somewhere that the song was initially offered to Brittany Spears first but she rejected it and then Rihanna got it.
Well, I think it's safe to say that we all benefited from that twist of fate because I'd definitely stand under Rihanna's umbrella but I'd prefer rain to share an umbrella with Brittany Spears!
Written by: Kuk Harrell, Shawn Carter, Christopher Stewart, and Terius Nash
Year Released: 2007
Album: Good Girl Gone Bad
3. Love, Reign O'er Me – The Who
Wait, that's not how you spell "rain".
But this song is using the pronunciation of the word in two ways, and the song even begins with the sounds of rain falling.
This is one of my favorite songs by The Who and the primal scream vocals still give me chills no matter how many times I hear it.
The album it is from was originally a Rock Opera, which The Who enjoyed doing (a little too often in my opinion).
And the film connection comes back into play here as the (double) album served as the soundtrack for the film Quadrophenia which was later released in 1979.
Basically, "quadrophenia" is schizophrenia with a personality split into four parts, and Love Reign O'er Me plays during an important part of the film as everything comes to a climax.
It's not exactly a feel-good movie but it's worth watching if you are a fan of The Who and Sting also makes an appearance in the film as Ace Face.
Written by: Pete Townshend
Year Released: 1973
Album: Quadrophenia
4. A Hard Rain's A-Gonna Fall – Bob Dylan
I interpret this song as dealing with impending rain as a symbol of doom, much like the flood that decimated humanity in the Biblical narrative.
And much of the song's lyrics are in the form of a list, which is fitting.
Because Mr. Dylan is often cited as the voice of the protest generation and a strong figure in the genre of Americana.
And you know who else wrote long lists like this? Walt Whitman used this format a lot in his poetry collection Leaves of Grass, which is usually considered to be the definitive poetry of celebrating America.
Bob Dylan combined this format with an old ballad called Lord Randall and thus one of his most famous songs was born.
But most of what Bob Dylan sings about is evil, starving, bloody, and corrupt. Basically, it deserves to get washed away.
And I think this song influenced another famous movie scene from Martin Scorsese's 1976 film Taxi Driver.
Robert DeNiro's character Travis (nighttime taxi driver) looks around at New York City's nightlife and says "Someday a real rain will come and wash all the scum off the streets".
I'm pretty sure that line was at least a little bit influenced by the song!
Written by: Bob Dylan
Year Released: 1963
Album: The Freewheelin' Bob Dylan
5. No Rain – Blind Melon
This video makes me imagine someone's grandfather shouting at the TV like "Just look at these long-haired hippies dancing around and enjoying life! Back in my day a man had to…"
The video is definitely silly but the song resonates with me because I can relate to the song's lyrics in my own life because I enjoy rain too, among other things mentioned in the song…
The big difference is that I would have to suck helium out of a balloon to be able to sing about it at that octave!
The song deals with loneliness, and helplessness… well, let's just call it mental health issues for the sake of simplicity.
But in my take on the song, the character copes with these feelings by appreciating simple and ordinary actions such as watching rain collect in puddles, reading books, and drinking tea ("And it rips my life away but it's a great escape").
Or what people these days sometimes (mis)interpret as "mindfulness".
I guess it's more of a bandage than a permanent solution but we've all been in that situation, haven't we?
If you like this song you should check out the "Ripped Away" version as well.
Written by: Blind Melon
Year Released: 1992
Album: Blind Melon
6. Have You Ever Seen the Rain? – Creedence Clearwater Revival
I don't know how John Fogerty did it, but that dude could just churn out perfect vocal melodies like a machine.
Creedence Clearwater Revival actually has two great songs about rain, the other being Who'll Stop the Rain?
But I chose to feature this one because it's the more well-known of the two and I like it a little more.
The song's lyrics can be taken at face value as rain or a brewing storm (bad times) being part of life, a cycle that can't be avoided.
But there were also specific personal and societal changes taking place that influenced the song's creation too.
Now I think that some songs were made to be picked apart and analyzed under a microscope, but this isn't one of them for me.
When I listen to it, I just want to enjoy the moment.
Written by: John Fogerty
Year Released: 1970
Album: Pendulum
29 More Great Songs About Rain
| | |
| --- | --- |
| Title | Artist |
| Ironic | Alanis Morrisette |
| Africa | Toto |
| Raining Blood | Slayer |
| Rain Dance | The Guess Who |
| The Rain Song | Led Zeppelin |
| When the Levee Breaks | Led Zeppelin |
| When It Rains | Paramore |
| Don't Rain on My Parade | Barbra Streisand |
| No Rain, No Rainbow | Babymetal |
| When It Rains It Pours | Luke Combs |
| Only Happy When It Rains | Garbage |
| Red Rain | Peter Gabriel |
| Raindrops (Insane) | Metro Boomin and Travis Scott |
| Rain | The Beatles |
| Who'll Stop the Rain | Creedence Clearwater Revival |
| Aenima | Tool |
| No Rainbow | Deadboy and the Elephantmen |
| Midnight Rain | Taylor Swift |
| November Rain | Guns N' Roses |
| Set Fire to the Rain | Adele |
| It Will Rain | Bruno Mars |
| Rain Is a Good Thing | Luke Brian |
| Raining for Weeks | Lucero |
| Rainmaker | Harry Nilsson |
| Purple Rain | Prince |
| 40 Days | Meat Loaf |
| Dark Clouds | Swollen Members featuring Evidence |
| Singin' in the Rain | Gene Kelly |
| Rainy Days and Mondays | Carpenters |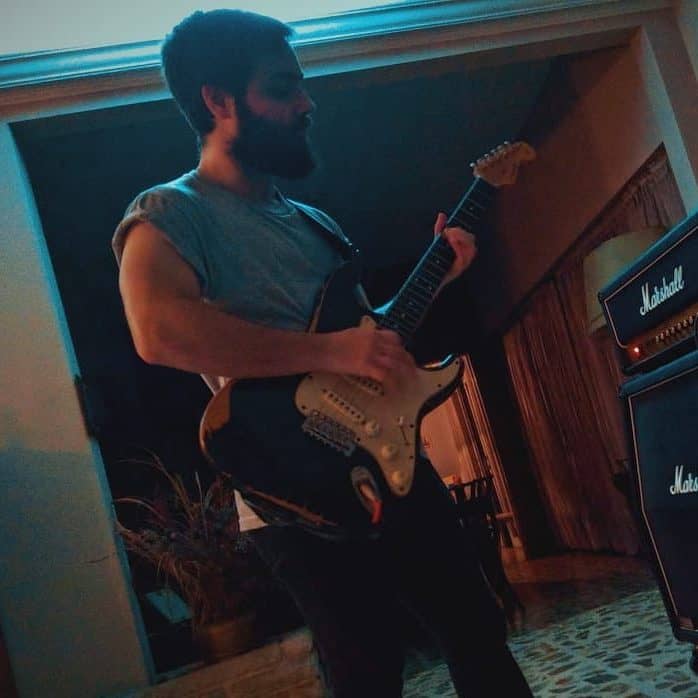 Hello there, my name is Ramiro and I've been playing guitar for almost 20 years. I'm obsessed with everything gear-related and I thought it might be worth sharing it. From guitars, pedals, amps, and synths to studio gear and production tips, I hope you find what I post here useful, and I'll try my best to keep it entertaining also.