For most of us, music is as big of a pleasure as food is.
Yet, the big difference between one and the other is that food is vital for survival (well, arguably so is music, right?).
For centuries, humankind has been mastering the art of eating, creating increasingly intricate and marvelous dishes along the way.
As an art form influencing another art form, the pleasures of eating cascaded into countless music hits around the world.
These are just some of the many ways musicians and artists have paid homage to food.
1. Apples and Oranges – Pink Floyd
The song "Apples and Oranges" was released in 1967 as Pink Floyd's third UK single.
As odd as it might be, this is a song that tells the story of a girl the narrator meets at the supermarket while grocery shopping.
Although Pink Floyd is well-known for having complex, intricate compositions that take the progressive rock to a new plateau, this is a simple, good-vibes song about a girl shopping.
This was the last song by Pink Floyd that Syd Barrett wrote for the band.
2. Banana Pancakes – Jack Johnson
This famous tune is part of Jack Johnson's third studio album In Between Dreams (2005).
The song narrates, with an upbeat melody, the morning of a family breakfast on a stormy day. Johnson's sweet voice and minimal instrumentation work perfectly to convey the song's tender and fun atmosphere.
Although the song was created to be the soundtrack of family breakfasts around the world playing in the background, it also fulfills its intention of getting stuck in every listener's head.
Jack Johnson began playing this song before it was finished and filled in the blanks in the lyrics by singing "blah, blah" out loud which always got the crowd laughing.
3. Vegetables – Beach Boys
"Vegetables" is part of the Beach Boys' 1967 album, Smiley Smile.
By the late 1960s, Brian Wilson, the mastermind behind the Beach Boys' success was obsessed with physical fitness. This song was written as part of that obsession.
Paul McCartney was present in the studio while this song was being mixed. If you turn the volume very loud, he can be heard in the background chewing on celery.
When he wrote this tune, Brian Wilson was going through an experimentation phase with LSD. This hallucinogenic drug is known for causing childlike regressions over time. This was one of those times for Brian Wilson.
4. Milk and Toast and Honey – Roxette
"Milk and Toast and Honey" was released by the Swedish duo Roxette on 10 September 2001.
Per Gessle, half of Roxette wrote this song after having its melody stuck in his head for half a year.
Although Marie Fredriksson initially believed the song was a piece of cake to sing, she had to struggle and work very hard to find its "magic moment".
After recording all the tracks for this album, including this song, Marie Fredriksson claimed she had lost all desire to continue working within Roxette.
5. Coffee and TV – Blur
"Coffee & TV" is part of Blur's sixth studio album, 19 released in 1999 to critical success.
The melancholic lyrics of this upbeat pop song come from the author's, Graham Coxon's (Blur's guitarist) feelings after leaving school.
The video received heavy rotation in every major music video channel on Earth and won several awards for Best Video.
The main theme of the video is that Coxon goes missing and his family publishes his face on the side of a milk carton. The carton is the hero of the story and could be found in merchandising and on t-shirts for many years after the video was shot.
6. Cake by the Ocean – DNCE
"Cake by the Ocean" was DNCE's debut song. It was released as the lead single of their first EP, Swaay (2015).
The song's vibe and lyrics allow multiple interpretations. According to Joe Jonas from DNCE, it could mean the act of having sex by the ocean or boardwalk pastry eating.
The song originated in a misunderstanding since Jonas overheard his friends talking and interpreted their words as a plan to have some cake by the ocean. Instead, his friends were talking about having the famous drink "sex on the beach".
The music video released to accompany the song features the famous Instagram comedian Josh "The Fat Jew" Ostrovsky having a cake fight on the beach with some girls in bikinis.
7. Bon Appetit – Katy Perry
"Bon Appétit" was released as a single from Katy Perry's 2017 album, Witness. This is Perry's fifth studio album. The song features hip hop group Migos.
The song was produced by Swedish hitmaker Max Martin. Max and Katy had worked together in the past on Perry's superhit "I Kissed a Girl" and several others.
Katy Perry answered at an Australian radio show that the song is about fighting back against patriarchal oppression because neither she nor other women are pieces of meat to be consumed and disposed of.
While Perry is being cooked by a group of men, the video features Chef Roy Choi overseeing the action.
8. Mayonaise – Smashing Pumpkins
"Mayonaise" is part of Siamese Dream (1993), the epic album released by alternative rock band Smashing Pumpkins.
Billy Corgan was looking for a name for this song and the "Eureka" moment came after he opened his refrigerator and all he found was mayonnaise.
"Mayonaise" as the title of the song is spelled is not the correct way to spell mayonnaise. The mistake was made on purpose and the song's title remains spelled with a single n.
When asked about the way he wrote the lyrics, Billy Corgan responded he had just thrown some weird one-liners together.
9. Sugar – Maroon 5
"Sugar" was included in Maroon 5's fifth studio record named V (2014).
Although the lyrics of the song are full of sexual innuendo, it was published avoiding all censorship.
The music video for the song was inspired by "Wedding Crashers", the romantic comedy from 2005. In the video, the band crashes every wedding they possibly can in the city of Los Angeles.
The song was a big commercial success for Maroon 5 peaking at number two on the Billboard Hot 100 list and staying in the top 10 for 20 weeks. It was certified diamond by the RIAA and the video has almost 4 billion views.
10. I Want Candy – The Strangeloves
11. Cherry Pie – Warrant
12. Sugar Sugar – The Archies
13. Red, Red Wine – Neil Diamond
14. Pour Some Sugar on Me – Def Leppard
15. Eat at Home – Paul McCartney
16. Froot – MARINA
17. Watermelon Sugar – Harry Styles
18. Brown Sugar – The Rolling Stones
19. Watermelon Man – Herbie Hancock
20. Passionfruit – Drake
21. Birthday Cake – Rihanna
22. I Drink Wine – Adele
23. The Onion Song – Marvin Gaye & Tammi Terrell
24. Fresh Strawberries – Franz Ferdinand
25. Fallen Fruit – Lorde
26. Lemon – U2
27. Pumpkin Soup – Kate Nash
28. Lollipop – MIKA
29. Popcorn – Hot Butter
30. Ice Cream Man – Van Halen
31. Too Much Food – Jason Mraz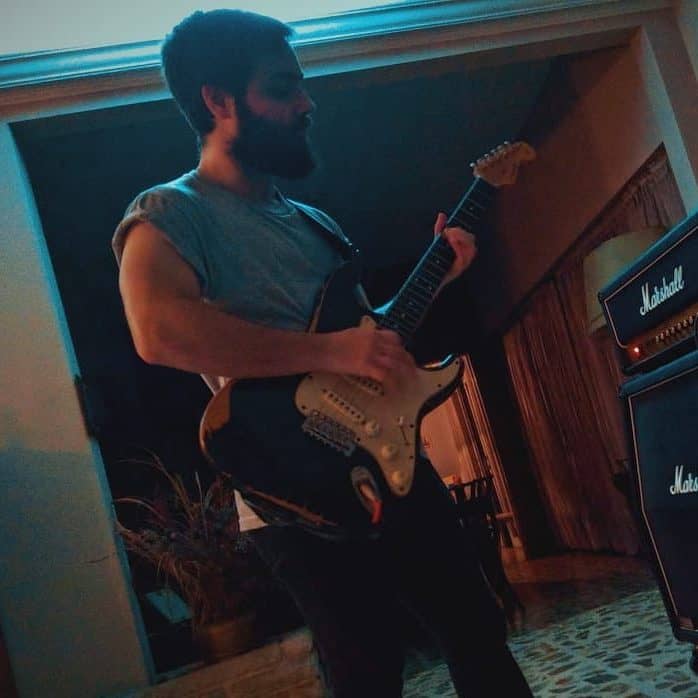 Hello there, my name is Ramiro and I've been playing guitar for almost 20 years. I'm obsessed with everything gear-related and I thought it might be worth sharing it. From guitars, pedals, amps, and synths to studio gear and production tips, I hope you find what I post here useful, and I'll try my best to keep it entertaining also.