Nature has a lot of beautiful scenery that is often overlooked as people get caught up in their busy lives and social media sinkholes.
But I think the old adage that you should stop and smell the roses along the way is sound advice, now more than ever, as people spend most of their free time in a digital world.
For instance, rainbows are one of the most spectacular sights to behold. They may not be as splendid as Aurora Borealis but not everyone has a chance to see the Northern Lights.
In the last century, rainbows have taken on symbolism for the LGBTQ community too.
But the actual event has literally been around forever.
And there are many children's songs about rainbows because they're fun and an easy way for kids to learn about colors.
But what about songs about rainbows for adults?
Don't worry, because there are some cool songs for us too and while you have to grow up, you're never too old to appreciate something so beautiful.
So while you're waiting anxiously for the rain to stop and hoping to catch sight of a rainbow in the sky, these are some songs to help you pass the time.
1. Somewhere over the Rainbow – Israel "IZ" Kamakawiwoʻole
This classic track was originally made famous long ago by Judy Garland in the film The Wizard of Oz.
But it got a second chance at life in the 1990s with a Hawaiian-flavored rendition.
I may not be able to pronounce the singer's last name but I appreciate the simplicity of the arrangement with vocals and ukulele (an instrument that has seen quite a renaissance of its own).
And as for the subject of the song's lyrics, there is no mention of a pot of gold that is said to be found at the end of a rainbow in the Irish legend, but it is kind of implied.
Because the song deals with struggling to keep your chin up when you're feeling down, hoping that something better awaits you at the end of your journey.
Written by: Harold Arlen and Edgar Yipsel Harburg
Year Released: 1993
Album: Facing Future
2. Rainbow in the Dark – Dio
Black Sabbath seemed to have trouble keeping its singers but Ozzy Osbourne and Ronnie James Dio both found success after leaving Sabbath.
This song may sound dated but I don't necessarily think that's a bad thing in this case; the Baroque-infused keyboard riff is unapologetic, in your face, and sounds great.
And the vocals may be a little over the top for my taste, but that was just the style at the time.
So in the lyrics, Ronnie James Dio sings about being left alone "like a rainbow in the dark".
And I get what he means but just barely, it doesn't make a whole lot of sense, does it?
It's still a killer song though and a staple of early 1980s Metal.
Written by: Dio
Year Released: 1983
Album: Holy Diver
3. Rainbow – Sugar Ray
This song sounds like a lot of music that you might hear on Spotify or FM radio.
To be more specific it sounds like it is a little bit "overproduced" by the recording engineer.
But it wasn't just Sugar Ray that was in that situation.
A lot of Rock bands were struggling to sound fresh by the late 2000s, a struggle that still goes on today as many youths turn to Hip Hop and Electronica music.
But at its heart, the song's message is something that we all need to hear once in a while: "If you wanna see the rainbow, you gotta sit through a little rain".
There are many sayings that echo this like you have to pay your dues, you can't have your cake and eat it too, no pain = no gain, etc.
But sometimes nature provides the simplest and best metaphors, which are universal, no matter who or where you are, or what you're going through in your life.
Written by: Sugar Ray
Year Released: 2009
Album: Music for Cougars
4. Rainbowland – Miley Cyrus featuring Dolly Parton
This isn't a collaboration that I would have ever imagined but somehow it works out.
And it's nice to see a pop star singer like Miley Cyrus isn't afraid to try new things.
The track has sparse percussion, sounds like it's heavily blanketed in reverb and the vocals are layered to create a lush atmosphere.
The lyrics deal with celebrating yourself ("We are rainbows, me and you, every color, every hue. Let's shine through").
But instead of being selfish in their goals, these two ladies want to make a difference in the world too, so everybody can stop fighting and start living in a rainbow land.
Written by: Miley Cyrus, Oren Yoel, and Dolly Parton
Year Released: 2017
Album: Younger Now
5. Rainbow – Kacey Musgraves
As soon as this song starts you know you're in for a ballad but that's not a bad thing.
The simple piano and vocals that are emotional (while not doing any acrobatics) work perfectly.
And although this song is quite recent, it really reminds me of songs that were popular in the 1970s such as So Far Away by Carole King or Desperado by The Eagles.
And the lyrics are meant to nudge someone who has fallen into a routine of depression to notice that the rain is gone and "there's always been a rainbow hanging over your head".
It's good advice if you need to reevaluate your outlook on life after a tragedy that's hanging over you like a storm cloud.
Or maybe you know someone who could use some kind words and you can be the one to guide them back to the right path.
Written by: Kacey Musgraves, Natalie Hemby, and Shane McAnally
Year Released: 2018
Album: Golden Hour
6. Catch the Rainbow – Rainbow
When Ritchie Blackmore wanted to do something different and more laid back than the style of Deep Purple he started Rainbow with Ronnie James Dio and some others.
So apparently Dio really liked to sing about rainbows since this is his second appearance on this list!
But this was the mid-1970s and this is more of a chill song than 1980s Rock and Heavy Metal.
In fact, there are Classical and Medieval influences in the band's music.
According to Dio, the song deals with a (misguided) youthful optimism concerning a relationship between a stable boy and a young lady of a higher social class.
And although they believed that they could follow their passions and catch the rainbow, grim reality (represented by the dawn) put the kibosh on their plans.
So it doesn't have a happy ending but it's a beautiful song all the same.
Written by: Ritchie Blackmore and Ronnie James Dio
Year Released: 1975
Album: Ritchie Blackmore's Rainbow
17 More Great Songs About Rainbows
| | |
| --- | --- |
| Title | Artist |
| What a Wonderful World | Louis Armstrong |
| Double Rainbow Song | The Gregory Brothers |
| Roygbiv | Boards of Canada |
| Rainbow | Mariah Carey |
| Rainbow | Meghan Trainor |
| Pot of Gold | Akon |
| Rainbow | Steel Magnolia |
| Rainbow | Robert Plant |
| Rainbow | Marty Robbins |
| Pot of Gold | Julie Roberts |
| Pocketful of Rainbows | Elvis Presley |
| She's a Rainbow | The Rolling Stones |
| Rainbow | Kesha |
| Paint a Rainbow | My Bloody Valentine |
| Pot of Gold | Ne-Yo |
| Today's Teardrops | Roy Orbison |
| Lonely Rainbows | Lenny Kravitz |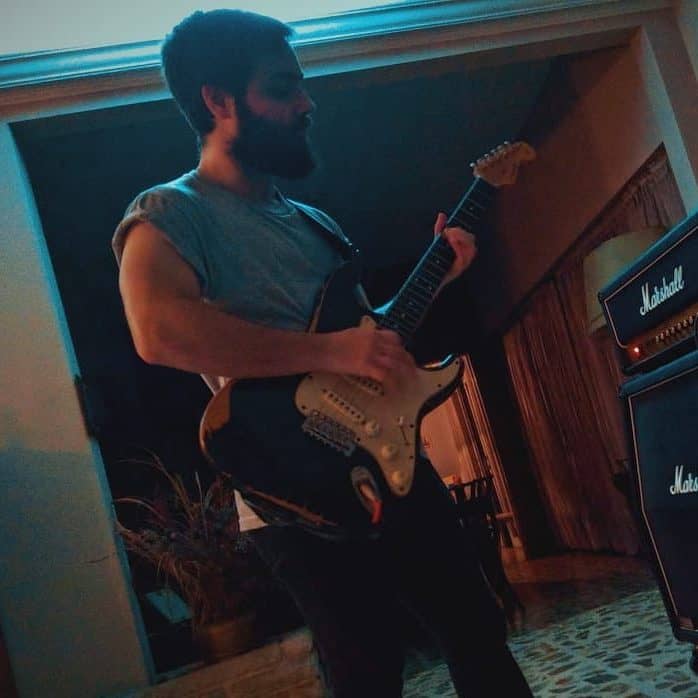 Hello there, my name is Ramiro and I've been playing guitar for almost 20 years. I'm obsessed with everything gear-related and I thought it might be worth sharing it. From guitars, pedals, amps, and synths to studio gear and production tips, I hope you find what I post here useful, and I'll try my best to keep it entertaining also.