The city that never sleeps – one of the most recognizable places in the world.
It's home to more than 8 million people and the most populated city in the United States of America.
It has also raised some legendary artists such as Lady Gaga, The Ramones, 50 Cent, KISS, The Beastie Boys, and Lou Reed.
This time, though, we're not here to discuss the artists. More specifically, we are here to learn about their creations.
Here you'll find 31 great songs about New York (and trust me, we're still leaving a dozen behind!).
1. Theme From New York, New York – Frank Sinatra
This is not a top, which means that the songs are not in a hierarchy. However, it totally deserves the number one spot, nonetheless.
Made for the 1977 movie of the same title, it skyrocketed in popularity when Frank Sinatra made his own version.
2. New York Groove – Ace Frehley
Yet another cover that gained more popularity than its original version.
When KISS members made a solo album each, guitarist Ace Frehley recorded his version of New York Groove, originally played by glam rock band Hello in 1975.
Funnily enough, it became the only single (off the solo albums) to make it to the high charts, reaching Nº13 on the Billboard Hot 100.
3. New York City – The Cult
This track from Sonic Temple is wild and chaotic, representing perfectly what living in a huge city feels like.
An interesting fact is that this song has Iggy Pop singing backing vocals before the guitar solo.
4. Talkin' New York – Bob Dylan
Dylan's debut album contains only two songs completely written by him.
Talkin' New York is one of those, which narrates the feelings he got when he arrived in New York City for the first time.
5. Brooklyn Baby – Lana Del Rey
Brooklyn Baby comes off of the third studio album Ultraviolence. It was written by Lana and her ex-boyfriend.
6. I Love New York – Madonna
"I don't like cities / But I like New York" proudly states Madonna in this song from her 10th studio album Confessions on a Dance Floor.
7. Brooklyn – Buckcherry
An acoustic track that appears on the third Buckcherry album: 15.
The lyrics recall relentless and reckless nights in Brooklyn, with crashed cars and alcohol blackouts.
8. Leaving New York – R.E.M.
Singer Michael Stripe claimed this song has a hopeful attitude toward the future, and how the world is changing positively.
It was also written on a plane while Stripe was leaving the city. So it has some literal meaning behind too, which only makes the song more interesting.
9. New York State of Mind – Billy Joel
Similar to the case of Frank Sinatra, New York State of Mind is about how much love one can feel for a memorable place.
Billy Joel spent some time living in Los Angeles, all the time missing the city that never sleeps.
10. Englishman in New York – Sting
At first sight, it seems that this song is about a Sting experience.
Nonetheless, it's based on writer Quentin Crisp, who moved from London to New York in 1986.
11. Subway Train – New York Dolls
A list of songs about New York couldn't be missing a tune from a band that's named after the city itself.
Subway Train appears in the Dolls' debut studio album from 1973, which is a masterpiece from the pre-punk era.
12. South Bronx – Boogie Down Productions
This song is the anthem of the inner-city area that gives title to this hip-hop classic.
13. Shattered – The Rolling Stones
Some people love New York.
Some others hate the city.
However, there's a small number that shares a love/hate relationship with this place; The Rolling Stones being included.
After all, NYC is a coin with two different sides: it either places you on the top of the world or drags you down to the bottom of the food chain.
14. New York, I Love You, But You're Bringing Me Down – LCD Soundsystem
Yes. Another example of that love-hate-love experience.
I'm thankful we get lots of interesting songs depicting these emotional varieties, though.
15. N.Y. State of Mind – Nas
If Sinatra glamourized New York City lifestyle on his cover, then Nas did the complete opposite in this 1994 song.
NY has a treacherous and wicked side, and Nas depicted it in this composition.
16. I'm Waiting For The Man – The Velvet Underground
Someone's waiting in the cold New York streets for his dealer to show up. He's got 26 dollars in his pocket, and he's yearning to see what he can get with those.
17. 53rd & 3rd – The Ramones
Between the 53rd and 3rd, there was a place called "The Loop" where "gigolos" (or male prostitutes) would gather.
One of them was no one else but Dee Dee Ramone himself, writer of the song, who used to offer his services to buy himself drugs.
18. Welcome to New York – Taylor Swift
19. Autumn In New York – Billie Holiday
20. The Only Living Boy In New York – Simon and Garfunkel
21. Fairytale of New York – The Pogues
22. New York City Cops – The Strokes
23. Big Apple Dreamin' (Hippo) – Alice Cooper
24. I Guess The Lord Must Be In New York City – Harry Nilsson
25. Empire State of Mind – Jay-Z (feat Alicia Keys)
26. C.R.E.A.M. – Wu-Tang Clan
27. Native New Yorker – Odyssey
28. I Love NYC – Andrew W.K.
29. Across 110th Street – Bobby Womack
30. Down And Out In New York City – James Brown
31. I Happen to Like New York – Bobby Short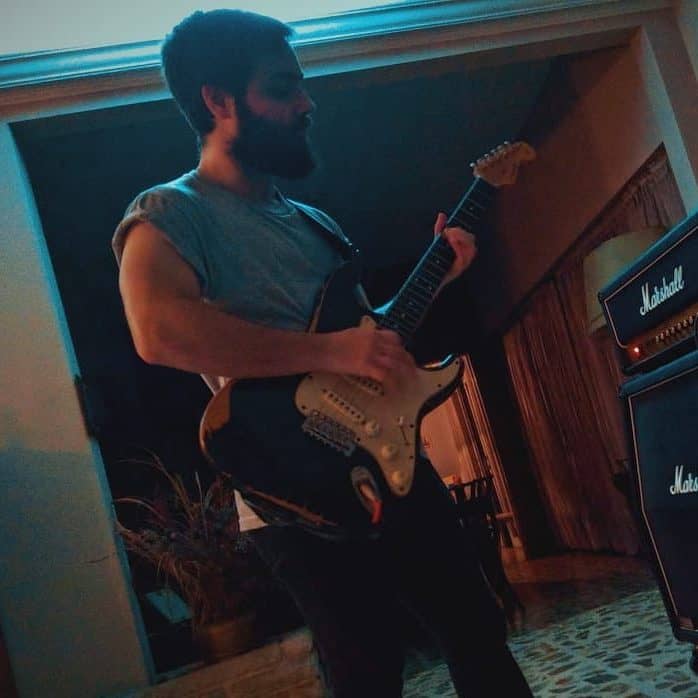 Hello there, my name is Ramiro and I've been playing guitar for almost 20 years. I'm obsessed with everything gear-related and I thought it might be worth sharing it. From guitars, pedals, amps, and synths to studio gear and production tips, I hope you find what I post here useful, and I'll try my best to keep it entertaining also.