Signs are all around us, guiding and directing us through life's twists and turns.
They can be subtle or overt, and they can convey a wide range of messages, from caution and warning to hope and encouragement.
For musicians and songwriters, signs can be a rich source of inspiration, offering endless possibilities for creative expression.
In this article, we'll explore some of the greatest songs ever written about signs, each one offering its own unique take on this theme.
From classic rock anthems to folk ballads and pop hits, this list has something for everyone.
So grab your headphones and join us on a musical journey through the world of signs, as we discover some of the best tunes ever written about these universal symbols.
1. Signs – Five Electrical Man
On top of the list, we have a song that made this Canadian rock group famous.
Released in 1971 and included in their first studio album Good-byes and Butterflies, the track literally refers to signs with different warnings.
However, Signs has a metaphoric and deeper meaning related to class divisions and property rights.
Les Emmerson, lead singer of the band came up with the idea after a road trip on Route 66 in California, where he saw tens of billboards that obscured the scenery.
2. Warning Sign – Coldplay
This piece was composed by the British band Coldplay, released in 2002, and is the eighth track of their second album A Rush of Blood to the Head.
This song is about a man who is seeking justification to end his relationship with his lover due to his fear of commitment.
Therefore, he looks for any signs or excuses to leave but eventually realizes he has taken his partner for granted and misses her.
Fortunately, she is willing to return to him.
3. Sign of The Times – Harry Styles
The former One Direction member impressed everyone when he released his first track as a soloist back in 2017.
This smooth rock ballad is part of his first album self-titled Harry Styles.
Lyrically, the song reflects on the state of the world and addresses issues such as political turmoil, natural disasters, and loss. In the words of the singer, the piece expresses everything that hurts him: Inequality of rights, racism, and sexism.
4. Signs – Drake
The Canadian rapper Drake released this track in 2017 as a single and together with Louis Vuitton's SS18 collection for Paris Fashion Week.
The song has a melancholic tone as Drake reflects on his life, relationships, and success, acknowledging the signs that he has been given but questioning their validity.
The lyrics o the piece refer to the signs or messages that life sends to the rapper who highlights the importance of paying attention to them.
5. Sign 'O' The Times – Prince
This song by Prince was released in 1987 as the title track of his double album of the same name.
The song is a social commentary that addresses the issues of war, AIDS, and poverty, and the signs of the times that show the need for change.
In a metaphorical sense, the term "sign" alludes to the indications that suggest the state of the world and the necessity for a new era to come.
With this particular song, Prince emphasized that there was a bleak aspect to America during Ronald Reagan's presidency.
6. Signs – Beyoncé
Signs by Beyoncé was released in 2002 as a single from her album Dangerously in Love.
The lyrics of this track are dedicated to a Sagittarius, which coincides with the zodiac sign of Jay-Z, with whom they were rumored to be dating at the time.
The song is about a woman who has gone through a breakup and is searching for signs from the universe that she will find love again.
In this case, the sign is a message that the protagonist is hoping to receive.
7. The Sign of the Southern Cross – Black Sabbath
This dark, mellow Black Sabbath ballad was released in 1981 as a single from their album Mob Rules.
The song is about the Southern Cross constellation and its significance as a symbol of hope for people facing hardships and difficulties.
The constellation symbolizes hope and guidance for those who are lost or in need of comfort and serves as an analogy for the authentic joy we experience when we embrace our true identity.
8. Sign Language – Eric Clapton
Sign Language was released in 1986 as part of the album August.
In this slow blues rock track Clapton sings about feeling lost in a relationship and not being able to express himself properly with his partner.
9. All Signs Point to Lauderdale – A Day To Remember
All Signs Point to Lauderdale was included in their 2013 album Common Courtesy. The song lyrics describe feeling trapped in a small town and wanting to escape to a more exciting place.
As A Day To Remember has accustomed us to, this piece is an upbeat pop-punk track.
The connection with the word "sign" in the title resides in the signs pointing towards Lauderdale as the escape from the dull town.
10. Vital Signs – Midnight Juggernauts
Vital Signs is a track that takes part in the second Midnight Juggernauts album The Crystal Axis released in 2010.
The song is a psychedelic track with lyrics about feeling disconnected from reality and wanting to escape from the pressures of life.
The piece addresses the listener to connect with the signs of life and the vital signs that indicate one's health and what makes us feel alive.
11. Gimme Little Sign – Brenton Wood
This lovely song by Brenton Wood was released in 1967 and included in the album Oogum Boogum.
The song is a soulful R&B track where the singer pleads for his love interest to give him a sign of affection.
The singer requests at least a small sign of affection from his love interest.
12. Give Me A Sign – Breaking Benjamin
The American rock band Breaking Benjamin released this hard rock ballad in 2010 as part of their album Dear Agony.
The song lyrics describe feeling lost and searching for a sign of guidance in life.
13. The Sign – Ace of Base
Released in 1993, The Sign is a single from Ace of Base's debut album Happy Nation.
The tune tells the story of a person who's looking for a sign in life, a message, or a way to find happiness.
Just like the previous song, this track is about finding a sign to guide the singer through his path in life.
The piece is a wonderful song and has been covered by the Foo Fighters.
14. Sign Of Love – Neil Young
15. Signs – Neil Diamond
16. Signs Of Life – Arcade Fire
17. Ravens – Mount Eerie
18. Signs – Creed
19. Tell Tale Signs – Kylie Minogue
20. It's a Sign – Teenage Fanclub
21. Looking for a Good Sign – Daryl Hall & John Oates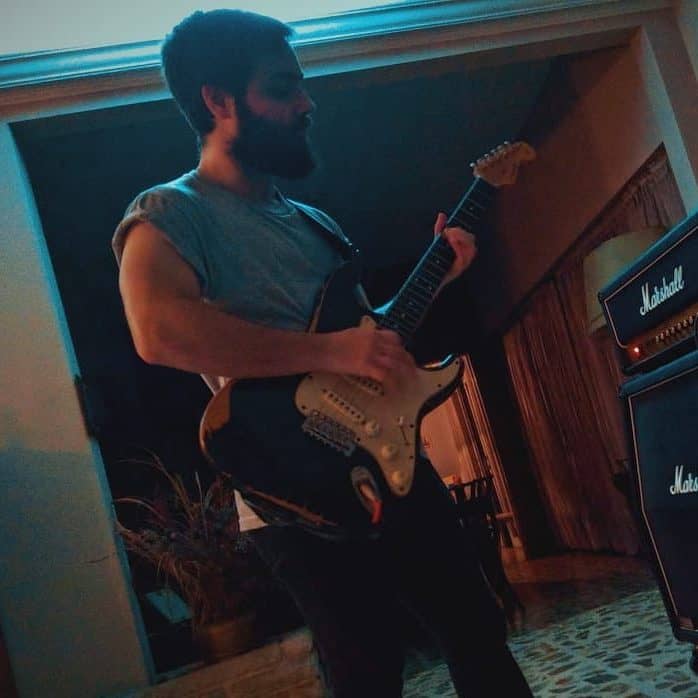 Hello there, my name is Ramiro and I've been playing guitar for almost 20 years. I'm obsessed with everything gear-related and I thought it might be worth sharing it. From guitars, pedals, amps, and synths to studio gear and production tips, I hope you find what I post here useful, and I'll try my best to keep it entertaining also.