Road trips come in a lot of varieties.
From going on a road trip with your family as a kid to traveling with friends in high school or college, road trips are kind of a rite of passage in the American experience.
You can even take a road trip by yourself to see a place you've always wanted to visit or see some friends or family who live far away.
And then if you are a parent you can pass on the tradition to your children by going to a national park or a long-awaited trip to the beach.
Sure, gas prices can be a factor that you have to consider these days, but flying is expensive too.
And traveling in your own vehicle offers more freedom than going to an airport with all of the security checkpoints and waiting around.
You can eat where you want, take a rest when you want, and then there's the music factor.
Curating a soundtrack for your road trip is really fun and you don't even have to worry about making a mixtape or CD these days. It's easier than ever in our digital world.
So while I think you should make your own mix, for the most part, there's nothing wrong with throwing a few classics that actually deal with traveling into the setlist.
So buckle up and check out these songs that can take your road trip to the next level!
1. (Get Your Kicks on) Route 66 – King Cole Trio
This classic song is a tribute to one of the most famous roads in the world.
Route 66 is synonymous with American travel and people who have never even been to the USA know about it.
Going from Chicago to Santa Monica (Los Angeles) is like a symbol of a bygone era when heading west meant new frontiers and freedom.
And of course, fuel prices were probably a lot more affordable in the 1940s too.
For a little bit of context, when this song came out the USA was celebrating the recent Allied victory in World War II and about to enter a honeymoon of economic bliss in the 1950s.
But although times have changed, the phrase from the song remains famous to this day so if you're heading west this is definitely a song to start your journey with.
Written by: Bobby Troup
Year Released: 1946
Album: (Get Your Kicks on) Route 66 (single)
2. Life Is A Highway – Tom Cochrane
Ok, I admit that this song is the definition of cheesy.
The fact that it has been used in a lot of TV commercials doesn't help it either and it sticks in your head for days after you hear it.
And although it came out in the early 1990s, it always sounds like something from an 80s movie soundtrack to me.
So the only time I would recommend it is for road trips because it has a fun quality that can help put you in the right mindset for adventure and trying new things.
Just don't be surprised if you get some odd looks from people if you play it loud or sing along!
Written by: Tom Cochrane
Year Released: 1991
Album: Mad Mad World
3. Going to California – Led Zeppelin
This song on the other hand is an absolute jewel from the beginning to the end.
Led Zeppelin is usually known for loud raucous riffs and bombastic vocals but they could slow things down and still absolutely slay.
And this song also stands out from the rest because of the inclusion of a mandolin on the recording.
The lyrics are about a desire to leave the past behind and "make a new start" in sunny California while searching for the perfect woman (a hippie girl who sings and plays guitar).
And while the song is about flying to California, I think it is still perfect for road trips too.
So if you are headed there and don't put this song on your playlist I think you may as well just stay home.
Written by: Robert Plant and Jimmy Page
Year Released: 1971
Album: Led Zeppelin IV (untitled)
4. No Sleep till Brooklyn – Beastie Boys
If you're heading to the east coast rather than going west then Beastie Boys have you covered.
And if you're starting to get drowsy after hours of driving, this high-energy song will hit you like a caffeine pill!
While you can't really watch the music video if you are driving, it's worth watching if you haven't seen it. They really made an effort to add some humor to their music.
So play this song on your way to New York and the next thing you know you'll be enjoying dirty water hot dogs and overpriced coffee.
Written by: Beastie Boys and Rick Rubin
Year Released: 1987
Album: Licensed to Ill
5. The Distance – Cake
This song sounded quite a bit different than a lot of music in the 90's rock scene but I can definitely hear an influence from Beck.
And to its benefit, I think it has aged better than a lot of music from contemporary bands.
The song is pretty comical with lyrics about a race car driver who keeps driving even after the race is over and everyone has gone home.
I would recommend this one to start off a playlist or when you need a little kick in the pants along the way.
The bassline will really get your blood pumping!
Written by: Greg Brown
Year Released: 1996
Album: Fashion Nugget
6. Here I Go Again – Whitesnake
Okay, so in movies, a road trip is traditionally depicted as some crazy adventure among college students.
But traveling alone has a lot of benefits too in my opinion.
You can do what you want without having to make concessions to others like visiting attractions you're not interested in, eating at a restaurant you hate, etc.
So this song is perfect for solo trips although the lyrics are a bit deeper than taking a road trip by yourself.
But if you have a selfie stick and some good music to keep you company, who really needs friends?
Written by: David Coverdale and Bernie Marsden
Year Released: 1982
Album: Saints & Sinners
7. In the Summertime – Mungo Jerry
While it's not specifically a road trip song, this one is about driving and enjoying yourself when the weather is perfect.
It's short and sweet with a great rhythm that will make the grass seem a little greener and the sky seem a little bluer.
Apparently, this type of music is called Skiffle; now there's a genre that you don't hear much about these days.
But if you can't decide whether to take a road trip or not, this one will help you decide to do it.
Because if lyrics like "If her Daddy's rich take her out for a meal. If her Daddy's poor just do what you feel" don't make you smile or laugh then you really need a vacation!
Written by: Ray Dorset
Year Released: 1971 (single 1970)
Album: Electronically Tested
8. The Long and Winding Road – The Beatles
Are you traveling to see that special someone in your life?
Are you looking back on the many experiences that make up your life and wondering how they all fit together?
Like most great songs this one can be interpreted in several ways.
And this song has a lot of historical significance as it came at the end of the Beatles' storied career.
I think this one is perfect for when you need to pull over and take a rest during a road trip, have a cup of coffee, or whatever you prefer.
Because the Beatles' music was the soundtrack to many people's lives and I think it's a tradition that's worth keeping alive.
Written by: Paul McCartney and John Lennon
Year Released: 1970
Album: Let It Be
27 More Great Road Trip Songs
| | |
| --- | --- |
| Title | Artist |
| Georgia on My Mind | Ray Charles |
| Danger Zone | Kenny Loggins |
| Move Bitch | Ludacris featuring Mystikal and I-20 |
| On the Road Again | Willie Nelson |
| Miles to Go (Before I Sleep | Celine Dion |
| I Can See for Miles | The Who |
| Daytripper | The Beatles |
| Drive My Car | The Beatles |
| Behind the Wheel | Depeche Mode |
| I Can't Drive 55 | Sammy Hagar |
| Let Me Ride | Dr. Dre |
| I Drove All Night | Cyndi Lauper |
| I Get Around | The Beach Boys |
| Born to Be Wild | Steppenwolf |
| Little Red Corvette | Prince |
| Take Me Home, Country Roads | John Denver |
| Hit The Road Jack | Ray Charles |
| Roadhouse Blues | The Doors |
| Break My Stride | Matthew Wilder |
| Everyday Is A Winding Road | Sheryl Crow |
| No Particular Place to Go | Chuck Berry |
| Born to Run | Bruce Springsteen |
| Shut Up and Drive | Rihanna |
| The Passenger | Iggy Pop |
| Running on Empty | Jackson Browne |
| Truckin | The Grateful Dead |
| Sweet Home Alabama | Lynyrd Skynyrd |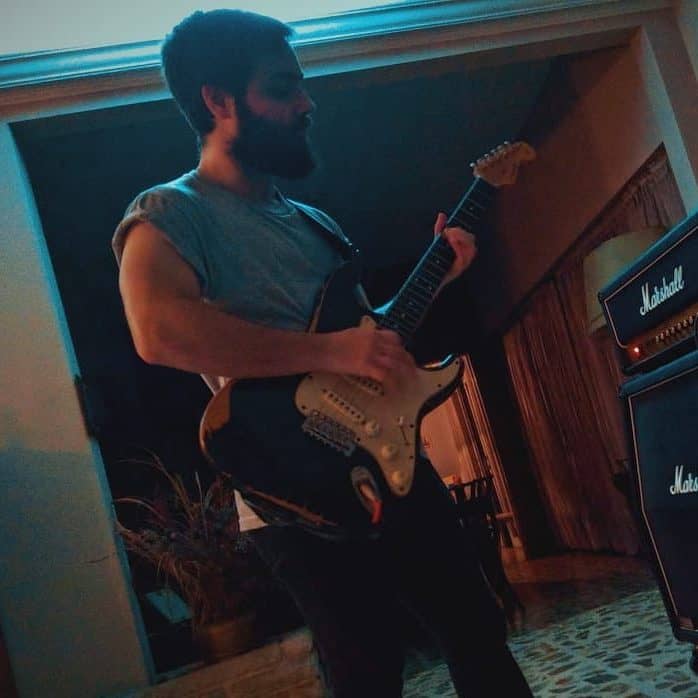 Hello there, my name is Ramiro and I've been playing guitar for almost 20 years. I'm obsessed with everything gear-related and I thought it might be worth sharing it. From guitars, pedals, amps, and synths to studio gear and production tips, I hope you find what I post here useful, and I'll try my best to keep it entertaining also.