For musicians, the act of composing, recording, and performing songs can be therapeutic even if it's just for a small group of friends.
And music therapy has become a professional field that is used in the medical industry.
But even if you are just an ordinary person and only listen to music that others have produced, you aren't out of luck at all.
Because music can give you a kick in the behind to get you motivated when you're feeling down and out.
And though it's true that sometimes misery loves company and sad songs can be great for when you are also feeling sad, a lot of people want to hear some positive vibes.
And this is probably truer for people who are a little bit older and may not want to listen to depressing music after a hard day at work!
So what are some of the greatest songs to check out when you need a little motivation in your life?
Don't worry. I've got your back and some cool music to get you up on your feet with a smile on your face.
1. Don't Give Up – Peter Gabriel feat. Kate Bush
Although Phil Collins is probably better known for his solo career, his bandmate in Genesis, Peter Gabriel is my personal choice.
And in this wonderful track, Peter Gabriel sings of life's troubles and how every fix he has tried hasn't worked.
Yeah, sometimes things really do feel like that.
But like an angel, Kate Bush coaches him in her lovely voice to push forward because people still care about him.
So for me, this takes the spot for the quintessential song when you need a little inspiration.
Written by: Peter Gabriel
Year Released: 1986
Album: So
2. Shout – Tears for Fears
In what I consider to be one of the best hits of the 1980s, Tears for Fears penned a song about fighting back when we're being mistreated or pigeonholed
The song was apparently written as a sort of protest song against whatever is keeping people down, from social class to racism, sexism, etc.
And the song's command to shout and let your feelings be heard also has its roots in the healing power of letting out buried frustrations through something called primal therapy treatment.
The song has great energy and while I don't think shouting may always be the solution, it is important not to let grievances fester and find some outlet or way to express yourself.
Written by: Ian Stanley and Roland Orzabal
Year Released: 1985 (single was released in 1984)
Album: Songs from the Big Chair
3. My Hero – Foo Fighters
Most people assume that this song is about Kurt Cobain to some degree even if Dave Grohl won't admit it and I tend to agree.
But at the center of the song is the idea of a hero who is an ordinary person.
I'm sure you have heard jokes or seen memes about "Not all heroes wear capes" and that could just as easily have been the title of this song.
The music video portrays a man repeatedly entering a building that is on fire to save people and pets: no uniform or special equipment, just courage.
And that applies to all of us. Sometimes the biggest barrier to achieving greatness is our own habit of doubting ourselves.
And as for the music, I consider this one of the best songs of the late 1990s, perfectly written and mixed with killer drumming and guitar tone. And that breakdown near the end still gives me chills too!
Written by: Dave Grohl, Pat Smear, and Nate Mendel
Year Released: 1997 (single was released in 1998)
Album: The Colour and the Shape
4. My Heart Will Go On – Celine Dion
I admit there was a period when this song was overplayed to the point that some people never wanted to hear it again.
But going back and listening to it now, I have to say it is incredible and I don't think anyone other than Celine Dion could have done it with so much emotion and control in her voice.
This is an ideal song to listen to if you have lost someone close to you, even if it's not as dramatic of a situation as the scene in Titanic.
And it's not as simple as saying that time heals all wounds, but rather a romantic notion that those we have lost still exist as long as we remember them.
It's a touching way of thinking about our mortality that can give us peace and I'm really glad that this song exists.
Written by: James Horner and Will Jennings
Year Released: 1997
Album: Titanic: Music from the Motion Picture Soundtrack and Let's Talk About Love
5. Float On – Modest Mouse
Indie Rockers Modest Mouse had been around for over 10 years when this song became a hit so "floating on" seems to have worked out all right for the band.
The verses of the song deal with several bad situations that turn out okay or at least the singer decides not to let them bother him.
It's a very similar idea to the bestselling book Don't Sweat the Small Stuff…and It's All Small Stuff by Richard Carlson (1997). Maybe someone in the band read it?
And when you're depressed or having a run of bad luck, an attitude adjustment is sometimes all you really need.
Of course, it is a lot easier to do with some help from a family member, friend, co-worker or in this case, a song with a positive message.
Written by: Eric Judy, Dann Gallucci, and Isaac Brock
Year Released: 2004
Album: Good News for People Who Love Bad News
6. All You Need Is Love (Live by Paul McCartney and friends) – The Beatles
Well, whoever owns the rights to the Beatles catalog of music right now is pretty meticulous about keeping certain songs off of Youtube but this live version will do well enough.
This is a very simple song structurally and lyrically but the message is powerful and it served as an anthem of hope for many people when it was released, especially in the Flower Power and Hippie movements.
I'm sure a few cranky people of the older generation had their feathers ruffled a little bit, but who cares right?
It's still one of the definitive inspirational songs over 50 years later because as the song says, if you have love and the right attitude "It's easy".
Written by: Paul McCartney and John Lennon
Year Released: 1967
Album: All You Need Is Love (single) and Magical Mystery Tour (US version)
7. Heroes – David Bowie
8. Stand By Me – Ben E. King
9. Don't Worry Be Happy – Bobby McFerrin
10. Walking on Sunshine – Katrina and The Waves
11. Ain't No Mountain High Enough – Marvin Gaye and Tammi Terrell
12. The Prime Time of Your Life – Daft Punk
13. I'm Not Worried At All – Moby
14. Survivor (Remix) – Destiny's Child feat. Da Brat
15. I Won't Back Down – Tom Petty and The Heartbreakers
16. We Are The Champions – Queen
17. You've Got a Friend – Carole King
18. Imagine – John Lennon
19. Eye of the Tiger – Survivor
20. Wind Beneath My Wings – Bette Midler
21. I'm Still Standing – Elton John
22. I Will Survive – Gloria Gaynor
23. Just the Way You Are – Bruno Mars
24. You Are So Beautiful – Joe Cocker
25. As Long As You Love Me – Backstreet Boys
26. Hands – Jewel
27. What Makes You Beautiful – One Direction
28. Move On Up – Curtis Mayfield
29. Stay Positive – The Streets
30. Don't Stop Believin' – Journey
31. Dry Your Eyes – The Streets feat. Chris Martin
32. You Are My Sunshine – Kina Grannis
33. Mama Said Knock You Out – LL Cool J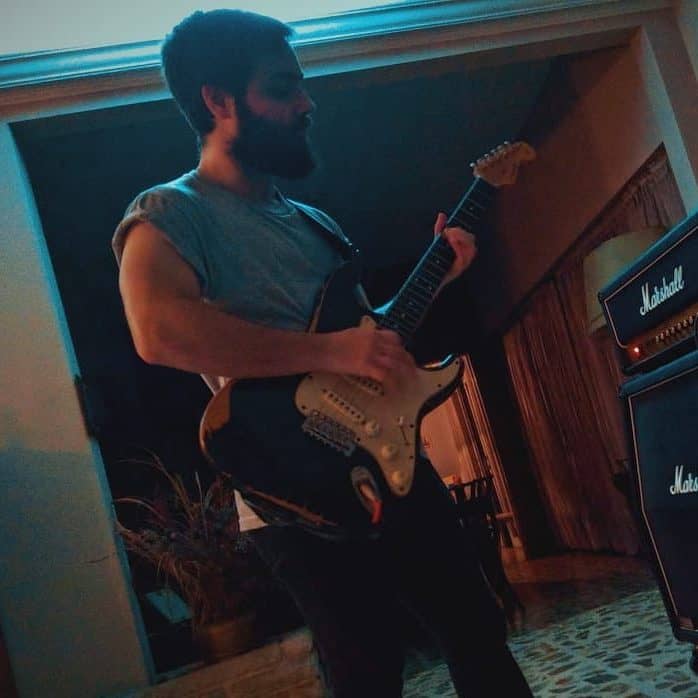 Hello there, my name is Ramiro and I've been playing guitar for almost 20 years. I'm obsessed with everything gear-related and I thought it might be worth sharing it. From guitars, pedals, amps, and synths to studio gear and production tips, I hope you find what I post here useful, and I'll try my best to keep it entertaining also.