I don't think it can be said that anyone likes falling out of love, but thankfully we can always find comfort in music and there are plenty of songs to keep you company while you're recovering from heartbreak.
When it comes to finding great songs about falling out of love, there's a fine line between being relatable, and being depressing.
I've put together a list of songs from throughout the years to check out, whether you're looking to relate or just enjoying the music.
1. Let It Go – James Bay
Let it go is about moving on and accepting that things have changed, it's a heart rendering song that will either have you singing along or crying to.
It's been said that it's also the clearest example of who James Bay is in his music: supple instrumentation, raspy texture, and ageless croon.
Released in 2014 through republic records, it quickly shot up on multiple music charts internationally
Let It Go has been featured in multiple American TV series, such as supergirl and The Royals
The song is also reached multiple platinum certifications all around the world
2. When You Love Someone – James TW
A gripping indie-style song.
This song is written from the perspective of a father explaining the difficulties of love to a son.
Sharing that while parents fall out of love sometimes, it doesn't mean that they love their children any less.
The song captures the difficulties of falling out of love when there are more than just two people involved.
James TW stated that he wrote this song for a student he was giving lessons to whose parents were splitting up.
The student was having trouble understanding the breakup and so he wrote it to help them get through the tough time.
3. U.N.I – Ed Sheeran
This song is about a young couple that ended their relationship, with one person still being hung up on what they had.
This is pretty relatable for most of us, as when there's a falling out, it's usually one person that doesn't feel the same anymore.
U.N.I. is one of Sheeran's earliest songs, released on the Plus album.
I liked the plus album because Sheeran still had his own sound back then and while his newer songs are good, they just sound mainstream and overly commercialized now.
4. Someone Like You – Adele
Adele writes so many sad songs about falling out of love, it's hard to pick just one, but Someone Like You tends to be one of the more popular ones.
If you ask me, Adele, at that stage in her life, had a lot of issues to work on, since all she was writing were breakup songs.
Just goes to show that fame and money don't solve all our problems.
Despite her sad songs, Adele's voice is always something to appreciate as she is a very skilled vocalist and it shows in this song.
It reached the top of multiple charts around the time of its release.
My opinion aside, the song itself is worth a listen, it's well put together and far more tasteful than most pop music today.
The song is inspired by a broken relationship and coming to terms with it.
Someone Like You was voted the third most favorite number-one single in the last 60 years in the UK, as voted by the public.
5. Skinny Love – Bon Iver/Birdy
Skinny Love is a song about love that cannot last.
A love that started for the wrong reasons and is now dying out because it never had any weight to it.
The beauty and melancholy of the song are somewhat exacerbated by the way that Justin Vernon sings the song, with his signature falsetto sound giving it a haunting texture.
The lead singer described the song's meaning as this: "… you're in a relationship because you need help, but that's not necessarily why you should be in a relationship.
And that's skinny. It doesn't have any weight. Skinny love doesn't have a chance because it's not nourished."
Birdy also did a cover of this song which was just as well received as the original, both being recognized and applauded worldwide.
6. Too Good At Goodbyes – Sam Smith
Sam Smith is another one of those pop stars who can just never seem to keep a good relationship going.
A lot of his songs are about breakups and heartache. It was between this and "I know you're not the only one."
The difference is that this song is most relatable for falling out of love.
It's about someone who's been through a number of relationships and at this point is used to the bitter end coming, there's no pleading, there's no sadness begging to stay, only an acceptance.
The sad part about this song is that the singer identifies with this trait as being part of their character and has begun to live a closed-off life, even though they know it will bring about the same results with the next person.
7. Scared To Be Lonely – Martin Garrx & Dua Lipa
A little more of an upbeat song here.
Hopefully, if you've been listening to these songs in order, this will save you from just crawling into bed and weeping.
If you're a guitar player, you likely won't appreciate this song (I know I don't like it) but it's popular for a reason.
The song describes a love where both partners have fallen out of having feelings for each other, but they stay together anyway and the singer begins to wonder if they're only together because of a fear of being on their own again.
There's not much as far as lyrics to the song, but it's relatable for some and if you've been in this situation and you tend to like club music, this one's for you.
8. Cry Me A River – Justin Timberlake
An oldie but a goldie.
Justin Timberlake was one of the biggest (if not the biggest) pop icons of his time.
This song is about a scorned lover who finds their significant other cheated on them, they then go on to make it as clear as possible that they've moved on.
When the other person realizes what they've lost, they then "cry a river" and it's intended in the song that this is what the singer wanted in the first place.
This song is actually about Timberlake and Britney Spears's relationship at the time.
They had a pretty rough fallout and Justin Timberlake went on to write this song, directing his anger at the song and Spears.
The music video tells the story of the song's intention even more clearly, with a story being played out with Timberlake making out with another girl while a Britney look-alike finds a tape of the event.
Regardless of the backstory and the drama behind the song.
It can be relatable for some when you realize the person you loved isn't all you thought they were and turned out to be something entirely different.
Moving on can sometimes be out of disgust or anger and this is the song for such occasions.
9. Supercuts – Jeremy Zucker
Supercuts is a song about two people falling out of love but staying friends after.
It can be relatable because sometimes relationships don't work out romantically, but you realize that you still care about the person and that you want to be a part of their life.
This song describes that feeling.
Being a friend for the other person when it's needed, but ultimately seeing the highlights of their life from the outside rather than playing a role in their happy ending.
10. I'm Looking Through You – The Beatles
Going back to the classics, this Beatles song was written about McCartney's girlfriend back in 1965, around the time of the song's release.
Her refusal to give up her stage career and focus on his needs prompted this song, with the line "you don't look different, but you have changed" reflecting his dissatisfaction with their relationship.
It's such an upbeat Beatles song, but when you take a look at the lyrics, there's a relatable disappointment to be found.
This song is perfect for anyone who's going through a breakup with someone who isn't what they thought they were.
The meaning aside, in my opinion, it was a bit of a childish thing to write a song to someone because they wouldn't yield exactly what you want in a relationship, that happens sometimes.
That's where the discussion comes in, but in this case, if it's a non-negotiable, then agreeably, it's best to part ways.
11. Somebody That I Used To Know – Gotye
Probably the only song anyone knows from Gotye.
What a classic!
This song is about people breaking up and things turning sour, where clearly one person hasn't quite moved on, but won't accept responsibility for their actions or emotions.
At least that's one interpretation.
When you're on the other end of being treated like a stranger, it could sometimes be that the other person might have just been dishonest about their reasons for breaking up.
Either way, this song is a good listen when there is still a bit of bitterness toward an ex-lover left over.
Don't stay playing this song on repeat though, you have to move on sometime.
12. The Thrill is Gone – B.B. King
Blues are always a good choice when you're feeling blue.
And who better to listen to than the king (no, the blues king, not the other king)?
This song is a twelve-bar blues in B minor with simple lyrics and B.B. King's masterful guitar playing.
It's just the right kind of musical feel to listen to when you want to dance over the burning bridge of a lost love you've come to accept and move on from.
King ends the song by singing about being free from his lover's spell and that frames it perfectly, you're free now, and while the thrill is gone, you can move on.
13. Slow Dancing In a Burning Room – John Mayer
Another blues classic.
John Mayer's opening guitar line in this song is so memorable, I doubt any guitar player doesn't know it.
The doubled guitar melody also adds a unique sound to it.
The meaning of the song, however, is a little less sweet than Mayer's guitar skills.
It's about a romance that is clearly falling apart and both sides seem to be powerless to stop it, partly because it's too late to save the relationship and partly because they're both too stuck in their own ways to change.
This song has so many good things I could say about it, and that's before even mentioning the solo.
Needless to say, this is a classic that anyone who's been through a serious breakup can relate to.
14. Don't Know How To Keep Loving You – Julia Jacklin
Julia Jacklin's music tends to be quite straightforward in what she says, this song is quite on the nose with its meanings.
This song is about falling out of love with someone because of a relationship that seems to be going nowhere.
Jacklin wrote that during the making of this album a lot of her relationships with people were changing and it came down to that sentiment in a lot of her songs.
Lyrics aside, the melody and feel of the song are just really enjoyable overall, despite its inherent sadness. But you're here to feel sad, so.
15. Bruises – Lewis Capaldi
Lewis Capaldi is basically the male version of Adele at this point. I could have picked any one of his songs because 90% of them are about tragic love stories.
The man needs a hug and some self-esteem if his songs are in any way true stories from his own experience.
That being said, it doesn't mean that he should try to change his content, the music is beautiful and bruises is my favorite song from him.
From the raw guitar melody, leaving tons of space between strokes to his even rawer vocals.
Capaldi's voice rips apart as he belts out the chorus and you can feel every note of pain in it.
Definitely, a song to listen to if you're feeling the big sad.
16. Emily – Jeremy Zucker, Chelsea Cutler
"Emily" is a song set beyond the honeymoon phase of a relationship, highlighting different views and a stubborn approach to its potential demise.
The song also serves somewhat as a sequel to another song by Zucker, named "please," which details a desperate attempt to salvage a faltering relationship.
Emily is ultimately a song about where the singer has fallen out of love and now all they do is fight because neither really wants to be in the relationship anymore.
Either way, it's a nice song to listen to if you're into indie/pop music. It's got some of that acoustic guitar feel going amongst Jeremy Zucker's boyish vocals.
17. I Don't Love You – My Chemical Romance
My Chemical Romance is always a winner, and this song is just an explosive declaration of its title.
Off their third studio album, Black Parade, this song is best listened to with the music video playing as it helps to accentuate the contrast of the two sides of the lovers in the song.
It seems to be a song about two people that never really belonged together and their love has withered because of it.
18. I Can't Make You Love Me – Bon Iver/Bonnie Raitt
Bonnie Raitt wrote the original of this song, but in my opinion, Bon Iver did it better.
The lyrics aren't changed from the original and depending on your tastes, both songs are beautiful songs for when your heart is sore.
The song is about having feelings for someone who doesn't love you anymore and coming to terms with that reality.
Vernon does the song with only a piano and his immaculate vocal tone, carrying the melancholic beauty of the song across as he sings through the chorus.
19. Just Give Me A Reason – Pink ft. Nate Ruess
A song from a few years back, but still a good listen.
This song is a little more optimistic than a lot of the other titles in this list, singing about a love that's dying but both sides are trying to save it.
This song is a lot more hopeful, but it's probably not something you'd listen to in the aftermath of lost love, but rather something to give you strength when you're going through a rough patch with the one you love.
20. Angry All The Time – Tim McGraw
"Angry all the time" is another of Tim McGraw's powerful country ballads, this one about staying in a toxic relationship.
The wife and husband in this song are growing apart as they grow older and raise their children.
The song illustrates a love that started out so perfect until they realized they weren't the same people anymore.
Sadly, this often happens to people who stay together and get caught up in life, forgetting to keep open communication with one another.
Suddenly, one day you're both strangers and it sucks.
21. You've Lost That Loving Feeling – The Righteous Brothers
Man, this song is old.
The music video is in black and white because it was the only film they had at the time.
Released in 1964, "You've Lost That Loving Feeling" was one of the most-played songs on American radio and television in the 20th century.
Ultimately, it's a song about lost love, but there are some fun facts about the history of this song
When it was first produced, most pop music was a lot shorter and it stood out for its time
The producer, Phil Specter actually put in a false ending around 3:04 to trick radio D.J.s into playing the song on the radio
The song was produced using Specter's "wall of sound" technique, taking multiple tracks and overdubbing them on one another
22. Either Way – Chris Stapleton
For those of you who don't listen to country, Chris Stapleton is country music you'll enjoy.
I myself am not a huge fan of country music- I can appreciate Kenny Rogers and Dolly Parton, and I can partly stomach some modern country, but Stapleton just resonates differently with me.
"Either Way" is a country ballad performed with just an acoustic guitar (common in Stapleton's music).
Lyrically, it's about the end of a longstanding relationship.
It's about living together that has just become a matter of going through the motions, but with the connection lost.
Enjoy crying if you're listening to this song after a divorce.
21 More Songs About Falling Out Of Love
| | |
| --- | --- |
| Title | Artist |
| All Out Of Love | Air Supply |
| Cold | Maroon 5 |
| You'll Think Of Me | Keith Urban |
| After The Love Has Gone | Earth Wind and Fire |
| Call You Mine | The Chainsmokers |
| Our Last Summer | ABBA |
| Apologize | One Republic |
| Colors | Halsey |
| Goodbyes | Post Malone (Young Thug) |
| It Must've Been Love | Roxette |
| She's Out Of My Life | Michael Jackson |
| Set Fire To The Rain | Adele |
| Two Out of Three Ain't Bad | Meatloaf |
| When I Was Your Man | Bruno Mars |
| Happier | Ed Sheeran |
| She's Gone | Hall and Oates |
| How Am I Supposed To Live Without you | Michael Bolton |
| Hold Me While You Wait | Lewis Capaldi |
| Chemicals | Dean Lewis |
| The Way Things Change | Yellow Days |
| A Change Of Heart | The 1975 |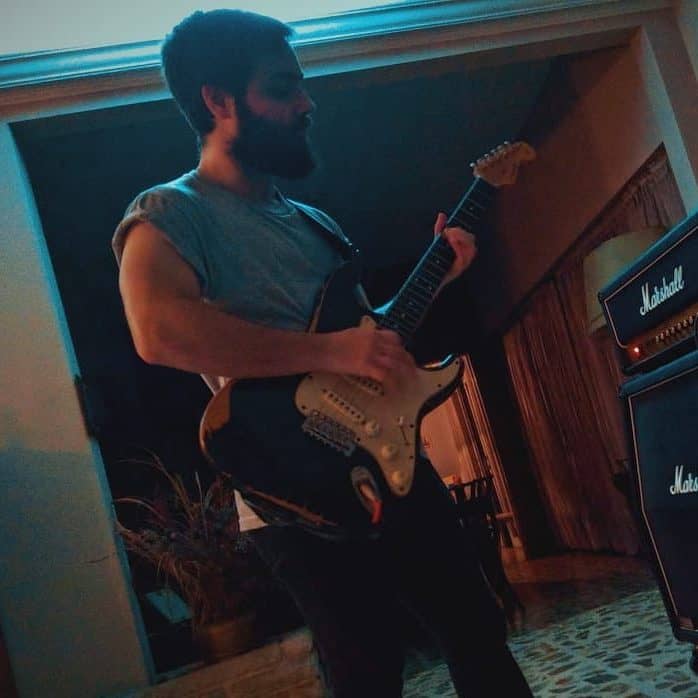 Hello there, my name is Ramiro and I've been playing guitar for almost 20 years. I'm obsessed with everything gear-related and I thought it might be worth sharing it. From guitars, pedals, amps, and synths to studio gear and production tips, I hope you find what I post here useful, and I'll try my best to keep it entertaining also.