Fire has always been a fascinating and powerful force, inspiring countless songs over the years.
From its destructive power to its ability to bring warmth and light, fire has captured the imagination of musicians and songwriters for centuries.
Whether it's a raging inferno or a small, flickering flame, the symbolism of fire has been used to convey a range of emotions and themes in music.
From love and passion to anger and destruction, fire has played a central role in countless great songs.
Many of these tracks use fire as a metaphor for intense emotions or experiences, such as a burning love or a raging passion.
Others draw on the destructive power of fire, using it as a symbol of the wild nature of relationships or the chaos of the world.
Whatever the theme, these songs are sure to ignite the senses and set the mood for an unforgettable listening experience.
Whether you're a fan of rock, pop, folk, or any other genre, you're sure to find a song about fire that speaks to you.
Whether you're looking for a power ballad to belt out at the top of your lungs or a more laid-back tune to relax and unwind to, there's a fire-themed song out there for everyone.
So light up the fire, sit back, and let the music take you away.
Here are 19 great songs about fire that showcase the many ways in which this elemental force has been incorporated into music over the years.
1. Fire – The Jimi Hendrix Experience
If we refer to songs about fire, we must start with the most iconic piece, this famous rock track, recorded in 1966 and released in 1967, is one of the most popular songs by the band.
The song was originally titled "Let Me Light Your Fire," but was later released under its current name.
Interestingly, the lyrics of the track came up during a cold night: the group reunited at the bassist's mother's house where Jimi asked her if he could "stand next to her fire" to warm up.
However, this song is worldwide remembered due to the amazing and crazy Hendrix's performance.
While playing Fire Jimi set his guitar on fire on stage.
Up to this point, one of the most legendary events in music history.
2. Light My Fire – The Doors
Similar to the previous piece Light My Fire was recorded in 1966 but published in 1967 in the first album of the group named The Doors. Although the song evokes feeling passion and leaving inhibitions aside, the guitar player wrote the lyrics with something different in mind.
Robby Krieger liked the idea of creating a piece that won't disappear as time passes so he decided to write about one of the four elements: Fire. In that way, listeners could also interpret the song on their own, making it universal, and everlasting.
3. Slow Dancing In A Burning Room – John Mayer
This artist is popular for his smooth, mellow songs plus the emotion shown by his tone.
Slow Dancing In A Burning Room takes part in the 2006 album Continuum and this track is not the exception.
The sweet Strat melody combined with the lyrics match perfectly to the song that is about two people who do love each other but deep inside, both know that they can't be together.
Therefore, the title of the song accurately describes the situation: two people enjoying the good moments of something that will be reduced to ashes.
4. Girl On Fire – Alicia Keys
During the release of this song in 2012, the American singer Alicia Keys was on fire! She had recently become a mother and got married.
From the album of the same name, Girl On Fire encourages individuals to leave behind those things that hold them back and do what puts them on fire.
5. I See Fire – Ed Sheeran
This track became popular due to it takes part in the Hobbit movie The Desolation of Smaug in 2013.
Although Ed Sheeran also released a single of the song in the same year, it is not included in any of his albums.
The meaning of the song conveys the feelings of the end of the world.
Some see it as a kind of prayer and it deals with the horror of watching the fire burn everything before your eyes.
6. Fire – BTS
Even if you haven't listened to any of their songs, I bet you do know this great South Korean boy band.
In 2016, they released this piece which is about breaking the standards of strict societal rules and living life without worries.
7. Burning In The Skies – Linkin Park
What can be said that wasn't mentioned before about one of the most influential groups from the 2000s?
Linkin Park has forged a generation through their music and still nowadays have a strong impact.
In 2011, they released their fourth studio album A Thousand Suns in which Burning In The Skies appears.
In the lyrics, we find references to ruin that seem to be a self-critical lament for past mistakes but can also be understood as someone admitting that his or her life partner isn't the chosen one.
8. Just Like Fire – Pink
Just like Ed Sheeran, Pink has also written this track for a film's soundtrack.
In 2016, Just Like Fire wasn't included in any of Pink's albums and the artist claimed that the inspiration for the song was her daughter.
9. Fight Fire With Fire – Metallica
This amazing track opens up the acclaimed 1984 album Ride The Lighting, the piece begins with a soft acoustic guitar intro to later become a groundbreaking song.
This musical piece carries an antiwar message and tells how society feels about the fear of an upcoming nuclear war.
10. Burning Down The House – Talking Heads
We all know Psycho Killer is the most famous song by this group but some years later, in 1983, they released their album Speaking in Tongues.
The track Burning Down The House isn't about arson, it refers to destroying a place that seems safe but in fact, keeps you incaged.
11. Burning Love – Elvis Presley
Although this track was originally published in 1972 by Arthur Alexander and written by Dennis Linde, it became a hit thanks to The King of Rock and Roll.
The song is about the end of a relationship and, interestingly, Elvis didn't feel like recording it because he had recently separated from his wife.
It was ultimately the encouragement of his producer that led Elvis Presley to decide to record the song.
After six months, the iconic rockstar unveiled a stunning version of the song to the world.
12. Sex On Fire – Kings Of Leon
Nowadays, Kings Of Leon is a well-known rock band but back in 2007 Sex On Fire was their first number one in countries such as Ireland, Australia, and Finland.
This track is the first single from their fourth studio album Only By The Night and as its title evokes, the song is about intimacy and having hot carnal relationships.
13. Ring Of Fire – Johnny Cash
This iconic country hit from 1963, written by June Carter and Merle Kilgore, uses fire as a metaphor for the intense, all-consuming nature of love and desire.
The "ring" represents the powerful and dangerous emotions that come with being in a relationship.
This piece is the first track of the album of the same name: Ring Of Fire: The Best Of Johnny Cash.
It has been covered by numerous artists over the years and remains a popular choice for country music fans around the world.
14. Fireside – Arctic Monkeys
15. Play With Fire – The Rolling Stones
16. Fire Bomb – Rihanna
17. The Unforgettable Fire – U2
18. Burn – Deep Purple
19. Fire and Rain – James Taylor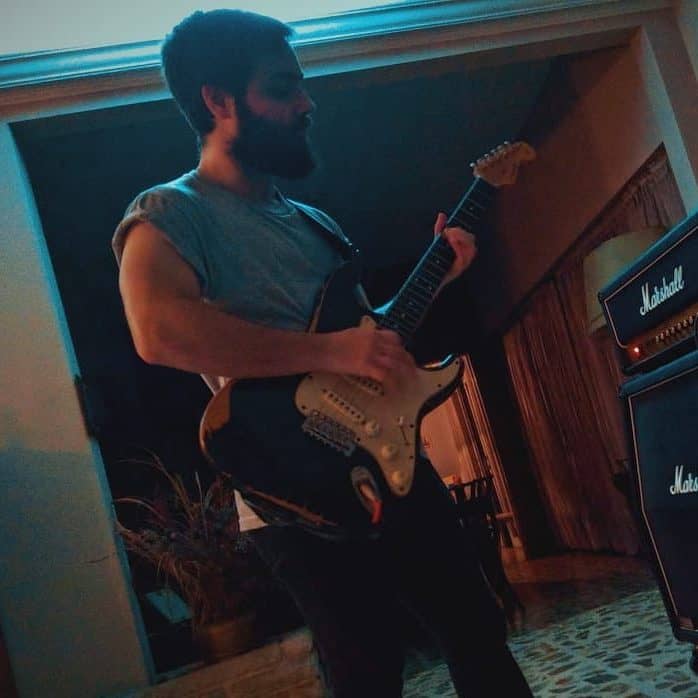 Hello there, my name is Ramiro and I've been playing guitar for almost 20 years. I'm obsessed with everything gear-related and I thought it might be worth sharing it. From guitars, pedals, amps, and synths to studio gear and production tips, I hope you find what I post here useful, and I'll try my best to keep it entertaining also.