Storms have always been a source of fascination for humans, with their raw power and unpredictable nature.
They can range from gentle showers to devastating hurricanes, and have the ability to inspire both fear and awe.
It's no wonder that storms have been the subject of many great songs throughout the years. In this article, we'll be exploring 19 of these great songs about storms.
These songs come from a variety of genres and eras, and each one offers its own unique perspective on the theme of storms.
Some of these songs are energetic and upbeat, embracing the raw power of a storm and using it as a metaphor for other kinds of intensity and passion.
Others are more introspective, using the metaphor of a storm to explore deeper themes of emotion and personal growth.
No matter what your musical tastes are, there is sure to be a song about storms that speaks to you.
These 19 songs represent just a small sampling of the many great tunes that have been inspired by the theme of storms.
So whether you're looking for a song to help you weather a literal storm, or just need some musical inspiration, give one of these songs a listen and let the power of the storm wash over you.
1. Riders On The Storm – The Doors
To begin with, we have a classic from the 70s psychedelic rock.
This amazing track released in 1971 and included in the album L.A. Woman can be understood as an autobiography of Jim Morrison.
This piece is inspired by the song (Ghost) Riders in the Sky: A Cowboy Legend and in the story of Billy Cook, a lone hitchhiker who ended up killing the family that picked him up.
This song carries great significance for fans and members of The Doors because, as if by fate, this was Morrison's last recording before his death.
2. Rock You Like A Hurricane – Scorpions
If Riders On The Storm is a classic, this song is a rock anthem of all time.
Released in the 1984 album Love At First Sight, Scorpions succeeded in firing up young people in the public.
Rock You Like A Hurricane talks about how the music can sweep people up and carry them away, much like a hurricane can sweep through a region and cause destruction.
The song also celebrates the energy and passion of rock music, and its ability to inspire and excite people.
3. Electrical Storm – U2
This track is the only single released alongside the second U2 compilatory 2002 album The Best of 1990-2000. In the song, Bono uses the metaphor of an electrical storm to represent a turbulent and troubled relationship.
The line "the weather will break soon" suggests that the problems in the relationship will eventually be resolved, much like a storm eventually passes and gives way to clear skies.
The electrical storm serves as a metaphor for the intense and chaotic emotions that can be experienced in a relationship but as explained, these emotions will eventually subside and the relationship will improve.
4. Storms – Fleetwood Mac
This deep and introspective ballad was released in 1979 and included in the album Tusk.
The song is about the tumultuous emotions that can be caused by a romantic relationship, and how those emotions can be as powerful and unpredictable as a storm.
People who have been through this situation will know that a broken heart can feel like an unruly storm.
Therefore, if you feel like you are caught in a storm of love, you will relate to this tune.
5. Set Fire To The Rain – Adele
Set Fire to the Rain is a song by English singer Adele, from her 2011 album 21 and became a huge commercial success.
Adele uses the metaphors of fire and rain to represent the intense and destructive emotions that can be sparked by a tumultuous relationship.
The rain, in this case, is symbolic of the emotional baggage that the narrator is trying to shed, and the fire represents the determination and strength it takes to let go.
In this song, the singer expresses the deep and complex emotions that can be sparked by love and loss.
6. Hurricane – Bob Dylan
Like many of the pieces composed by Dylan, this is a protest song that speaks out against injustice and corruption and features a driving and energetic rock and roll sound.
From the album Desire released in 1976, it tells the story of the boxer Ruben "Hurricane" Carter who was wrongly convicted and accused of murder.
7. Storm In A Teacup – Red Hot Chili Peppers
The Californian band also makes its contribution to the list with this upbeat, funky song.
Storm In A Teacup was released in 2006 and is part of the double album Stadium Arcadium.
As usual, Kiedis is referring to a girl and comparing her to a storm, explosive and electric.
8. The Rain Song – Led Zeppelin
As Led Zeppelin is accustomed to, The Rain Song is a beautiful ballad that creates an epic musical atmosphere.
This song is considered a highlight of the 1973 album Houses of the Holy.
The music is about the transformative power of love, just like a rain shower can bring new growth to a parched landscape, love can bring new life and renewal.
Plant's soaring vocals combined with delicate acoustic guitars expresses perfectly the feeling of falling in love.
9. Here Comes The Rain Again – Eurythmics
The British duo composed and include this song as the second track of their 1983 album Touch.
The piece offers a synth-pop ballad that references the feeling of being overwhelmed by emotions and the need to find a way to cope with them.
The title refers to the moments before these feelings show up. Besides, the metaphor of the rain may also evoke the ups and downs of a relationship.
10. Stormbringer – Deep Purple
In 1974 this British group released their ninth studio album Deep Purple and in it, we have this wonderful tune that tells the story about a mythical creature called "Stormbringer".
This beast is described much like a tempest and the lyrics evoke the power and ferocity of a storm.
11. Rain – The Beatles
Rain is a deep and introspective song that explores themes of reality and illusion.
Written primarily by John Lennon and featured on The Beatles' 1966 album Revolver, this upbeat rock and roll track delves into the transformative power of love and how it can bring new life and renewal.
With its innovative use of reversed sound, this tune was ahead of its time and helped to pave the way for experimental production techniques in rock music.
Despite its heavy themes, the song is an energetic and uplifting anthem that celebrates the rejuvenating power of love.
12. It's Raining Again – Supertramp
13. Stormy Weather – Pixies
14. Running From the Storm – Gary Moore
15. Stormy Monday – Eric Clapton
16. Shelter From The Storm – Bob Dylan
17. Storm – Lynyrd Skynyrd
18. Calm Inside The Storm – Cyndie Lauper
19. Stormy Sky – The Kinks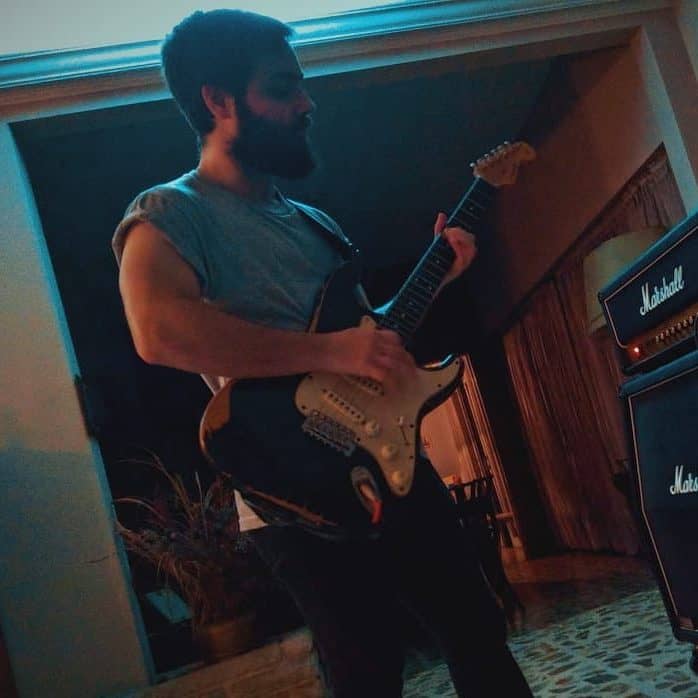 Hello there, my name is Ramiro and I've been playing guitar for almost 20 years. I'm obsessed with everything gear-related and I thought it might be worth sharing it. From guitars, pedals, amps, and synths to studio gear and production tips, I hope you find what I post here useful, and I'll try my best to keep it entertaining also.