They say there is a song for everything, and this is true of Ghosts too.
As chilling as the thought of spooky things can be, several talented artists have made enthralling music that tells tales of death and other haunted things.
If you are fascinated by or are searching for songs about ghosts, this list is for you.
Here, we share the best and most loved songs about ghosts.
Do brace up, as some may be a little spooky.
1. Ghost Song – The Doors
By the time this song was released, the lead singer of The Doors, Jim Morrison, had been dead seven years before from mysterious circumstances.
The rock band had been one of the movers and shakers of the mid-60s to early 70s, being one of the best-selling bands of all time.
They were inducted into the Rock and Roll Hall of Fame in 1993.
The song opens with a chilling read of an obscure poetry piece, a retelling of an event from Jim's early childhood. His family had witnessed a tragedy, an accident with dead Indians. Jim recalls seeing the souls of two of the dead dancing on the highway and one or more ghosts leaping into him. He believed that he was haunted as, somehow, these ghosts never left.
The circumstances around Jim Morrison's death are rumored to be suspicious because while he was pronounced dead by natural causes, an autopsy never happened.
2. Watching You Without Me – Kate Bush
Kate Bush says that this song captures her worst fears, and it is super haunting and sad.
The lyrics tell a story of a loved one, staying in wait for their person to return, unaware of a horrible situation that has befallen them.
The ghost of the victim watches, the lyrics poignant as she chants; You can't hear what I'm saying to you; You watch the clock, Move the slow hand, I should have been home, Hours ago, But I'm not here. This is a feeling that people who have lost a loved one know.
The song was originally released in Kate Bush's fifth studio album, Hounds of Love, released in September 1985
The only live version of the song was from a 2014 performance, and this appears on Before The Dawn
3. The Wreck of Edmund Fitzgerald – Gordon Lightfoot
This chilling hit song by Canadian Singer-songwriter Gordon Lightfoot was written and released the year after the unfortunate sinking of the US Great Lakes freighter, the SS Edmund Fitzgerald, in November 1975.
It commemorates the loss of the 29 men aboard the ship when it sank to the bottom of Lake Superior and truly gives off a ghostly air.
While the song draws inspiration from a real-life tragedy, Lightfoot adds a little embellishment to the lyrics, telling the story from his reimagined perspective.
The artist, who is highly revered in Canada and internationally acclaimed for several charting songs in the 60s and 70s, considers this his best work, and it is probably his most popular release.
4. The Ghost in You – Psychedelic Furs
While you may not have heard of this song as it was a minor hit from the Psychedelic Furs, it is one of the songs that had the lead singer of the band, Richard Butler, in his signature emotive, heart-on-the-sleeve element.
The song opens with a scene of a motorist carelessly running a traffic light. For Richard Butler, this was symbolic and synonymous with ending a relationship.
Several covers of this song have been used as soundtracks on popular tv shows, including Clueless, 50 First Dates, and Being Human. The original was, however, only recently used as a soundtrack for the third episode of the second season of Stranger Things.
5. Give up the Ghost – Radiohead
Radiohead is undeniably one of the greatest bands to make music, and in their usual emotive style, they have a song about ghosts, but it is somewhat metaphorical.
The song comments on the woes of the 21st century; how the victims of these woes are resigned to 'give up the ghost.'
This song is a track off Radiohead's 2011 album titled The King of Limbs and was first performed at a function in Cambridge, England.
The lyrics were inspired by a scene from a highly acclaimed British comedy horror show released in 1998, The League of Gentlemen. Radiohead's main vocalist, Thom Yorke, was haunted by a scene from the series, and an interview prompted him to write the song.
6. Ghosts – Fanfarlo
Famous for their song "Atlas," a soundtrack for the Twilight Saga, the London folk band Fanfarlo is known for their eclectic use of diverse vintage instruments.
Ghosts, much like their other songs, have the same otherworldly aura with obscure lyricism and haunting feels.
Ghosts was the soundtrack to episode 6 of season 6 of the popular tv series Grey's Anatomy
The song was part of the band's debut album 'Reservoir' released in February 2009
7. Ghost Behind My Eyes – Ozzy Osborne
The "Prince of Darkness" is truly one of the greatest heavy metal acts of the century, and in this song, Ozzy Osborne depicts being haunted by a person's memory as having a ghost behind your eyes.
This song is off Ozzy's seventh studio album released solo titled Ozzmosis, released in October 1995.
The album peaked at number 4 on the US Billboard 200, hit seven on Canada's top albums, and did great numbers on charts in the United Kingdom & Europe.
8. Misguided Ghosts – Paramore
For Hayley Williams, Misguided Ghosts gives form to the craziness that is one with being alive.
The song is unlike the typical heavy Paramore sound. In soft acoustic, the first one of their 2009 album, Hayley goes on a vulnerable musing about making mistakes and the intensity of having to figure oneself out
This song is off Paramore's third studio album, Brand New Eyes, released in 2009
Hayley refers to this track as the "red-headed stepchild of the record," For her, it channels all of life's complications. She talks about finding herself, referring to herself as a ghost traveling endlessly. If you find this relatable, you should give it a listen.
9. Ghosts – Michael Jackson
Ghosts is a pretty unsettling track by Michael Jackson with vivid lyricism.
He mentions ghosts, ghouls, blood, and haunted symbolisms to thrill listeners while conveying a deeper metaphorical meaning about the type of ghosts humans harbor, including the ghosts of envy and jealousy.
The music maestro was quite fascinated by horror and used music films as promotional material for telling the stories behind his songs. For Ghosts, he released a mini-film with the same title to promote the song alongside a couple of others and an upcoming project.
This song has one of the most expensive music videos ever made, costing about 15 million dollars.
10. Ghosts That We Knew – Mumford & Sons
This bittersweet piece by the rock band Mumford & Sons premiered with a live performance at a radio station in 2011; it would then be included in their second studio album, Babel.
The song talks about dealing with depression and the hopelessness of it, all the while hanging on to the belief that love will hold and maybe save the sufferer.
The song's last line is actually hopeful, acknowledging the ghosts that plague us and the hope that they someday disappear.
11. The Ghost on the Shore – Lord Huron
Lord Huron's most popular songs are known for their sullen vibe, and this song, off his 2013 album, Lonesome Dreams, is just that way.
In this song, he tags himself as the Ghost on the Shore, and although he explains that it is unavoidable that he is soon to be forgotten, he lingers around the "lake" and hangs on, not wanting to leave.
10 More Songs About Ghosts
Want more songs about ghosts? Here's a list you'd surely be impressed by.
| | |
| --- | --- |
| Song Title | Artist |
| La Llorona | FEA |
| The Ghost Inside | Broken Bells |
| Jenny of Oldstones | Florence & the Machine |
| Ghosts of the Navigator | Iron Maiden |
| Spirits in the Night | Mannfred Mann's Earth Band |
| There's a Ghost in My House | R. Dean Taylor |
| Lullaby of Woe | Ashley Serena |
| Ghost Town | The Specials |
| Ghost Riders in the Sky | Johnny Cash |
| Midnight in Montgomery | Alan Jackson |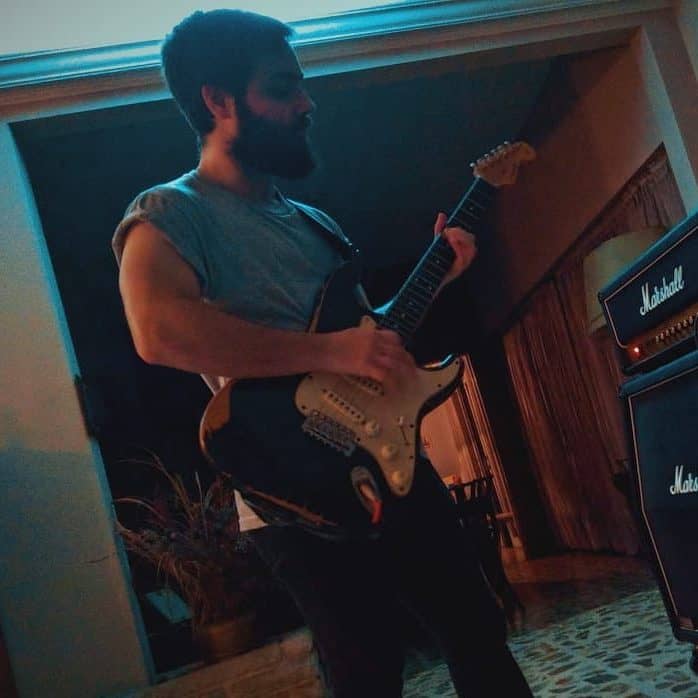 Hello there, my name is Ramiro and I've been playing guitar for almost 20 years. I'm obsessed with everything gear-related and I thought it might be worth sharing it. From guitars, pedals, amps, and synths to studio gear and production tips, I hope you find what I post here useful, and I'll try my best to keep it entertaining also.