If you're interested in checking out some music that deals with murder, there are some great songs that cover the topic.
As for why you are looking for songs about this subject, I really don't want to know.
So without further ado, here are some "killer" tracks about the darker side of human nature.
1. Dirty Deeds Done Dirt Cheap – AC/DC
Hired killers, paid assassins, whatever you call them… there are people who do the "jobs" other people don't want to do, for a fee of course.
And AC/DC wrote a song about these professional murderers, with their signature Blues Rock sound providing the perfect foundation.
And the song is also notable for featuring the band's original singer Bon Scott before his death a few years later.
Anyway, this song is pretty scary with TNT, poisoning, drowning, throat slitting, and electrocution all being mentioned as part of the menu. Yikes.
Written by: Angus Young, Malcolm Young, and Bon Scott.
Year Released: 1976
Album: Dirty Deeds Done Dirt Cheap
2. The Future – Leonard Cohen
A lot of casual music fans probably just think of the song Hallelujah when they hear the name Leonard Cohen.
But in the main refrain from this track, he sings that "I've seen the future, baby: it is murder".
And this song is further steeped in murder by being part of the soundtrack to Oliver Stone's hit film Natural Born Killers, which tells the story of a couple who go on a killing spree for fun.
Written by: Leonard Cohen
Year Released: 1992
Album: The Future
3. The End – The Doors
Some versions of this song are heavily edited but this is the full version here.
Now I want you to imagine that you were a teenager or in your early 20s in the 1960s.
One day you hear a cool love song called Light My Fire on the radio and you find out it's by a new band called the Doors.
So you buy their album and it's incredible, even if it's a little strange in some parts… you're almost to the end of side 2 when suddenly you hear "The killer awoke before dawn".
I'm sure this song's section about a boy killing his father and an Oedipal complex shocked a large number of people the first time that they heard it.
Actually, I still find it shocking to this day and I've heard this song a hundred times before.
Written by: The Doors
Year Released: 1967
Album: The Doors
4. Mommy, Can I Go Out and Kill Tonight (live)- Misfits
Misfits are famous for their signature brand of Horror Punk, and many of their songs are kind of campy such as Return of the Fly.
But they can also be terrifying… and from Misfits to his later band Samhain and finally his solo career, themes of murder, evil and misery were constant in Glenn Danzig's songs.
Most of the lyrics in this song are very difficult to understand because it is a live recording and you can look up the lyrics if you want, but do so at your own risk!
Written by: Glenn Danzig
Year Released: 1982
Album: Walk Among Us
5. Don't Take Your Guns to Town – Johnny Cash
In the Old West, there were some codes of honor. For example, you didn't shoot a man in the back or shoot an unarmed man.
And this song is about a mother's warning to her son Bill that he is going to meet trouble if he goes drinking in town while armed.
But people (including myself) don't always heed the well-intentioned advice of others and I'm sure you can guess what happens to young Bill before the song ends.
Written by: Johnny Cash
Year Released: 1958
Album: The Fabulous Johnny Cash
6. Stagger Lee – Huey Lewis and The News
This classic track is about a real murder in the late 19th century and you may know it by a different name such as Stack O Lee.
This song has been covered by countless artists and has been done in Pop, R&B, Folk and Blues styles, but here it gets a swinging and soulful R&B treatment from Huey Lewis.
And although I have heard dozens of versions of this song, this one still manages to sound fresh to my ears.
You can also check out Samuel L. Jackson singing it in the film Black Snake Moan (with plenty of the profanity that he is famous for).
Written by: Ray Lopez, Lloyd Price, and Harold Logan
Year Released: 1994
Album: Four Chords And Several Years Ago
7. Terror Couple Kill Colonel – Bauhaus
This early Bauhaus single was inspired by a news headline about a real murder of a US military officer in Germany.
Bauhaus was actually one of the groups that spearheaded the Gothic Rock style and most fans would name them as the most important band in the genre.
And with their combination of avant-garde / Art Rock with dark-themed subjects like this, I have to agree!
Written by: Bauhaus
Year Released: 1980
Album: Terror Couple Kill Colonel
8. The Reflecting God – Marilyn Manson
This song was reportedly written about serial killer Richard Ramirez (from whom band member Twiggy Ramirez took his name).
And its soft versus loud style gets very intense in the raucous parts, making it what I consider to be one of Marilyn Manson's best songs.
It's truly terrifying and I think some of that can be attributed to Nine Inch Nails' Trent Reznor, who helped write the song.
Written by: Marilyn Manson, Twiggy Ramirez, and Trent Reznor
Year Released: 1996
Album: Antichrist Superstar
9. Indiana Wants Me – R. Dean Taylor
10. Chain Saw – Ramones
11. Henry: Portrait of a Serial Killer – Fantômas
12. Maxwell's Silver Hammer – The Beatles
13. Murder by Numbers – The Police
14. House of 1000 Corpses – Rob Zombie
15. I Shot the Sheriff – Bob Marley and The Wailers
16. Xero Tolerance – Type O Negative
17. Natural Born Killaz – Dr. Dre feat. Ice Cube
18. Hey Joe – The Jimi Hendrix Experience
19. Jack the Ripper – The Horrors
20. Where the Wild Roses Grow – Nick Cave and The Bad Seeds feat. Kylie Minogue
21. Possum Kingdom – The Toadies
22. Mack the Knife – Frank Sinatra
23. Killing an Arab – The Cure
24. Psycho Killer – Talking Heads
25. Killing Is My business… and Business Is Good! – Megadeth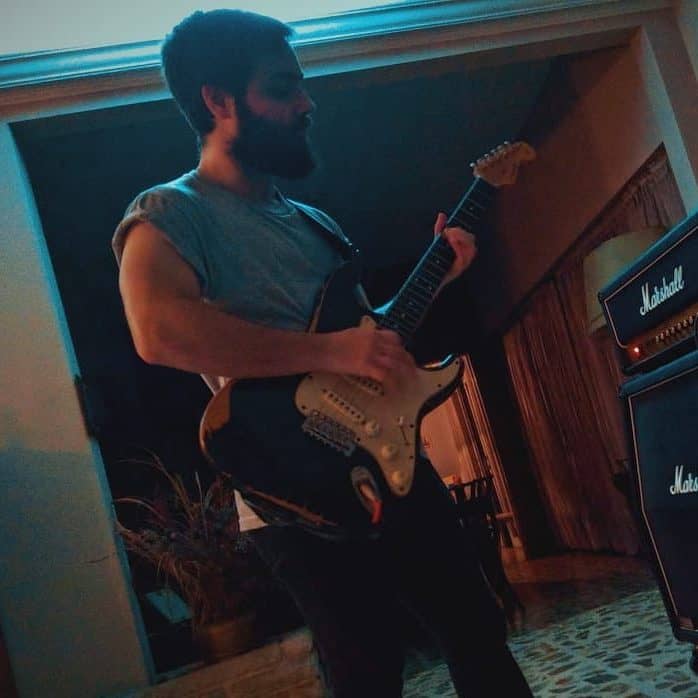 Hello there, my name is Ramiro and I've been playing guitar for almost 20 years. I'm obsessed with everything gear-related and I thought it might be worth sharing it. From guitars, pedals, amps, and synths to studio gear and production tips, I hope you find what I post here useful, and I'll try my best to keep it entertaining also.