Not that long ago, flying was just something that people dreamed of doing.
They would look up at the sky and wonder what it must be like to fly around like a bird, free to go anywhere.
During the Italian Renaissance, Leonardo Da Vinci even designed a flying machine that was basically wings for a person. But I don't think the designs ever went further than drawings.
Now we take it for granted that you can travel almost anywhere as long as you have the money, a passport, and of course visa clearance.
But the fascination still remains with some of us. And I think most people can remember their first flight as the plane rose through the clouds.
And just like in real life, in music that deals with the subject of flying, there are often origin points and destination points.
So whether a traveler is leaving someone / someplace behind or traveling to that special place or someone can change a song dramatically.
And the Greek myth of Icarus flying so high that he got too close to the sun and died has a habit of popping up too.
So fasten your safety belt, put your seat in an upright position and get ready to explore some cool songs about taking to the skies.
1. Airplane – The Beach Boys
Let's start with something basic. And the Beach Boys are the masters of simple fun songs.
This one starts out exploring what it's like to travel on a passenger jet, describing the visual and auditory details such as the tiny houses below and the sound of the engines.
Even the experience of chatting with the passenger next to you is included in the lyrics.
But of course, there's a girl waiting at the airport for the song's character. No, it's not two girls for every boy this time but he's pretty excited to meet up with his girl.
The song even switches gears near the end, with new music to accompany a refrain about seeing her face that almost borders on anxiety.
But if you're getting ready for a flight of your own and want a light-hearted song this is your jam.
Written by: Brian Wilson
Year Released: 1977
Album: The Beach Boys Love You
2. Leaving On a Jet Plane – John Denver
Even though this classic is over 50 years old, I think the singsong melody of this song is timeless.
Beautiful fingerstyle guitar chords, sparse percussion, and heartfelt vocals all work in concert to produce a sound that can melt the hardest of hearts.
And this time, the song is not about what or who is waiting at the destination airport but about a lover that will be left behind.
Exactly where he is headed is unknown, which I actually prefer because it makes the song more universally relatable.
And if you didn't know, John Denver himself died in a plane crash 28 years after the song was released, making this song even more tragic.
Written by: John Denver
Year Released: 1969
Album: Rhymes & Reasons
3. Blackbird – The Beatles
The Beatles could take almost any subject and usually make an interesting song out of it.
I mean Blackbirds aren't exactly known for being exotic.
But from this common bird comes a beautiful lyric about a liminal experience or breaking out of your cocoon/shell, whatever you want to call it.
The reference to broken wings is important here as a message to pick yourself up and try again if you've been knocked down.
And sometimes if you're in a slump, it's hard to break the cycle.
So a little encouragement from another person (or a song) at the right moment is crucial.
I can think of at least three songs that were released later, that deal with learning to fly and I'd bet money this one is their common ancestor.
Written by: Paul McCartney and John Lennon
Year Released: 1968
Album: The Beatles (The White Album)
4. The Red Baron – Sabaton
When Heavy Metal bands write songs about flying, it's only natural that they gravitate towards war, a classic theme in the genre going back to Iron Maiden and Black Sabbath.
This song celebrates Manfred von Richthofen, a World War 1 pilot that is popularly known as the Red Baron (yes, the same guy from the famous frozen pizza brand).
The lyrics are mostly what you'd expect, praising his fighter plane piloting and leadership skills, with the exception of "He's flying too fast and he's flying too high".
I interpret this line as a reference to the Icarus myth since the Red Baron died in battle when he was still very young.
If you dig the song, it comes from a concept album that is devoted to music about World War 1, so there's plenty more where this came from.
Written by: Joakim Brodén
Year Released: 2019
Album: The Great War
5. Learn to Fly – Foo Fighters
There is a lot going on in this song but two themes stick out to me: frustration and a feeling of being trapped ("Now I'm looking to the sky to save me").
Because just like the Beatles' Blackbird, learning to fly here is used as a means of escape, in this case back home.
But Dave Grohl's quirky sense of humor comes through in the music video filmed aboard an airplane, letting us know not to take it too seriously.
And knowing how he managed to move on from Nirvana after the shocking suicide of Kurt Cobain to start one of the biggest Rock bands of the last few decades, I'd say Dave "learned to fly" quite well.
Written by: Foo Fighters
Year Released: 1999
Album: There Is Nothing Left to Lose
6. Fly Like an Eagle – Steve Miller Band
I hope you're ready to get funky because this is another quintessential song about flying.
I will admit some of the synthesizer sound effects are a bit heavy-handed.
But the core of this track is smooth and mellow in a way that really does evoke images of an eagle gliding gracefully through the air.
And while most of the song seems based on striving toward a feeling of freedom and control over your own destiny, there is a short call to action to take care of the hungry and homeless.
But some people say the song is about using drugs, which is always a reasonable guess for songs from the 1970s.
While others think it is a critique of the money spent on the US's space exploration program with the Lunar Module Eagle being used for the first manned mission to the moon in 1969.
As far as I know, Steve Miller has never given any explanation of the song's meaning so one guess is as good as another to me.
Written by: Steve Miller
Year Released: 1976
Album: Fly Like an Eagle
7. Flight of the Bumblebee – performed by the London Cello Orchestra
You're probably familiar with the parlor game of trying to describe a specific thing without using certain words, often called charades.
That is a challenge that is constantly at play for anyone who composes instrumental music, such as Classical, Jazz, Electronic, soundtracks, etc.
While this performance is done only by cellos, a Russian composer attempted to make an orchestra sound like the buzzing and angry flight of a bee!
As the consumer (especially with Jazz and Classical music) our challenge is often to interpret what the instruments are "saying".
And I think this one is right on the mark. I can definitely hear the flying bee in the composition, can you?
Written by: Nikolai Rimsky-Korsakov
Years Composed: 1899 – 1900
28 More Great Songs About Flying
| | |
| --- | --- |
| Title | Artist |
| Jet | Big Head Todd and the Monsters |
| Red Eye | Justin Bieber |
| Fly | Sugar Ray |
| Fly Away | Goodie Mob |
| Plane | Jason Mraz |
| Free as a Bird | The Beatles |
| Free Bird | Lynyrd Skynyrd |
| Space Oddity | David Bowie |
| Angel | Sarah McLachlan |
| Fly Me to the Moon | Frank Sinatra |
| Come Fly with Me | Frank Sinatra |
| I Believe I Can Fly | R. Kelly |
| Flying High Again | Ozzy Osbourne |
| Aces High | Iron Maiden |
| Aeroplane | Red Hot Chili Peppers |
| Learning to Fly | Pink Floyd |
| Learning to Fly | Tom Petty and The Heartbreakers |
| Jetstream | New Order |
| Fly Away | Lenny Kravitz |
| ICARUS | Starset |
| Icarus | Her |
| Blackbird | Nina Simone |
| Rocket Man | Elton John |
| Wind Beneath My Wings | Bette Midler |
| Turbulence | Bowling for Soup |
| Wheel's Ain't Coming Down | Slade |
| Given to Fly | Pearl Jam |
| Las Vegas Turnaround (The Stewardess Song) | Daryl Hall & John Oates |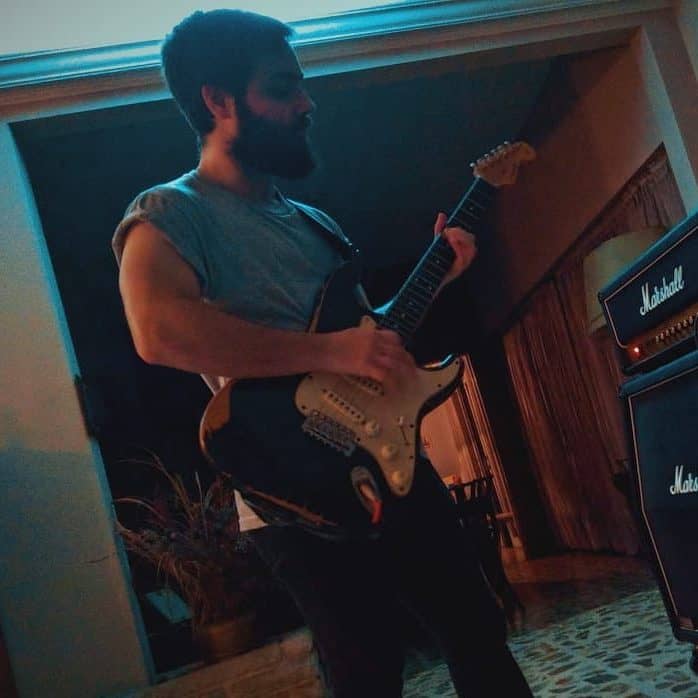 Hello there, my name is Ramiro and I've been playing guitar for almost 20 years. I'm obsessed with everything gear-related and I thought it might be worth sharing it. From guitars, pedals, amps, and synths to studio gear and production tips, I hope you find what I post here useful, and I'll try my best to keep it entertaining also.