Vampires, monsters, werewolves, and different beasts have always been included in stories of all kinds throughout history.
Besides, all artists also have their own internal monsters and they may be sources of inspiration to create musical pieces.
Therefore, we can find lots of songs telling stories about spooky monsters, most of them in a metaphoric way.
So, we will give a list of 19 songs related to this topic plus information about the piece and the artists.
Some of them come from nightmares, some may refer to society or drugs and others depict personal experiences.
I hope you enjoy it and do not get scared!
1. Thriller – Michael Jackson
We start strong on the list with a song revolutionizing several aspects of music videos.
In 1984, Thriller was all the rage, it introduced choreography and costumes to the concept and it was also the first piece to have a long-form music video.
The song is a tribute to 1950 horror movies, Michael is with his girlfriend when he becomes a werewolf.
Zombies and more monsters join to dance choreography as the girl runs away terrorized.
With fourteen minutes duration, the video of the song had a great impact and was well received by the audience.
Thanks to its success the album Thriller was and is still nowadays the best-sold album.
2. Black Sabbath – Black Sabbath
The year 1970 gave birth to one of the most emblematic bands in music history.
The group Black Sabbath is thought of as the creator of heavy metal not only for its sound but also for its expressive lyrics and themes treated in it.
The song Black Sabbath is about a "demonic" experience Geezer Butler had and told Ozzy Osborne about.
The bassist claimed that he painted his house in black and placed inverted crosses plus Satan's images on the walls.
In addition to that, Butler had a sorcery book that Ozzy had given to him, he read the book and went to sleep.
When he woke up, he saw a black figure that suddenly disappeared, Butler looked for the book but had also vanished.
3. Scary Monsters (And Super Creeps) – David Bowie
Scary Monsters (And Super Creeps) is the third single from the album of the same name published in 1981.
In this song, Bowie sings with a cockney accent representing "a piece of Londonism".
The musical piece narrates how a woman descends into madness, provoking a feeling of claustrophobia in the listener.
In Bowie's words, the narrator is a criminal who has consciously corrupted the mind of the young woman, in this case, we are not literally talking about a monster, but such actions turn this man into a terrifying and detestable creature.
4. The Thing That Should Not Be – Metallica
If we talk about terrifying creatures, this piece cannot be left aside.
Up to this point, everyone might know the distinguished writer H. P. Lovecraft and his particular style.
Metallica based this song on the monster Cthulhu and its short stories.
This group has more songs referring to Lovecraft's writings but The Thing That Should Not Be, in particular, includes one of the most famous verses of the writer told through dark lyrics.
5. Monster Mash – Bobby Pickett
Bobby Pickett was a nightclub entertainer who wrote this novelty song in 1962.
This piece takes part in the album The Original Monster Mash, which includes several songs about monsters.
Monster Mash was inspired by the story of Frankenstein, Pickett tells the story from the Doctor's point of view.
The piece is also based on a dance song called Mashed Potato and the plot of Pickett's song consists of Frankenstein's monster starting a dance craze.
6. Psychotron – Megadeth
In this place, we have a Megadeth song that refers to an unknown creature.
Psychotron was published in 1992 and is the ninth track of the album Countdown to Extinction.
In the lyrics, this monster is described as part bionic and part organic but highlights that is not a cyborg.
Some people affirm that the song is about the Marvel Comic character Deathlok but this creature is simply a killing machine.
7. Die Monster Die – Misfits
Misfits' lyrics have always drawn the audience's attention and this song is no exception.
Released in 1999 in the album Famous Monsters, this track tells the story of an extremely popular person returning from death, Marilyn Monroe.
8. How To Make a Monster – Rob Zombie
This song has an obvious meaning for some people while others state that Rob Zombie's lyrics usually make no sense.
The piece describes how a girl is attacked by a teenage wolf, a metaphor that refers to a rapist, the monster of this song.
9. Monster – Lady Gaga 
As shown in previous songs, not every track is about a monster itself.
On this occasion, Lady Gaga tells us a story about a boy she knew who was a bad boy.
The girl describes the man as a wolf in disguise but she can't stop seeing him.
The real reason is that he is a monster in bed.
10. Bark at the Moon – Ozzy Osbourne
Ozzy Osbourne was cataloged as the Father of Metal and Horror so he gained his place on the list.
Bark at the Moon was released in 1983 and was the first album he published after the death of Randy Rhoads.
The song is a tribute to horror films, it tells the story of a werewolf that returns to life and seeks revenge.
Although the creature terrorizes a village, in the video clip Ozzy plays a scientist who turns into a beast, is killed, and then resurrected as a free human again.
11. Little Monster – Royal Blood
The British duo published their first studio album Royal Blood in 2014 and Little Monster was its first single.
The piece comprises powerful and aggressive sections combined with slow verses.
The protagonist of the track calls "little monster" someone who he seems to be in love with, pointing out that he will love her no matter what.
However, is also thought that the song is about a predator who is seriously obsessed with someone.
12. He's Back (The Man Behind the Mask) – Alice Cooper
13. Werewolves Of London – Warren Zevon
14. Frankenstein – New York Dolls
15. Voodoo Idol – The Cramps
16. Pet Sematary – The Ramones
17. Puff The Magic Dragon – Peter, Paul & Mary
18. Dead Skin Mask – Slayer
19. Demons – Imagine Dragons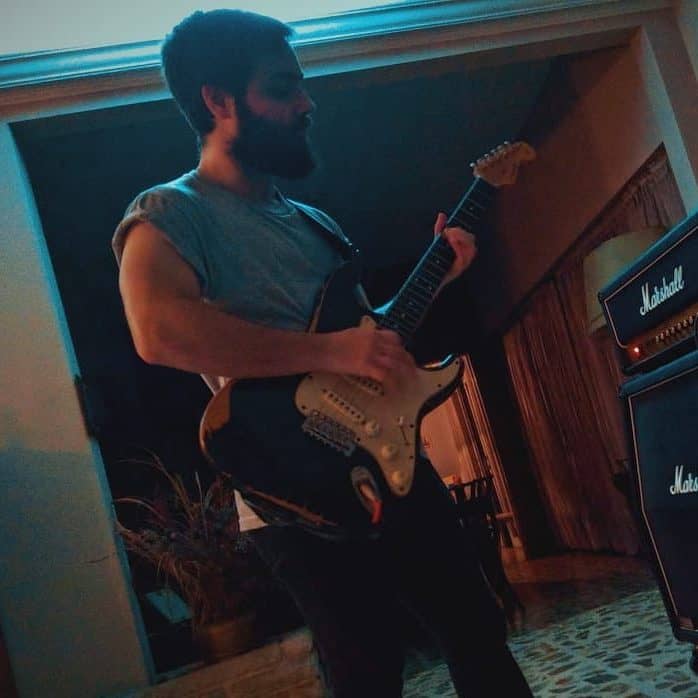 Hello there, my name is Ramiro and I've been playing guitar for almost 20 years. I'm obsessed with everything gear-related and I thought it might be worth sharing it. From guitars, pedals, amps, and synths to studio gear and production tips, I hope you find what I post here useful, and I'll try my best to keep it entertaining also.