Christmas season is coming, and many of us are already freaking out about the family reunion.
With food, decoration, and where to sit the annoying uncle in mind, you might have your fair share of things to deal with.
However, a holiday without music is a tragedy, and it shouldn't be overlooked.
To make things easier for you, I've gathered 31 of the best Christmas songs that you shouldn't miss in this year's playlist.
From classics to more modern entries, I think there's at least one for every taste.
Let's get down to it!
1. The dream of Christmas – Gary Barlow
Gary Barlow is a famous English songwriter that took a shot at a Christmas album last year and knocked it out of the park.
If you are into Christmas music you should definitely check out not only this song but the whole album that goes by the same title.
2. Snowman (Slowed down & Snowed in Remix) – SIA
This is not exactly a Christmas song, but it surely has the winter melancholic feel that makes it fit perfectly among the rest.
The song talks about a snowman that's afraid of melting with the sun and his lover comforts him.
3. The Christmas Sweater – Michael Bublé
What's more Christmassy than an ugly sweater?
Michael Bublé sings a heartwarming story about a girl deciding to wear her partner's Christmas sweater during the holiday season.
It's funny and catchy!
4. Merry Christmas – Elton John, Ed Sheeran
What can I say about this one?
You put these two guys together in a recording booth and there's no chance you don't get an instant hit.
The idea for the song was Elton's, but Sheeran said that he would only make it if they went all the way with it.
So, this one is packed with sleigh bells and corny references.
5. Make It To Christmas – Alessia Cara
Make it to Christmas talks about a couple having some issues just before the special date.
Alessia longs for things to get better by that special date, but this oversimplification doesn't nearly as well as this beautiful song for telling the story.
6. The Christmas Song – Ne-Yo
When Ne-Yo released his Christmas album we knew we were in for a treat.
It's hard to pick one song, but I went for the most obvious one here.
However, I really encourage you to give a chance to the whole album if you are really in a Christmas mood.
7. Baby, It's Cold Outside – Idina Menzel, Michael Bublé
This is a new version of an old classic.
The original song was popularized in the 1949 film Neptune's Daughter.
Michael and Idina re-recorded an amazing version a few years ago that just feels like Christmas to me.
The song talks about a girl that wants to go home and a guy that wants her to stay the night.
8. My Gift Is You – Gwen Stefani
Very far from her punk origins, Gwen Stefani's fourth solo studio album is a Christmas one.
And, as with others before, I encourage you to listen to the whole thing. It's just great.
My Gift Is You is a heartwarming song about a girl whose all she wants for Christmas is her lover.
9. Christmas Tree Farm – Taylor Swift
Did you know that Taylor actually grew up on a Christmas Tree Farm?
The video for this song is just old tapes from her childhood stitched together.
It's a nostalgic song where she remembers her childhood surrounded by a constant Christmas spirit.
10. Santa Tell Me – Ariana Grande
This one has undoubtedly become a modern classic that couldn't be left out of any holiday song list.
The song talks about Ariana feeling disappointed with Santa for not granting her Christmas wish.
It's fun and Christmassy, if you don't love it by now, you will as soon as you play it!
11. All I Want (For Christmas) – Liam Payne
Liam, the former One Direction, took a shot at perhaps the most ubiquitous Christmas Song of the last decades.
And as corny as this might sound, it just works.
If you want a new spin on an old classic on your playlist, this one is for you!
12. Believe – Josh Groban
You can't go wrong with any song from The Polar Express soundtrack for Christmas.
Josh Groban just kills it in this one.
13. Mistletoe – Justin Bieber
Young Justin might be polarizing, but I felt that for a funny Christmas playlist it will fit just perfectly.
Mistletoe has a reggae feel, something not-so-wintery, but hits in all the right spots for the season.
14. Santa Baby – Loredana
Santa Baby is a timeless song by Eartha Kitt.
Loredana gave it her own spin, and it's just a fresher version you should be checking out!
15. Have Yourself a Merry Little Christmas – Sam Smith
Following with the fresher takes on timeless classics, Sam Smith is here to wish us a Merry Little Christmas.
This song just works amazingly with his voice, and it's a must-have in any holiday season playlist.
16. Home To You (This Christmas) – Sigrid
17. Christmas Don't Be Late – Norah Jones
18. Christmas Without You – Sheppard
19. Carol Of The Bells – Lindsey Sterling
20. The Christmas Song – Kiana Ledé
21. Feliz Navidad – El Vez
22. One More Sleep – Leona Lewis
23. Santa Claus Is Comin' to Town – Bruce Springsteen
24. Last Christmas – Carly Rae Jepsen
25. Christmas In Harlem – Kanye West (feat. Prynce Cy Hi & Teyana Taylor)
26. Christmas with you – John Waller
27. Only Santa Knows – Delta Goodrem
28. Blue Christmas – Tassia Zappia
29. It's Christmas – Callum Beattie
30. Loneliest Time Of Year – Mabel
31. Drivin' Home For Christmas – Ron Blair, L.A. Edwards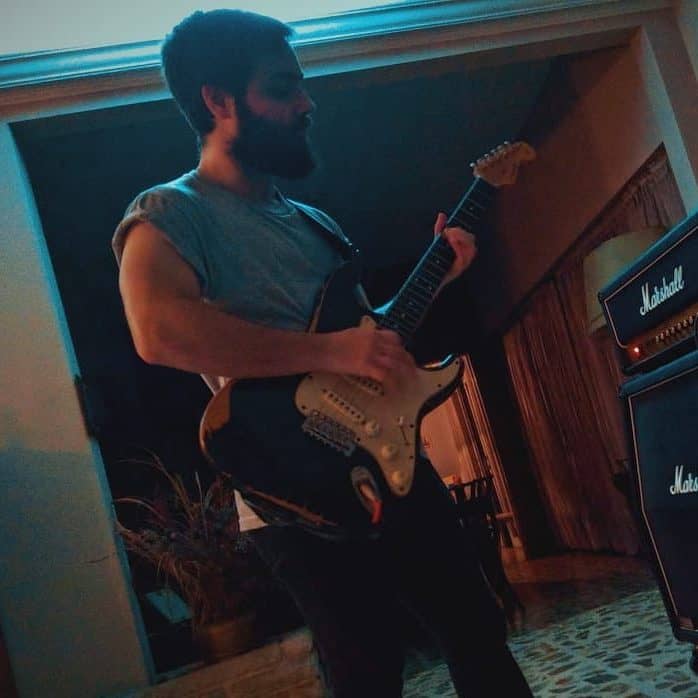 Hello there, my name is Ramiro and I've been playing guitar for almost 20 years. I'm obsessed with everything gear-related and I thought it might be worth sharing it. From guitars, pedals, amps, and synths to studio gear and production tips, I hope you find what I post here useful, and I'll try my best to keep it entertaining also.