Music can be a powerful tool to get your message out to the masses.
And one thing that many musicians are passionate about is the need for peace in the world.
This was especially true in the late 1960s in the USA and Great Britain as the hippie movement and its message of peace and love clashed with governments on the warpath.
A popular slogan of the day was "Make love, not war" and I just couldn't agree more.
But if you think of many of the toys marketed to young boys, they are/were often toy guns, plastic soldiers, G. I. Joe action figures, military video games, etc.
Of course, life isn't a video game that you can just start over if you die.
And these days it seems that there is always an "ongoing conflict" or "special military operation" going on somewhere in the world and you don't have to wear bell-bottom pants or flowers in your hair to wish it would stop.
So if you feel the same way, you should check out some of these cool songs promoting peace, love, and understanding in the world.
1. War
This song, which was originally sung by The Temptations, became a big hit for Edwin Starr.
And its message is simple; What is war good for? Absolutely nothing.
I think (or hope) that most people feel the same way and while this particular song doesn't try to lay blame on anyone, most songs about peace do point a finger at the culprit.
Instead, the lyrics here just focus on the multitude of disadvantages of war. And when you put it that way, it's hard to argue.
Written by: Norman Whitfield and Barrett Strong
Year Released: 1970
Album: War & Peace
2. Universal Soldier
This song uses many contradictions to illustrate that the people on every side of the war think they are doing the right thing.
And propaganda, whether religious, political, or patriotic is what's driving the war machine, which keeps us in a constant cycle.
Another issue raised in the lyrics is that soldiers often believe they are fighting for peace.
That may be true in some cases but since the two world wars, it seems many soldiers return from the battlefront disillusioned.
Now I think this one goes too far in placing blame on the soldier for not questioning his orders.
I mean we're not living in a perfect world and those willing to fight and defend your nation deserve respect.
But this song came out over 50 years ago when the USA was becoming involved in the war in Vietnam so I try to listen to it in that context.
Written by: Buffy Sainte-Marie
Year Released: 1965
Album: The Universal Soldier
3. Bring the Boys Back Home
There is a lot going on in Pink Floyd's album The Wall but Bring the Boys Back Home sticks in my memory like glue.
There are really only two lines of lyrics, simple and direct: "Bring the Boys Back Home. Don't leave the children on their own."
And it's not just children that need their fathers but their spouses, parents, and siblings too.
Furthermore, the physically fit young men and women that go off to fight in foreign wars are a crucial part of a country's workforce too.
Written by: Roger Waters
Year Released: 1979
Album: The Wall
4. Imagine
Will anyone ever write a more classic and timeless song about peace than John Lennon? Probably not.
Beautiful and haunting in its simplicity, John Lennon's lyrics are optimistic for the future and hope the listener will join the peace movement.
And although religion is mentioned as one of the things that divide people and cause conflicts, I feel like there is something Christ-like about the brotherly love that Lennon is suggesting.
Although he wasn't perfect in his personal life, I think he had the right idea here.
Written by: John Lennon
Year Released: 1971
Album: Imagine
5. Masters of War
Bob Dylan was basically crowned as the king of protest songs.
And this song was released before many of the songs preaching peace in the late 1960s and was about the Cold War rather than the Vietnam War.
The lyrics are vindictive and almost violent, saying that Dylan will take great pleasure in the death of those who manufacture weapons and bombs.
He implies that the masters of war have sold their souls and basically are guilty of 2nd-degree murder.
Now there's a popular saying that "Guns don't kill people. People kill people."
But Dylan doesn't agree and yeah, nuclear weapons are a little different.
Written by: Bob Dylan and Jean Ritchie (based on a traditional song)
Year Released: 1963
Album: The Freewheelin' Bob Dylan
6. Bulls on Parade
This energetic song is about how the US government always has some nefarious war plans cooking on the back burner as many citizens live in a world of urban decay.
Because the bulls on parade (specifically those who work in the Pentagon building) prefer spending money on weapons and military development instead of education and basic services.
Rage Against the Machine never shied away from political songs and they were like the 1990s version of the protest singers of the late 1960s.
But don't expect any acoustic guitars or hippie bead necklaces here.
Because even though Zach de la Rocha is preaching against war and violence, this song takes no prisoners from the monster riff at the beginning to the screamed vocals at the end.
Written by: Zach de la Rocha
Year Released: 1996
Album: Evil Empire
7. Some Mother's Son
This sad tune drives home the personal cost of war for many families, really putting a human face on the tragedy of war.
In fact, it reminds me of the quote by Joseph Stalin that "A single death is a tragedy; a million deaths is a statistic".
And it also reminds me of a poem by Mabel Down Northam Brine called Somebody's Mother about a young man who helps an old lady across the street when asked if the lady was his mother, he replies no but "She's somebody's mother".
And except in very rare cases, every soldier has a family that cares about him/her, no matter where or when they are fighting in a war.
Written by: Ray Davies
Year Released: 1969
Album: Arthur (Or the Decline and Fall of the British Empire)
23 More Great Songs about Peace
| | |
| --- | --- |
| Title | Artist |
| When the President Talks to God | Bright Eyes |
| Sunday, Bloody Sunday | U2 |
| Heroes | Terranova |
| Give Peace a Chance | Plastic Ono Band |
| Waiting on the World to Change | John Mayer |
| What's Going On | Marvin Gaye |
| Heal the World | Michael Jackson |
| We Want Peace | Lenny Kravitz |
| War Pigs | Black Sabbath |
| Give Me Love (Give Me Peace on Earth) | George Harrison |
| All You Need Is Love | The Beatles |
| (What's So Funny 'Bout) Peace, Love, and Understanding | Brinsley Schwarz |
| Why Can't We Be Friends | War |
| Fussing and Fighting | Bob Marley and The Wailers |
| We Got to Have Peace | Curtis Mayfield |
| This Land Is Your Land | Woody Guthrie |
| Melt the Guns | XTC |
| Pipes of Peace | Paul McCartney |
| Ripple | Grateful Dead |
| 911 for Peace | Anti-Flag |
| Peace Train | Cat Stevens |
| I Ain't Marching Anymore | Phil Ochs |
| Lay Down Your Guns | Emerson, Lake & Powell |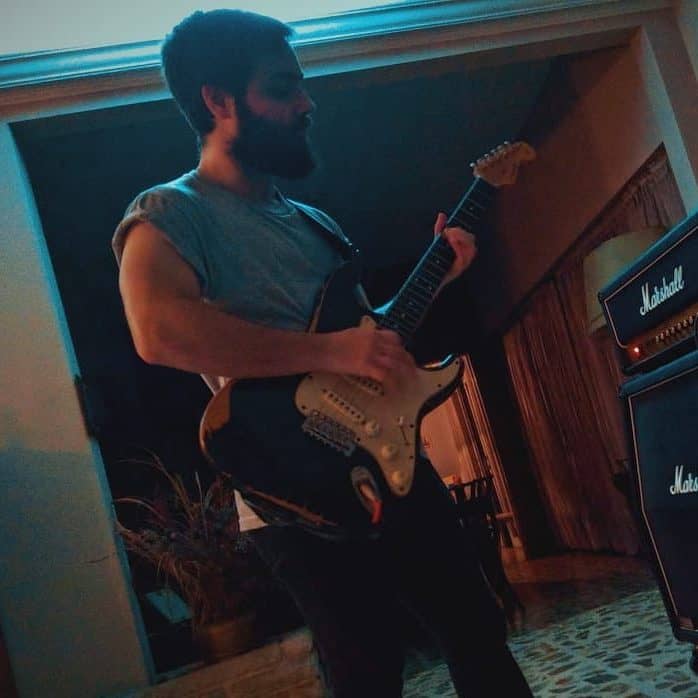 Hello there, my name is Ramiro and I've been playing guitar for almost 20 years. I'm obsessed with everything gear-related and I thought it might be worth sharing it. From guitars, pedals, amps, and synths to studio gear and production tips, I hope you find what I post here useful, and I'll try my best to keep it entertaining also.