Music is a great companion for many occasions, and one of those is traveling.
Maybe today's travel music list will inspire you to hit the road or book a flight, but regardless of what you choose, these songs are great for heading places.
Some of the songs on this list are exciting and upbeat odes to heading to your destination, others are about the journey and some are a little sadder, being about leaving a place.
So maybe save those for heading back home?
1. I've Been Everywhere-Johnny Cash
I've Been Everywhere was originally written by Geoff Mack.
The song predating Mack's original was about a man traveling through Australia, but Geoff Mack rewrote it for American audiences and since then it's been covered by Cash, Willie Nelson, The Statler Brothers, and others.
Seems like this song has been everywhere too.
2. Born to Be Wild – Steppenwolf
Born to Be Wild is almost an American national anthem, considering its huge success and overall popularity.
The song video features a rag-tag group of bikers traveling the American countryside and it almost inspires you to do the same.
This song is not just about travel, but about breaking the tedium of day-to-day life and going out and learning to fall in love with life again.
3. I'm Gonna Be (500 Miles) – The Proclaimers
The Proclaimers' most popular song by far, I'm Gonna Be is a love song about travel. Specifically about traveling on foot.
This song has always made for great road trip music, most likely because of its upbeat tone and lighthearted execution.
4. Road Trippin' – Red Hot Chili Peppers
One of the few RHCP songs that don't include a drummer, Road Trippin' is basically an acoustic ballad about the band's life on the road.
The odd, yet catchy chord progression of the song is due to the band converting what should be a minor chord into a major and playing that instead, which gives the song a very melancholy feel when paired with its bare acoustic setup.
It's great for road-trippin' and getting lost in thought though.
5. Take Me Home, Country Roads – John Denver
You can't have a travel playlist without Country Roads in it.
This is by far one of John Denver's most popular songs. Country Roads (if you have somehow never heard it) is a song centered around West Virginia and the singer's longing to return to his home in the country.
Oddly enough, while West Virginia is mentioned, many of the towns mentioned in the song are in Western Virginia, not West Virginia.
6. Ramblin' Man – The Allman Brothers Band
Rambling is often used to describe someone talking nonsense, but it can also mean traveling aimlessly, and that's what this song points to.
Ramblin' Man was the band's most popular song, topping charts at No.2 back around its release.
It was inspired by Hank Williams' 1951 song of the same name but is quite different in feel.
A catchy country song for driving down the highway or while passing through alternate routes, Ramblin' Man makes you feel like a free spirit while you're out on the road.
7. Road to Nowhere – Talking Heads
Road to Nowhere is a rock song from the mid-80s, and it captures the Talking Heads' thoughts on the human condition while using a road as a thematic metaphor for our journey from the cradle to the grave.
Road to Nowhere delivers the doomed march toward death in a very upbeat manner but leaves it vague enough to enjoy as a song about just traveling without an aim.
Plainly put, this is a good traveling song if you like the journey and care little for the destination- don't let the underlying message take that from you.
8. Around the World – Daft Punk
Around the World is lyrically the simplest song on this list.
With the entire song centered around the single titular hook, what keeps the song interesting is the musical arrangement shaped around the droning phrase.
Daft punk manages to showcase what makes their music so accessible in this song, by making it easy to sing along to, yet catchy enough to keep listening to.
9. Catch & Release – Matt Simons
Popularized back in 2016, you might remember "Catch and Release", but if you don't, you will once the singing starts.
Matt Simons described the meaning of the song as being about the struggle of the grind of life and dealing with it.
For Simons, it's a place he goes to, to get away from everyone and get in touch with himself.
10. Send Me On My Way – Rusted Root
Probably the only song most people know from Rusted Root due to its feature in Ice Age.
Send Me On My Way is actually a very apt travel song.
It's upbeat and happy, it has a pleasing melodic refrain and it makes traveling feel light and pleasing.
Easily something you can play in your car while headed to your destination, or in earphones while hiking up a mountain. Send Me On My Way is great for a traveling-free spirit.
11. On Top of the World – Imagine Dragons
An upbeat song from Imagine Dragons' first album, On Top of The World, is about working toward a goal more than anything.
However, it makes for a nice travel song because the main theme of the song is about getting from A to B and enjoying the arrival.
12. Africa – Toto
Africa is both one of Toto's most well-known songs and also one of the best examples of fantastic ignorance.
The song is clearly about the beauty of Africa but was written by a 1970s American kid who only knew about Africa from pop culture and wildlife shows.
Africa is still an awesome song despite its lyrical inaccuracies though and makes for a fun travel song that can help to inspire a wondrous love of nature.
13. Sweet Home Alabama – Lynyrd Skynyrd
The guitar riff for this song is really what makes the song what it is.
Sweet Home Alabama is an ode to the beauty of the South and a response to Neil Young's song, hence the mention of him in Skynyrd's lyrics.
If you're a Southerner or a Northern American looking to travel down South, this song is a must.
14. Anywhere – Passenger
Passenger has a knack for writing heartwarming love songs and this is really no exception.
It's a bit of a departure from his previous musical style, leaning a bit more toward pop-rock while still mixing in his characteristic indie elements.
Anywhere is a song about following your beloved wherever they will go (sounds like that song from The Calling), but with the sole purpose of always being together.
I like it as a travel song because it's about companionship.
15. Follow the Sun – Xavier Rudd
Follow the Sun has to be one of my top favorite travel songs (it's only near the middle because the list isn't in ascending order).
It's a song about staying at peace and going where the wind blows, or where the sun shines.
It's a perfect travel song if you enjoy living life out on the road and sleeping on beaches.
That's probably not a life we can all live continuously, but it would make for a great road-trip-style holiday plan.
16. End of the Line – Traveling Wilburys
17. A Thousand Miles – Vanessa Carlton
18. Traveling On – Kongos
19. Midnight Train to Georgia – Gladys Knight & the Pips
20. Leaving on a Jet Plane – Peter, Paul and Mary
21. Roam – The B-52's
22. Fast Car – Tracy Chapman
23. Life is a Highway – Rascal Flatts
24. What We Live For – American Authors
25. Paris – The Chainsmokers
26. Not Today – Imagine Dragons
27. Kokomo – The Beach Boys
28. Travelin' Man – Jerry Fuller
29. Havana – Camila Cabello
30. Have Love Will Travel – The Sonics
31. Truckin' – Grateful Dead
32. Go Your Own Way – Fleetwood Mac
33. Katmandu – Bob Seger
34. Fly Away With Me – Tom Walker
35. Kokomo – The Beach Boys
36. America – Simon & Garfunkel
37. Travelin' Man – Ricky Nelson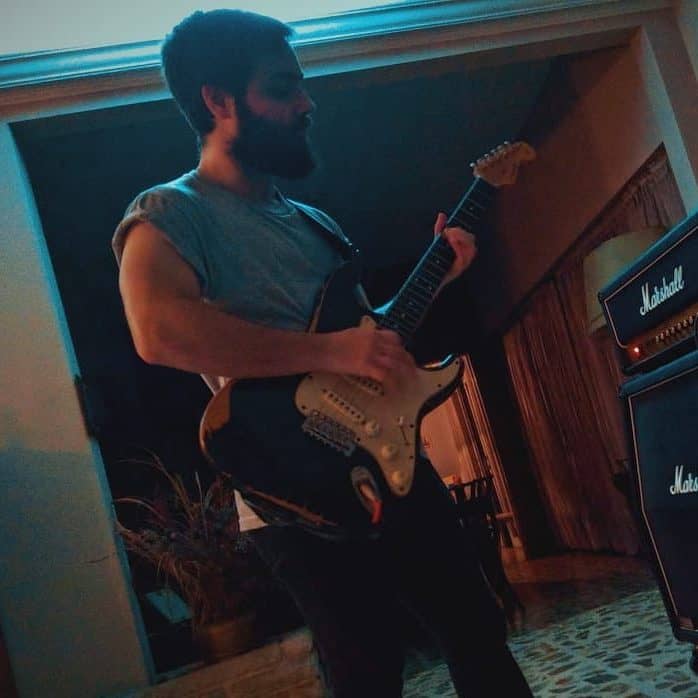 Hello there, my name is Ramiro and I've been playing guitar for almost 20 years. I'm obsessed with everything gear-related and I thought it might be worth sharing it. From guitars, pedals, amps, and synths to studio gear and production tips, I hope you find what I post here useful, and I'll try my best to keep it entertaining also.