Coffee is a staple of our daily lives and is loved by millions of people around the world not only is it a delicious beverage, but it also has cultural and historical significance.
From its humble beginnings in the ancient kingdoms of Ethiopia to its current status as a global commodity, coffee has played a significant role in shaping the world as we know it today.
Music, on the other hand, is an art form that has the power to evoke emotions and memories. It can tell stories, express feelings, and transport us to other worlds.
So it's no surprise that coffee has inspired countless songs throughout history.
From the jazz and swing eras to contemporary pop, there are a wide variety of songs about coffee.
Whether it's a celebration of the simple pleasures of sipping a cup of coffee or a metaphor for life's ups and downs, these songs all have one thing in common: they pay tribute to the beloved drink in their own unique way.
In this article, we'll explore some of the best songs about coffee that have been written and performed over the years.
We'll look at the lyrics, the musicians behind them, and what makes these songs so special. Whether you're a coffee lover or simply appreciate the power of music, these tracks will leave you with a new appreciation for a humble cup of coffee.
1. The Coffee Song – Frank Sinatra
This novelty song is a lighthearted and humorous ode to coffee. Written by Bob Hilliard and Dick Miles was recorded by Frank Sinatra in 1946, this track points out Brazil's coffee surplus and makes fun of it.
Apart from Brazil, the song lists various countries and regions where coffee is grown and makes jokes about the different ways it's enjoyed.
The overall message is that coffee is loved all over the world and brings people together.
2. One More Cup of Coffee (Valley Below) – Bob Dylan
Composed in 1976 by the American musician Bob Dylan, this song tells a love story.
Included in his album Desire, this track embodies a traveler who stops at a gypsy camp and meets the sister of a woman he once loved.
He is offered one more cup of coffee before leaving, which symbolizes a moment of reflection and contemplation and serves as a reminder of lost love and the passage of time.
3. Black Coffee – Sarah Vaughan
This classic blues piece was composed by Sonny Burke in 1948 and written by Paul Francis Webster. Sarah Vaughan's performance is the best-known one, alongside Ella Fitzgerald's.
The song is about a heartbroken girl who cannot sleep at night due to her pain.
The coffee pot only works as a reminder of her inability to escape her heartache and the emptiness she feels inside.
4. One Cup of Coffee – Bob Marley & The Wailers
This son was released in 1962 as a single but wasn't included in any album. In this love Ballad, Marley signs to his former love, asking her for one last cup of coffee.
The coffee represents their final goodbye, hoping that maybe in the future both paths would cross again.
5. Cigarettes and Coffee Blues – Lefty Frizzell
This 1958 single included in the album Mom and Dad's Waltz is about a man who tries to move on after being heartbroken.
This country blues song uses the metaphor of coffee and cigarettes as a metaphor for his painful memories.
6. Coffee Homeground – Kate Bush
This song depicts the scene of a murder. In the lyrics, it is mentioned a coffee pot that seems to be poisoned.
Released in 1978 and taking part in the album Lionheart, this cryptic track talks about the dangers of trusting others.
7. Coffee Shop – Red Hot Chili Peppers
This dark, funky song will make anyone jump to the beat of the bass line. Released in the 1995 album One Hot Minute.
The coffee shop mentioned in the track serves as a symbol of a place where the singer can find release and escape from his mundane existence.
8. Coffee & TV – Blur
Blur accustomed us to deep lyrics and hidden messages in their songs and Coffe & TV is no exception.
From 1999 and included in the album 13 this track tells the story of a man who is feeling lost and disconnected from the world around him.
This guy finds a sense of comfort and connection in simple things like drinking coffee and watching TV.
These small pleasures bring make him relieved from his feeling of disconnection.
9. Starfish and Coffee – Prince
Starfish and Coffee is a song by the legendary musician Prince, released in 1987 on his album Sign O' The Times.
This smooth track uses the metaphor of "starfish and coffee" to describe a magical and fantastical world.
The song is about a young girl who brings a new perspective and a fresh spirit to a mundane world. Besides, celebrates the power of imagination and creativity to bring magic into everyday life.
10. Java Jive – Ink Spot
The American vocal group, The Ink Spots, released this upbeat ballad in 1940.
The song is about the singer's love of coffee, a light-hearted and fun celebration of the simple pleasure of coffee.
Using coffee as a metaphor for a simple, happy life, the song is considered a classic of the swing and big band era and remains a popular song today.
11. The Coffee Song – Cream
12. Cigarettes and Coffee – Otis Redding
13. 40 Cups of Coffee – Ella Mae Morse
14. Falling in Love at a Coffee Shop – Landon Pigg
15. Coffee Bean – Travis Scott
16. Coffee Blues – Mississippi John Hurt
17. Cup of Coffee – Garbage
18. Coffee and Cigarettes – Jimmy Eat World
19. Black Coffee in Bed – Squeeze
20. Expresso Love – Dire Straits
21. Coffee Club – Spandau Ballet
22. Cold Coffee – Ed Sheeran
23. One More Cup of Coffee – White Stripes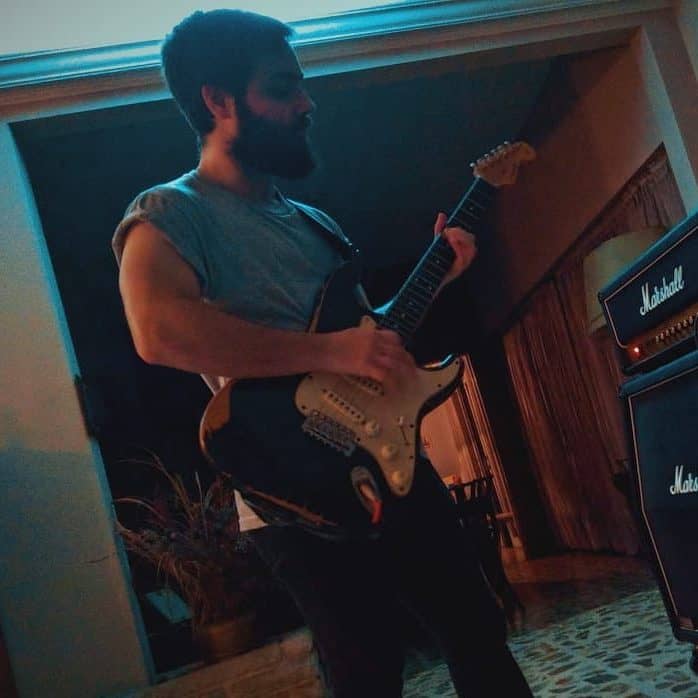 Hello there, my name is Ramiro and I've been playing guitar for almost 20 years. I'm obsessed with everything gear-related and I thought it might be worth sharing it. From guitars, pedals, amps, and synths to studio gear and production tips, I hope you find what I post here useful, and I'll try my best to keep it entertaining also.