There are several songs about the beauty of West Virginia. Songs that talk about how stunning the mountains are, her passion for football, and her turbulent past.
Although West Virginia is famous for its folk music, these songs span various genres and styles.
These West Virginia songs will make you eager to know more about the state and anxious to visit it and its vicinities for yourself.
These songs range from jazz to punk to classic country, a better means to experience the awesomeness of this state and its country roads yourself, even without being in the country yet.
Below are 11 great songs about West Virginia that you would love.
1. 16 Tons by Tennessee Ernie Ford
"Sixteen Tons" is a well-known song describing coal miners' struggles. It was first written and recorded by Merle Travis in 1946, and many other artists, including Tennessee Ernie Ford, The Weavers, and Johnny Cash, have since performed it.
The song about mine employees in West Virginia and Kentucky mentions that the miners received scrip payments.
The scrip was exclusively accepted at company-owned facilities by miners.
Because of this and because workers typically resided in dwellings owned by the community, it was hard for miners at the time to gather any savings or leave their positions.
2. REMEMBER by Mac Miller
This song honors Mac's late buddy Reuben Eli Mitrani (whose initials are capitalized in the title).
Before his passing in September 2012, Mac and Reuben had been close friends since 2002. Mac created his independent record company Remember
Music and dedicated this song to Reuben.
In this song, Miller thinks back to his childhood in the region and expresses his fondness for the hours he spent playing in the mountains with his companion.
It was also one of several profoundly contemplative ones on the album Watching Movies with the Sound Off.
3. Country Boy Can Survive by Hank Williams, Jr.
The song celebrates the independence of "country guys" and highlights changes in American society and lifestyle that align with rural concerns about the detrimental effects of accelerating urbanization.
Williams rewrote the song with a patriotic tone shortly after 9/11 and re-recorded it under "America Will Survive."
The rewriting debuted at number 45 on the Billboard country charts.
Williams also made a music video for the original version and re-released it at the beginning of 2007 to mark the 25th anniversary of its original release.
On the Billboard country charts, this re-release reached position 45.
4. This Is My West Virginia by Iris Bell
Henry Everett Engle wrote a chorus and created music to accompany the poetry in 1885.
In 1961, a modified version of the song was made official. Iris Bell, a jazz musician from Charleston, wrote: "This Is My West Virginia," which was chosen as the "official centennial song" in 1962.
The state legislature approved a resolution on February 28, 1963, designating all three songs as official and equal.
1934 saw Iris Bell's birth in Charleston. As she died on April 19, 2008.
"She enjoyed popular music, especially of the 1960s and 1970s, and included that in her repertoire as well.
She played jazz piano, sang, wrote songs, and led her own band for over forty years"
(from the WordPress site of Iris Bell)
5. Union, God, and Country by Steve Earle
The album "Ghosts of West Virginia" by Steve Earle has this song. A tragedy in Raleigh County in 2010 is the subject of the concept album, the Upper Big Branch Mine Disaster.
This song refers to the blue and gold colors of West Virginia.
University (or WVU) team and the state's rocky history of gaining union recognition for miners.
The state served as a battlefield during the Mine Wars and was the scene of the Matewan Massacre and the Battle of Blair Massacre.
6. Morning Morgantown by Joni Mitchell
This song by Mitchell serves as the album's opening tune and pays homage to the straightforward, small-town lifestyle that can be found in rural America.
Additionally, it emphasizes the beauty of what some people might find repetitive about daily life in the lyrics.
7. Leaving West Virginia by Kathy Mattea
"Leaving West Virginia," is about a young woman who leaves her home state searching for fame and fortune.
For her third album, Walk The Way The Wind Blows, country singer Kathy Mattea, a South Charleston, West Virginia native, wrote this song.
Although Mattea is a songwriter, she often prefers to highlight other songwriters by recording their songs and scoring hits with songs written by Susanna Clark and Nanci Griffith ("Love At The Five And Dime") ("Come From The Heart").
She stated in her Songfacts interview, "I regard myself as a vocalist who occasionally writes."
8. Coal tattoo by B.E Wheeler
This song was one of the best disaster songs written by Billy Edd Wheeler.
This song observed the life of miners in west Virginia. It is also somewhat similar to "PovertyHills by Fred Hellerman".
This song also brings to light the hardship miners went through in the context of surviving.
This song was released in 1963 and mainly refers to a type of atherosclerosis that causes black lung disease in miners.
However, the "tattoo" was frequently nothing more than marks of coal dust embedded beneath exposed or cut skin, which could be big or small.
The tattoos Wheeler refers to can be seen on any long-term coal miner's hands, arms, and neck.
9. You Remind Me of West Virginia by Wyatt Turner
Turner grew up in the West Virginia town of Stony Bottom. His small-town West Virginia upbringing inspired him to write and record "You Remind Me of West Virginia."
Turner appeared on "Nashville Star" and made it to the second "American Idol" auditions round.
Written by Wyatt Turner, his fiance inspired this song. In this song, he wanted to compare her beauty to the beauty of west Virginia.
"You Remind Me of West Virginia" received over 100,000 views in less than 48 hours after it was posted online.
Turner considers West Virginia his home, even though he now lives in Nashville, and writes, co-writes, and performs.
10. Anywhere With You by Jake Owen
Jake Owen's third studio album, Barefoot Blue Jean Night, featured the fourth single, "Anywhere With You."
Lyrically, the song's narrator expresses his desire to travel anywhere as long as he is with his lover.
As it was released on February 4, 2011, the song is mainly about someone who is so in love with his girl that he is willing to go anywhere as long as he is by her side.
The song's authors are Nashville songwriters Ben Hayslip, Jimmy Yeary, and David Lee Murphy, who contributed to Thompson Square's "Are You Gonna Kiss Me Or Not" and Blake Shelton's "All About Tonight."
11. Blue Ridge Mountain Song by Alan Jackson
The words and lyrics of "Blue Ridge Mountain Song" were written by Alan Jackson himself.
It was included in his 2013 album "The Bluegrass Album."
This is the same album that gave us "Wild and Blue" and "Blue Moon of Kentucky." Furthermore, the album debuted at the top of the Billboard Top Bluegrass Albums chart.
It was also ranked third on the Billboard Top Country Albums chart.
The Bluegrass Album's "Blue Ridge Mountain Song" video by Alan Jackson tells a deep, moving tale.
A young romance is depicted in the video between clips of the country music legend playing his guitar and singing the song.
Among the best country music singers, Alan Jackson is a leader in the genre. He has received numerous honors and awards. He has also sold millions of albums worldwide.
He is truly one-of-a-kind.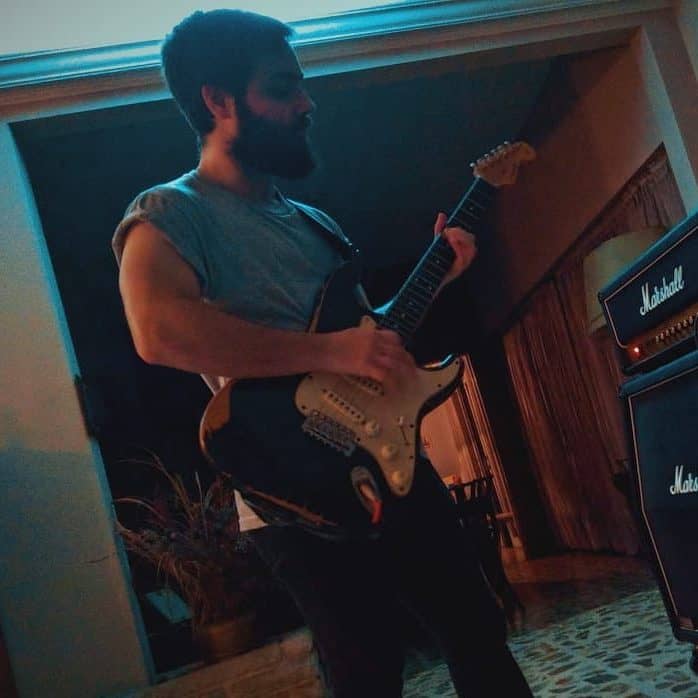 Hello there, my name is Ramiro and I've been playing guitar for almost 20 years. I'm obsessed with everything gear-related and I thought it might be worth sharing it. From guitars, pedals, amps, and synths to studio gear and production tips, I hope you find what I post here useful, and I'll try my best to keep it entertaining also.