Most people like karaoke, and it always makes for a fun Friday night activity with friends, but it can be a little tough if you have an unusual voice or vocal range.
Today we'll be looking at such a case: songs that suit low female voices for all you ladies out there with a low range.
It might come as a surprise to you, but there are plenty of female singers out there will low vocal registers, and a lot of them sound really good too.
From rock to pop, to country, you'll be surprised to know that you're not a weirdo for having a low voice, and if you know how to use it, it can be quite alluring too.
The songs aren't arranged in any particular order, but you'll be happy to know that they span a range of genres. I've tried to give you a lot to choose from, depending on your tastes.
Enjoy!
1. Love Gets Me Every Time – Shania Twain
"Love Gets Me Every Time" Was written by Twain and her then-husband, Robert Lange, and produced solely by Lange too.
Twain originally titled the song "Gol Darn Gone and Done it" which is a country expression she had heard of, thankfully they changed it.
The original name of the song was mainly changed because the record label was concerned that D.J.s would have difficulty pronouncing the name.
It was released on September 23, 1997, and topped Billboard's Hot Country Songs chart for five consecutive weeks.
The song is well-known by most and so using it as a karaoke number is bound to get you some applause.
Twain is a great example of a female singer with a low register that still manages to stay feminine in her tone.
2. Girls Just Wanna Have Fun – Cyndi Lauper
This song is a great anthem for all the party girls out there. Released in 1983, it was Lauper's breakthrough single, sung from a feminist perspective that all women really want is to have the same experiences that men can.
The song wasn't written by Cyndi Lauper, funnily enough, but was written by Robert Hazard who released his original version in 1979.
The song was received as an anthem of solidarity for young women and a playful romp for party girls after Lauper released it with a few tweaks to the lyrics to make it her own.
The song topped multiple charts in numerous countries, reaching no.2 on the Billboard Hot 100 in 1984
"Weird Al" Yankovic did a parody called "Girls Just Want to Have Lunch" in 1985
On Sesame Street, Oscar the Grouch, Grundgetta and a couple of other Grouch girls sang a parody of the song too, called "Grouch Girls Don't Wanna Fun."
Over 30 other bands covered this song since Lauper released her version
3. Believe – Cher
If Cher's Believe isn't low enough for your voice to be able to comfortably sing, then I'm going have to start doubting whether you're really a biological woman.
Cher's vocals are about as low as female vocals get, yet she manages to pull off an iconic hit in this song.
The song was released on October 19, 1998, and also topped many charts in the year of its release pioneering the use of Auto-Tune to distort Cher's vocals, which was widely replicated and became known as the "Cher effect".
The 90's disco-Esque hit is still fresh in the minds of many today, and you just can't go wrong with it. It's catchy, it's nostalgic and it's kind of sexy too.
4. Beautiful – Christina Aguilera
A pop and R&B ballad, "Beautiful" was written and produced by Linda Perry for Christina Aguilera. Lyrically, it discusses inner beauty, as well as self-esteem and insecurity.
It was released on the album "Stripped" in 2002 and was later re-recorded in an electronic style. You can choose whichever you prefer, I suppose.
The song wasn't actually meant for Aguilera at first, the song's producer, Linda Perry had intended it for Pink, but was so impressed by Christina's performance at a house party that she gave it to her.
Most women can probably relate to the message of this song and it might even make it more relatable for you to know that when Aguilera sang this song for the first time, she was actually pretty insecure about her own image, which makes the performance that much more raw and authentic.
5. Feeling Good – Nina Simone
Nina Simone is as iconic as it gets with probably the only song most people know from her. Feeling Good will work well as a karaoke song for anyone from beginner to experienced, with a low vocal register or a low vocal range.
The reason for this is that the range of Simone's vocals doesn't span too far during this song. The song was originally written by English composers Anthony Newley and Leslie Bricusse for the musical The Roar of the Greasepaint – The Smell of the Crowd.
It was first performed on stage in 1964 by Cy Grant and in 1965 by Gilbert Price.
Nina Simone technically covered the song, but she probably did it best for the time.
The song has since been covered by a plethora of musicians, from Michael Buble to John Legend to Avicii, so why not add yourself to that list?
6. Bubbly – Colbie Caillat
"Bubbly" was written by Colbie Caillat and Jason Reeves, with Caillat's vocal range spanning just over an octave in this song.
The song was never written for a specific person, but Colbie stated that they were written "about the feelings you get when you have a crush on somebody, and when they give you butterflies in your stomach and they just make you smile."
Bubbly is probably better known as that song that has the lyrics "it starts in my toes and I crinkle my nose, wherever it goes, I always know."
Now that you remember the song, it's worth singing at a karaoke night, because the vocals aren't very high and they're also quite relaxed, making for a song that won't strain your voice too much while you sing it.
7. My Favourite Mistake – Sheryl Crow
Sheryl Crow wrote this song about a relationship with a man who proves to be unfaithful and is widely believed to have been written about Eric Clapton.
Crow's low and warm tone blends wonderfully with the arrangement of the song, which peaked at No.20 on the US Billboard Hot 100 at the time, giving Crow her fifth top 20 single in the US.
Crow at one point considered canceling the release of the song because she was having difficulty with the honesty of the lyrics and singing them.
The vocals are easy enough to sing along to because of her restrained vocal performance, which makes it a perfect Karaoke song for just about anyone.
The song was written by Crow and her regular collaborator Jeff Trot, but she also has refused to say who the ex-boyfriend was.
She also later exclaimed that Clapton was a good friend of hers and that she didn't regret their relationship, putting to bed the rumor.
8. Don't Dream It's Over – Crowded House
Don't Dream It's Over is the Crowded House's biggest international hit, having reached No.2 on the Billboard Hot 100 in the United States in April 1987.
You might recognize this song if you grew up in the early to late 90s as it was quite popular throughout that time as a household song.
The catchy tune and easygoing musical harmony camouflage a more melancholic tone though.
Neil Finn's voice gives the song a reedy and expressive tone with a ton of irony in his vocals to compliment the lyrics.
Either way, this may not be a song written by a female singer, but the range is high enough for a woman with a low vocal range to sing to, and if your voice can reach higher still, you can always do a female version of it and sing an octave higher.
9. Closer to Fine – Indigo Girls
This song is just so relaxed. Its simplistic guitar melody carries you through gently as you listen to the gentle vocals.
It's a pretty easy song to sing along to, with no modern pop vocal runs or crazy high belting, it makes for a fun karaoke song.
This song was one of the Indigo Girls' biggest hits and was written about accepting that philosophical questions don't necessarily have one definite answer.
While not as well known as some of the other songs on this list, it makes for a fun indie-type karaoke vibe.
What I like about "Closer to Fine" is that you can choose to do the high or low voice, so you have a lot of vocal flexibility to this song.
10. Fast Car – Tracy Chapman
I'll be honest when I first saw the music video for Fast Car and heard Chapman singing, I thought it was a young boy.
Tracy Chapman is one of those female singers whose voice is not only low, but it's so earthy and real that it's easy to lose the femininity of her vocals in the rawness of what she sings about.
Honestly, Fast Car is just one of many of her songs you could pick.
You could do "Baby Can I Hold You Tonight" or "The Promise" or "America" or any other number, they're all good and they're all suitable for a low-register female vocalist.
Fast Car is a gritty, realistic story about a poor woman trying to escape the cycle of poverty, set to folk rock music.
The guitar melody and song arrangement juxtaposes the sad lyrics so that you won't depress the crowd while you sing about being hopeless and poor.
11. Love Song – Sara Bareilles
I still remember when this song first came out and I still sing it in my head from time to time nearly fifteen years later.
This was Bareilles's debut single and was nominated for the 2009 Grammy Awards categories Song of the Year and Best Female Pop Vocal Performance.
Love Song was actually born out of Bareilles's frustration with her record label, which kept turning down her music, wanting her to write more radio-friendly pop stuff.
She eventually went into a rehearsal space one day, sat down, and wrote this for just herself. It came out great and the label liked it and the rest is history.
As for you, when it comes to singing this for a karaoke song, it's an instantly recognizable, upbeat number that has pretty easy vocals to sing along to and sits at a lower-than-average register.
If it's your cup of tea, you've got nothing to lose.
12. At Last – Etta James
A bit of bluesy/jazzy feel for the classy vocalists out there.
Etta James took the original of this song, written in 1941 by Mack Gordon and Harry Warren for the musical film Sun Valley Serenade, and spun her own twist on it, revitalizing the golden oldie.
James's rendition was the title track on her debut album At Last! (released in 1960) and was eventually inducted into the Grammy Hall of Fame in 1999.
I mention this version because it's the most memorable, but if you'd like to try other ones, Beyonce and Celine Dion also covered this classic, with similar chart success.
In 2012, Christina Aguilera was invited by Etta James' family to sing "At Last" at James's funeral. Aguilera stated that James was her idol and inspiration.
I can seem a little intimidating because the vocals sound so big, but the range itself isn't, and if you have a tendency toward powerful vocals, this one is for you.
13. Rehab – Amy Winehouse
A bit of an ironic song considering how untimely Amy Winehouse's death was, but man if the 27's club isn't filled with some giants in music.
This song itself is autobiographical and was written and recorded by Amy Winehouse herself.
"Rehab" became an international success and has been considered Winehouse's signature song. A soul and R&B song that everyone will recognize the moment it starts playing.
It might take a bit of practice to get right, but if you have a low female register, this one is for you.
14. House on a Hill – The Pretty Reckless
I had to add a few rock songs to this list for the rocker girls out there.
The Pretty Reckless wrote this song as a middle finger to the authoritarianism and brainwashing of modern societies that hold themselves on a pedestal but have fallen ridiculously short of their own self-image.
Songwriters Taylor Momsen and Ben Phillips wrote "House on a Hill" after hearing a lecture on the Vietnam War.
They called the song a cry for humanity, with the song referring to the way that the "House on a hill" (the American government possibly) destroys the individuality of its citizens, teaching them what to think and say.
The song points to the loss of innocence that children experience as they grow up and it makes for a guttural performance, with Momsen's characteristic low-pitch grit.
If you're ever worried about having a low vocal range as a woman, just remember that Taylor Momsen sings as low as some dudes in her music and she still sounds like a woman throughout.
15. Beautiful with You – Halestorm
Beautiful with you is another rock song on this list, but it differs from "House on a Hill" in that it has some pretty loud vocals to it.
Lzzy Hale has a big voice, but she also has that low, sultry feminine tone to it.
A lot of her songs are very raunchy and sexual, and if that's your thing, you're welcome to sing them too.
This one is more of a crowd-friendly one though, and it works great for someone who has the lower range and likes to sing with a full chesty tone but can also reach up a bit into the higher notes.
10 More Karaoke songs for Low Female Voices
| | |
| --- | --- |
| Title | Artist |
| Close to You | The Carpenters |
| Someone Like You | Adele |
| Royals | Lorde |
| No Scrubs | TLC |
| I Will Always Love You | Whitney Houston |
| Hallelujah | Rufus Wainwright |
| I'm Yours | Jason Mraz |
| Chasing Cars | Snow Patrol |
| Stay | Lisa Loeb |
| Try | Pink |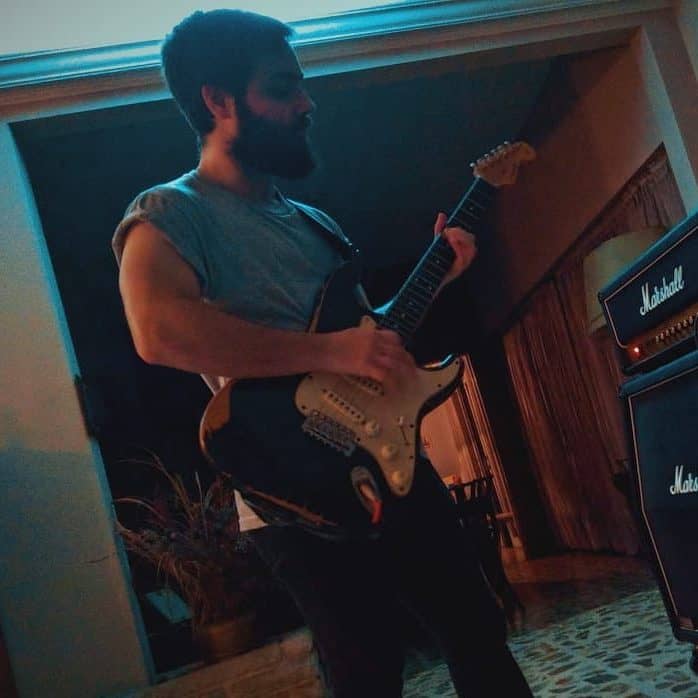 Hello there, my name is Ramiro and I've been playing guitar for almost 20 years. I'm obsessed with everything gear-related and I thought it might be worth sharing it. From guitars, pedals, amps, and synths to studio gear and production tips, I hope you find what I post here useful, and I'll try my best to keep it entertaining also.