Karaoke is a lot of fun and according to Cyndi Lauper, that's what girls wanna have.
It can sometimes be difficult to find just the right song, and looking one up right before you go up to sing is just as bad, so I've taken the time to put together a list of karaoke songs for women that you might like.
If you are a lady with a lower vocal register, don't worry, there's an article for you too, check it out here:
1. Shake It Off – Taylor Swift
Shake It Off is perfect for karaoke, it's fun, it's a simple song and the lyrics are easy to remember.
With a message about resilience and "shaking off" your criticisms and problems, this makes for a perfect feel-good karaoke track.
Swift keeps the vocal melody pretty simple for this song which makes it perfect for both a beginner and an experienced singer.
2. Girls Just Wanna Have Fun – Cyndi Lauper
A little trickier to sing due to Lauper's vocal runs on some of the lines, but you can always simplify them if you aren't able to sing vocal runs.
The thing that makes this song great for karaoke is that it's a perfect girl anthem, that it's fun and catchy, and that it generally keeps within a small note range.
3. Dancing Queen – Abba
Another 80s hit, this tune makes not only a good karaoke song but is also great as a group song or a duet.
Dancing Queen is always a karaoke hit, and although it's been done many times, it never really gets old, probably because it's a classic and remains so today.
The vocals are relatively easy to sing with the main focus being the rhythm of the words sung, while the notes don't change too much.
4. Born This Way – Lady Gaga
Now here's a song that seems to be for the more experienced karaoke singer, but you'd be surprised.
Born This Way is a pretty busy song and you'll probably need a little bit of practice beforehand if you're planning to sing it.
That being said, it's basically talking in a way that sounds musically pleasing.
As busy as the lyrics are, the vocals don't jump around much and tend to stay on only a few notes.
5. Jolene – Dolly Parton
Jolene is a catchy country song about a woman who's so beautiful she can have any man and tends to take many from other women.
If you're a fan of country, this is your go-to song, with the vocal melody staying simple throughout, Dolly Parton's song makes for a perfect karaoke number if you're feeling in the mood for country music.
6. Baby One More Time – Britney Spears
You might not admit it, but if you know this song, you've sung along to it at least once.
This catchy pop hit was actually one of Spears' first songs and was one of the ones that catapulted her into stardom.
It received numerous certifications and achieved international success and is one of the best-selling singles of all time.
Baby One More Time is a must for any pop fan who's looking to have some fun while out singing.
7. Wannabe – Spice Girls
Wannabe was the debut single of this all-girl singing group, with a message of the value of female friendship over a female-male relationship.
This makes for a perfect group song if you're having a night out with friends and just want to have fun together.
You don't have to number the same as the spice girls, but you can sing with the same style and spirit of fun.
8. Cups – Anna Kendrick
Don't worry, when you sing this song at karaoke, you don't have to be Pitch Perfect.
Either way, you can have fun singing this simple tune sung by Anna Kendrick for her movie role, who- need I remind you- isn't a pro singer either.
Cups is a pretty simple song to sing and it was pretty popular around the time it came out, and you can still enjoy it as a callback when you go out.
9. Bad Guy – Billie Eilish
This song is really great to sing if you struggle with projecting your voice.
One of Eilish's first songs, off her debut album, Bad Guy is about a girl confronting misogynist men and stating that she's worse than them.
It's a song that's kind of about being tougher than the people you're facing, but it delivers the message in an easy to sing along to.
You're basically gonna whisper this song.
10. thank u, next – Ariana Grande
Despite what you might think, some of Ariana Grande's songs can be sung without too much skill.
If you're just a hobbyist singer and like to do karaoke but you're also a fan of Ariana Grande, this song will be perfect for you.
The vocal range of this song is pretty small and Grande keeps the melody pretty straightforward, so you don't need to worry about having to jump around vocally.
11. I Kissed a Girl – Katy Perry
Katy Perry's first debut song from her second album, I Kissed a Girl makes for a good pick for karaoke night, especially for a girly song.
The song, as stated by Perry, is about "the magical beauty of a woman."
The main reason you could choose this track though has nothing to do with its lyrics but all to do with the fact that it's a fun song to sing and that it isn't difficult to sing either.
12. Liability – Lorde
Liability is a song all about being your own best friend and keeping it raw by sticking to just a piano to accompany the voice for the entirety of the song.
It's a good song for a moving performance, but the best part is that it's not a difficult song to sing vocally.
Lorde keeps it simple because the delivery and the tone are where it shines, so try to focus on keeping it emotionally real when you sing this tune.
13. Papa Don't Preach – Madonna
Gotta add in at least one song from Madonna.
Papa Don't Preach was one of her earlier songs, and it manages to remain relevant today, with feminists both loving and hating it.
It's a song about a woman taking agency of her life and choices and it's a really catchy pop song with a clever social commentary.
Why do it for karaoke though?
Simple.
With a bit of practice, and if you can hold a tune, this song is pretty easy to sing.
There aren't any big vocal runs, it's just singing from one word to the next and holding a few notes.
14. You Know I'm No Good – Amy Winehouse
If you can manage the tone, this Amy Winehouse track is a relatively easy song to sing.
A lot of Winehouse's music was vocally impressive and difficult to cover, but this one keeps it straightforward.
The song is pretty dark in its message but delivers it in a sultry way that makes for a perfect dark horse-type song if that's your mood.
15. Can't Help Falling In Love With You – Elvis Presley
This may be a song written and performed by a male vocal lead, but it still leaves plenty of vocal room for a female voice.
In fact, plenty of women have covered this song over the years and I don't see why you can't.
Elvis was never a great singer as far as skill goes, it was always what he sang and how he sang, which means that as long as you know the words and melody to this song, it's pretty easy to sing.
If you're feeling extra fancy, you can always do it in your own style or add a unique touch to it. This song leaves a lot of room for expression.
16. Before He Cheats – Carrie Underwood
17. i wanna be your girlfriend – girl in red 
18. A Thousand Years – Christina Perry
19. All About That Bass – Meghan Trainor
20. Torn – Natalie Imbruglia
21. Stay – Rihanna
22. Bad Romance – Lady Gaga
23. Uptown Funk – Bruno Mars
24. Feeling Good – Nina Simone
25. Nobody's Home – Avril Lavigne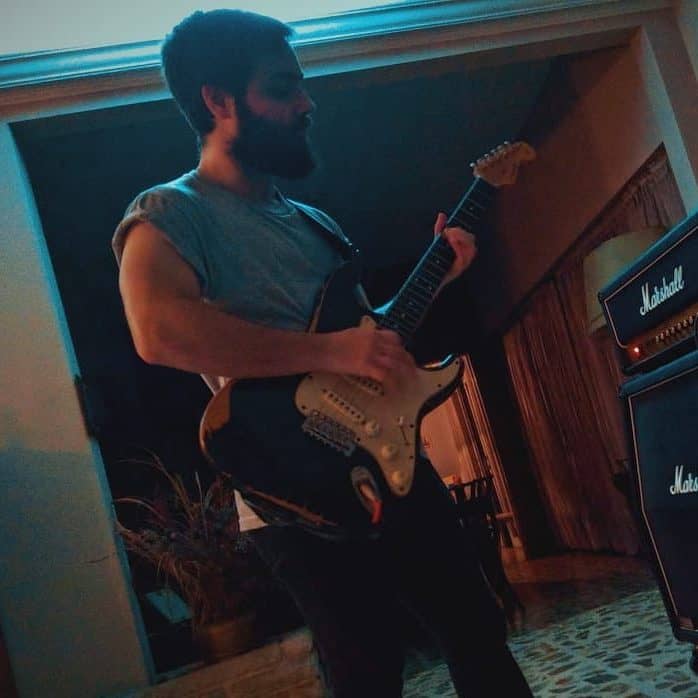 Hello there, my name is Ramiro and I've been playing guitar for almost 20 years. I'm obsessed with everything gear-related and I thought it might be worth sharing it. From guitars, pedals, amps, and synths to studio gear and production tips, I hope you find what I post here useful, and I'll try my best to keep it entertaining also.