Are you looking to improve your singing skills or just have some fun singing along to your favorite tunes?
Singing is an activity that brings joy, relaxation, and self-expression, but not everyone has a natural ability to sing or years of training to develop their vocal skills.
That's where easy-to-sing songs come in handy. In this article, we've compiled a list of 23 easy songs to sing that are perfect for singers of all levels.
The tracks in the list have been selected for their simple melodies, uncomplicated lyrics, and easy-to-follow rhythms, making them ideal for those who want to improve their singing skills or just enjoy singing with ease.
The songs on this list span a wide range of genres, including pop, rock, country, and folk, so there's something for everyone.
These songs are not only easy to sing, but also offer great opportunities for vocal expression and interpretation.
They allow you to practice your pitch, rhythm, and intonation while giving you room to express your personal style and interpretation.
Whether you're a beginner, intermediate, or advanced singer, these 23 easy-to-sing songs are great options to build your confidence and develop your voice.
So get ready to warm up your vocal cords, choose your favorite song, and start singing along!
1. Imagine – John Lennon
On top of the list is this well-known masterpiece composed by the incomparable member of The Beatles John Lennon.
Released in 1971, this track gave the name to the album and became the flag of peace at that time.

The song's melody and lyrics make it easy to sing for singers at any level.
Besides, the tempo is slow and simple to follow so even novice players can approach this wonderful track.
2. Mamma Mia – ABBA
Released in 1975, Mamma Mia may be the most famous ABBA song.
The Swedish group included this track in their third album named ABBA.

Apart from that, Mamma Mia is one of the most popular pieces of all time, this song ranges within just one octave meaning that it doesn't have wide pitch changes.
In addition to that, the lyrics are easy to learn because some sections are repeated throughout the whole track.
3. I'm Yours – Jason Mraz
Back in 2008 this song was extensively popular and every single acoustic guitar player learned how to play it. Included as the first track in the album We Sing.
We Dance. We Steal Things. this piece can be a nice option if you want to dedicate a song to someone you love.

Although it presents an upbeat tempo, is simple to sing. What is more, if you are a guitar player, accompany the lyrics with your instrument and become the soul of the party!
4. Torn – Natalie Imbruglia
Although this song was released in the 1997 album Left Of The Middle, few people know that the track was originally composed in 1993 by the Danish singer Lis Sorensen.
At that time, Natalie's version became very famous and was played on every radio station.

Although this song fits better female singers, male performers can also manage to sing it well.
However, if you still want to try it out, you could transpose chords in order to reach high tunes in the chorus.
5. Fields of Gold – Sting
In 1993, The Police leader released a soft and sweet track that was featured in the album Ten Summoner's Tales.
This song is now one of the most popular and recognizable songs in Sting's career.
As the melody of the song is sung in an octave, is simple and not too challenging, with a moderate range that both male and female singers can manage.
The tempo is not too fast or slow, which makes it easier for a singer to control their breathing and deliver the lyrics smoothly.
6. Can't Help Falling In Love – Elvis Presley
The King of Rock and Roll makes his appearance on this list with a piece that is acclaimed to be one of the best love songs.
Can't Help Falling In Love was released in 1961 and took part in the album Blue Hawaii.
What makes this track easy to sing is its simple and predictable structure, with a limited range of notes in the melody.
Besides, the tempo is slow and steady and the song's lyrics are straightforward and repetitive, making it simple to memorize and follow along.
7. Complicated – Avril Lavigne
During the 2000s, Avril Lavigne was the image of the bad girl but most of her songs showed a different facet.
In 2002 she released this track which was included in her first studio album Let Go.
Complicated is an energetic song accessible to many singers thanks to its straightforward melody.
The tempo also helps because is moderate and although it is a bit high, is a great choice for beginner female singers.
8. Wonderwall – Oasis
Up to this point, everyone knows this track and needs no introduction.
Released in 1995 and included in the album (What's the Story) Morning Glory? this song features a simple vocal melody alongside repetitive chords.
Thanks to the limited vocal range required, this song is not very demanding, making it accessible to a wide range of singers.
What is more, the lyrics are easy to remember and due to the song's popularity, you might already know them.
9. Wake Me Up When September Ends – Green Day
Just like many songs from this album, this track became a hit.
Included in the acclaimed 2005 American Idiot, this soft rock ballad is a must for acoustic players.
What makes this song easy to sing is in the first place its steady and slow rhythm.
Moreover, its uncomplicated melody makes it a good choice for female and male singers as well.
10. The Scientist – Coldplay
This ballad was released in 2005 and included in the album A Rush of Blood to the Head.
This track is probably the one that launched the British group to fame.
With a relatively narrow vocal range, and a simple melody to follow this song is quite easy for novice singers.
While might be too high for male vocals, can fit perfectly for female singers.
11. She Will Be Loved – Maroon 5
12. Thank You – Dido
13. Let it Be – The Beatles
14. Wish You Were Here – Pink Floyd
15. Wind of Change – Scorpions
16. Chasing Cars – Snow Patrol
17. Knockin' On Heaven's Door – Bob Dylan
18. I Love Rock 'N' Roll – Joan Jett
19. Hey, Ya! – Outcast
20. Hotel California – The Eagles
21. Oops, I Did It Again – Britney Spears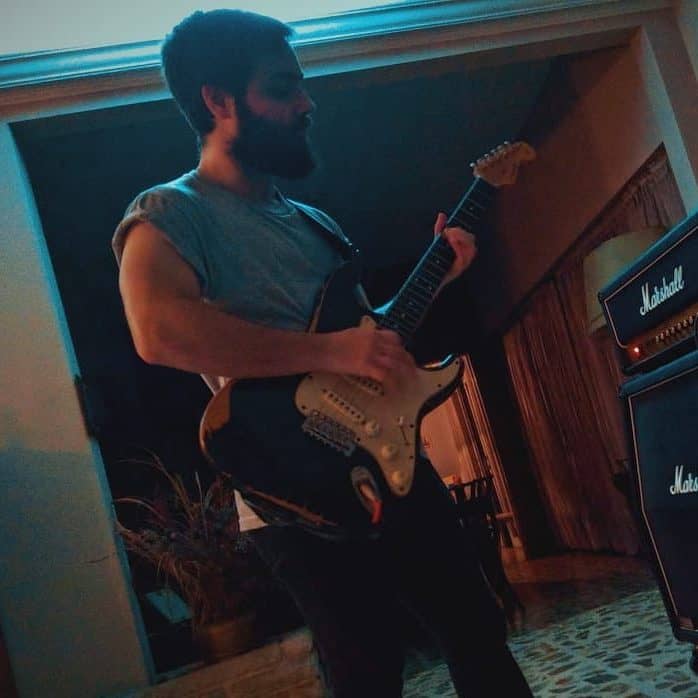 Hello there, my name is Ramiro and I've been playing guitar for almost 20 years. I'm obsessed with everything gear-related and I thought it might be worth sharing it. From guitars, pedals, amps, and synths to studio gear and production tips, I hope you find what I post here useful, and I'll try my best to keep it entertaining also.