Hip Hop music is probably one of the younger genres of music around, with its roots as soundtrack music for New York City block parties being well-known.
However, since its birth, hip-hop has grown substantially and become one of the most popular genres in music, even molding the rest of pop music.
Hip-hop is not just music though, it has been a documentation of the life and culture of the African American experience, with artists like Ludacris and Lil Wayne exploring different themes and creating a musical history of modern America.
With that being said, we'll be looking at some of the best and most popular hip-hop songs on the web today.
1. N.Y. State Of Mind – Nas
Considered one of Nas's greatest songs and the sound and spirit of 90s New York, Nas wrote this song about what was on his mind in regard to New York at the time.
The track itself is dark and intense, with Nas hitting the lyrics and just not letting up until the end.
It's an intense ride that pulls you in and have you listening to everything that was going on in 90s New York, from the good to the ugly.
2. Ms. Jackson – Outkast
OutKast was pretty weird back in the day, with his mixture of rap, blues, and soul-funk bringing a new flavor to the music industry.
Ms. Jackson is a message from Andre 3000, one of the rappers of the group, to the mother of his baby mamma.
He wanted her to hear his side of the story, as he felt he was being portrayed as a bad father.
Despite the history of the song, and perhaps the fact that it was meant for a specific individual, the track was catchy and real, and relatable for a lot of listeners and is probably what made it such a hit.
3. Passing Me By – The Pharcyde
A song about someone being totally out of your league, The Pharcyde delivered a hit sound of the 90s, with the rhythm and backtrack really epitomizing that early hip-hop sound.
The song is the second single from The Pharcyde's debut album "Bizarre Ride II the Pharcyde" and it peaked at No. 1 on the Hot Rap Singles in the Spring of 1993.
4. Children's Story – Slick Rick
A cautionary tale for children.
Slick Rick tells the story of two kids who decide to start robbing people, with one becoming addicted to it.
One day he robs an undercover cop and after a long chase with the cops, he is shot dead.
The song manages to be catchy without a single hook line in it, a trait Slick Rick is known for in his music.
The song peaked at No.2 on Billboard's Hot Rap Songs chart.
5. B.M.F (Blowing Money Fast) – Rick Ross
Arguably one of the biggest singles of Ross's Career, a song whose name shares an acronym with the thuggish Black Mafia Family, Rick depicts his money-blowing ways to a heavy beat.
The song is very bombastic in its production and shot its creator, Lex Luger, to fame after its release.
6. A Milli – Lil Wayne
A Milli did really well when Lil Wayne released it, with it initially being leaked in a different version before the final album version was released.
The song samples "Don't Burn Down the Bridge" by Glady Knight & the Pips" as well as a vocal sample from the Vampire Mix of "I Left My Wallet in El Segundo" by A Tribe Called Quest.
7. It Was A Good Day – Ice Cube
Ice Cube wrote this song back in 1992, at the height of his career.
He stated that he had been inspired by how well he was doing to write about it and be thankful for it.
At the time, there were riots going on, and people were used to Ice Cube writing about gangster themes, but he specifically wrote this song to be positive.
8. Mind Playing Tricks On Me – Geto Boys
Hip-Hop's most famous paranoia anthem inspired a whole slew of rappers to rhyme about the mental stresses of the gangster lifestyle.
This song also helped to lay the foundation for the emergence of horrorcore as a genre back in the day.
9. Bling Bling – B.G
Thanks to this song "Bling Bling" was added to the Oxford English Dictionary on April 30, 2003. This was also the single that launched B.G. to superstardom.
While Lil Wayne didn't invent the word "bling", his use of it in this brought the term to mainstream popularity.
10. Alright – Kendrick Lamar
On the surface, the song motif is optimistic and universally applicable, but the message is driven by specific pain and struggles.
The song was also used as an anthem during the BLM riots a few years ago, which is a little bit ironic considering recent events, but we're here to talk about music, not politics.
This song is helped to raise awareness about the disproportionate police brutality against black Americans and has left many wondering if the US has made any progress at all.
However, Lamar states that through confidence and solidarity and trust in God, "we gon' be alright."
11. Ice Cream – Raekwon feat. Method Man
The third single from Raekwon's classic debut album "Only Built 4 Cuban Linx". Rae, Ghost, and Cappa dedicated this one to the ladies with help from Method Man on the hook.
The main loop of the song is from "A Time For Love" by Earl Klugh.
Oddly Raekwon didn't like the song because he felt it was too soft for his first album.
12. Grindin' – Clipse
Grindin' is the biggest single in Clipse's career thus far and has not 1, but 2 remixes on their debut album.
Most people believed it was their first commercial single, but that would be "The Funeral", it just wasn't as big as Grindin' so you're not likely to remember it.
13. Shook Ones, Part II – Mobb Deep
Shook Ones (Part II) is doubtless proof that sequels can be better than the original song.
Mobb Deep remixed and flip their slept-on original track and turned it into a QB anthem.
Prodigy and Havoc deliver a warning to fake wannabe thugs over one of the most sinister beats rap has ever heard.
14. Fight The Power – Public Enemy
Originally from the soundtrack to Spike Lee's classic movie Do The Right Thing and later on PE's seminal album "Fear of a Black Planet", is perhaps the group's best-known song.
Chuck D said that the inspiration for the song came to him as he was flying over Italy during the Run's House tour.
The track also samples over 17 different samples in just the first 10 seconds.
Overall it's a very busy song full of political commentary, which is partly what made it so big in its day and keeps it relative today.
15. Dear Mama – Tupac Shakur
Dear Mama is the song that made it okay for thugs to admit they loved their moms, even though they kill people and sell drugs.
Tupac wrote this song for his mom because he loved her and felt he owed her something deep, and besides that, he always played his music for her before it came out.
Interesting to see this soft side of one of Hip Hop's giants.
A lot of references have been made to this song and even Eminem made a comment on it in his tribute letter to 2Pac, stating that despite his bad relationship with his mom he could "put 'Dear Mama' in and damn near be in tears."
16. The Choice is Yours – Black Sheep
17. They Reminisce Over You – Pete Rock and CL Smooth
18. Top Billin – Audio Two
19. Naughty By Nature – O.P.P.
20. Lose Yourself – Eminem
21. My Name Is – Eminem
22. It Takes Two – Robe Base & DJ E-Z Rock
23. Roxanne Roxanne – UTFO
24. Scenario – A Tribe Called Quest
25. Cars With The Boom – L'Trimm
26. 6 'n the Mornin' – Ice – T
27. How I Could Just Kill A Man – Cypress Hill
28. Flava In Ya Ear – Craig Mack
29. Rebel Without a Pause – Public Enemy
30. Ante Up – Funkmaster Flex
31. Gin and Juice – Snoop Dogg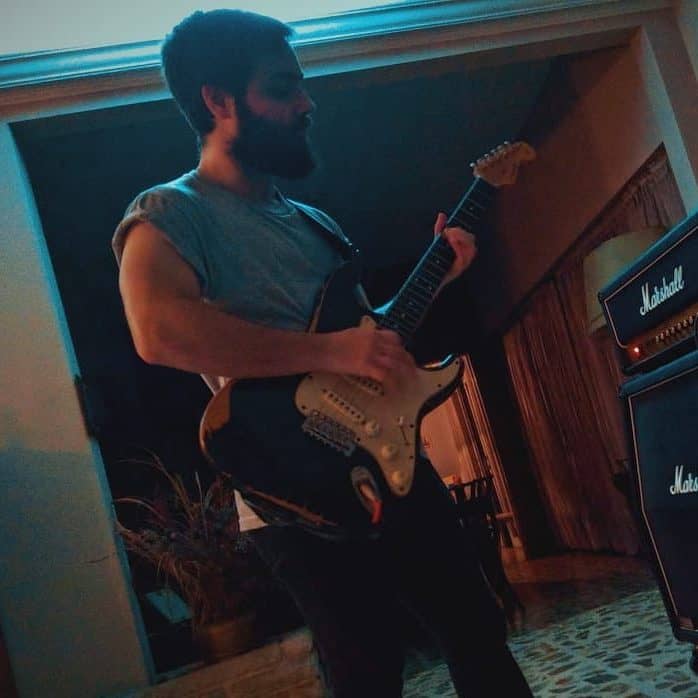 Hello there, my name is Ramiro and I've been playing guitar for almost 20 years. I'm obsessed with everything gear-related and I thought it might be worth sharing it. From guitars, pedals, amps, and synths to studio gear and production tips, I hope you find what I post here useful, and I'll try my best to keep it entertaining also.