Mother, mom, mummy, ma… we have said that word a million times in our lives to communicate with one of the most influential figures of all time: our mom.
But worry not, because you're not the only one who's had a bittersweet, amazing, difficult, rough, and caring relationship with your mother. That's something most humans go through.
As you would expect that juxtaposition of rebellion and obedience gave birth to a plethora of songs from as many points of view as you can think of.
This is just a selection of 21 songs that can help you understand your relationship with your mom better.
1. Mama's Song – Carrie Underwood
"Mama's Song" was the fourth and final single released from Carrie Underwood's 2010 third studio album, Play On.
The song carries a strong "thank you" message from Carrie to her mom for having taught her many important life lessons.
The lyrics also revolt around the idea of a mom trying to find the right guy for her daughter whom she calls "mama's little girl".
The official music video for the song features Carrie Underwood's real husband, Mike Fisher, and also her mother, Carole, playing themselves.
2. Always on the Run – Lenny Kravitz
"Always on the Run" was the first single chosen to promote Lenny Kravitz's second album Mama Said, released in 1991.
The song features the contribution of Guns N' Roses lead guitar player, Slash who plays the solo in the middle of the song as well as the riff.
Slash didn't intend the song to go to Lenny Kravitz originally; he wrote it for his own band, Guns N' Roses. Upon presenting it to his bandmates, though, he found that former drummer Steven "Popcorn" Adler had a hard time playing the song's funky beat. Therefore, he decided Lenny Kravitz would be the perfect fit.
The album's name was derived from this song's first line which says "My mama said that your life is a gift". According to Kravitz, it was his mother's wisdom that inspired the lyrics to this song.
3. Mother – Pink Floyd
"Mother" appears on Pink Floyd's The Wall album, which was released in 1979.
According to the band members of Pink Floyd, the movie The Wall is a semi-autobiographical story about a young boy who loses his father in the war and is then raised by his mother, who behaves overprotectively with him.
Although Waters' mother, according to the bass player, composer, and singer, looks nothing like Gerald Scarfe's visualization, Roger says that the song and his mother share a connection.
Nick Mason, Pink Floyd's drummer didn't play on the original recording of this track. According to Roger Waters, the drummer had a hard time coping with the song's odd 5/4 time signature. The band recruited Toto's Jeff Porcaro to play it instead.
4. Dear Mama – 2pac
2Pac recorded "Dear Mama" for his third studio album, Me Against the World, released in 1995.
Tupac wrote this for his mother, Afeni Shakur, to let her know that he appreciates all hardship she went through in raising him.
This song includes a sample of "In All My Wildest Dreams" by Joe Sample.
The video, which was filmed while Tupac was in prison, shows the rapper's mom looking through old photo albums.
5. Mother – Danzig
"Mother" is one of Danzig's most well-known songs and it was originally released as the lead single of the band's debut album, Danzig (1988).
One of the many interpretations of this song's cryptic lyrics is that Danzig's descent into something evil such as Satanism raised his family's worries; especially his mother's.
This song's lyrics aren't children friendly since the singer talks to his mother and dad asking them to stay away since he's beyond salvation and can't be helped.
"Mother" had a video that was received with mixed criticism and was controversial for wider audiences. In it, Glenn Danzig, the band's frontman and singer can be seen standing on a pentagram overlooking a woman strapped to a platform. Some people claimed this video was an apology for Satanism.
6. Mother – John Lennon
John Lennon released "Mother" as a part of the 1970 album John Lennon/Plastic Ono Band.
John Lennon decided to try "Primal Scream" therapy to deal with issues of his past. Some of those issues are detailed in this song's lyrics.
John Lennon lost his mother while going through a pivotal time in his life. She was run over while on the crosswalk by a drunken off-duty policeman.
John Lennon wrote his mother three songs during his lifetime. The other two are "My Mummy's Dead" and the utterly famous "Julia".
7. Tie your Mother Down – Queen
"Tie Your Mother Down" was the song chosen by Queen, to open their famous 1976 album, A Day at the Races.
"Tie Your Mother Down" was written by Queen's guitar player, Sir Brian May.
Accompanied by the late Taylor Hawkins and Dave Grohl from the band Foo Fighters, Brian May and Roger Taylor performed this tune when they were inducted into the Rock and Roll Hall of Fame in 2001.
This song is one of Brian May's all-time favorites, and thus, it was included in the setlist of almost every Queen show after its release.
8. Mama Said – Metallica
Metallica included a sad country ballad for the first time in their sixth album, Load from 1996. That song is "Mama Said".
This song marks a departure from Metallica's aggressive heavy sound that made them metal's biggest-selling band of all time. The song blends three different styles going from classic country to blues and to hard rock. Furthermore, the use of pedal steel and vocal harmonies in the chorus is a new approach for the band.
James Hetfield lost his mother when he was young due to cancer. The singer and guitarist wrote this song for her.
Because of her early departure, the song's lyrics are filled with regrets about not spending more time with her. It is also a song of hope, the hope that she will still love him when they eventually meet again.
9. Mother Love – Queen
"Mother Love" was included in Queen's Made in Heaven album, released in 1995. The record was released after Freddie Mercury died in 1991.
"Mother Love" is the last song that Freddie Mercury ever recorded.
Two years after Freddie's death in November 1991, the band's guitar player, Sir Brian May, wrote and sang the final verse to complete and release the song.
Roger Taylor is very sensitive about this song and admires it profoundly. He stated to specialized media that, although he could hear Freddie's voice getting weaker, he could still hit all the notes.
10. Oh Mother – Christina Aguilera
11. The Perfect Fan – Backstreet Boys
12. Does your Mother Know – ABBA
13. Call your Mother – Johnny Cash
14. How I met your Mother – The Friday Night Boys
15. Mama – Spice Girls
16. Turn to You – Justin Bieber
17. Thank you Mom – Good Charlotte
18. A Song for Mama – Boyz II Men
19. You Raise Me Up – Josh Groban
20. The Hand That Rocks The Cradle – Glen Campbell
21. Where You Lead I Will Follow – Carole King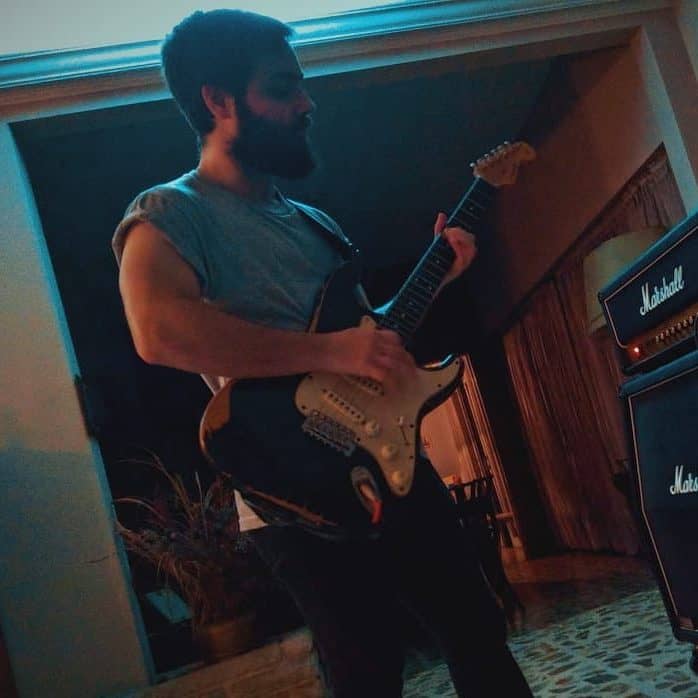 Hello there, my name is Ramiro and I've been playing guitar for almost 20 years. I'm obsessed with everything gear-related and I thought it might be worth sharing it. From guitars, pedals, amps, and synths to studio gear and production tips, I hope you find what I post here useful, and I'll try my best to keep it entertaining also.