The 90s was really a decade all on its own, having moved on from the big hair of the 80s to the angsty, leather-bound rock music of the decade.
Pop music also saw huge changes, moving away from synth and closer to what we recognize today as modern pop music.
Today we'll be taking a look at some of the greatest hits from one of my favorite decades, and hopefully yours too.
1. 1979 – The Smashing Pumpkins
The Smashing Pumpkins were weird, but you have to admit their music is good.
1979 is just one of their many really great songs, along with Bullet With Butterfly Wings and Disarm, to name but a few.
1979 was their biggest one for the 90s though, and it's a great start to this playlist.
2. Torn – Natalie Imbruglia
A one-hit wonder, Torn is that song that everyone knows, but doesn't know the name of until you hear it.
Torn was huge in 1997 when she released it as her debut single.
If you're wondering why she was never heard from again, it's because her career went from music to acting.
3. Waterfalls – TLC
Waterfalls is a pretty deep song, despite its surface simplicity.
Written to address the youth and their issues at the time, such as drug abuse and HIV/AIDS, Waterfalls was a pretty big cultural hit.
Still featured in movies today as a callback to the good old days, waterfalls is considered TLC's signature song and was one of the song's international successes.
4. The Sign – Ace of Base
Swedish group, Ace of Base, probably wasn't expecting this song to do as well as it did when it did.
A lot of the lyrics are both interesting and a little senseless due to the English lyrics not being quite meaningful, then again, most pop music is that way these days.
That aside, it's definitely a song of the sound of the 90s
5. You Get What You Give – The New Radicals
The New Radicals is another one-hit wonder band that really didn't have a lot of success after this song.
Sadly, the music industry was booming and becoming oversaturated which is probably one of the reasons why The New Radicals didn't last.
6. Wonderwall – Oasis
Wonderwall is ironically one of Noel Gallagher's least favorite songs, and ironically, it's because it became so big.
While definitely a huge hit from the 90s, most would agree that it's an overplayed cliché today, however, back then it was a worldwide hit.
7. Black Hole Sun – Soundgarden
Easily one of my favorite bands from the 90s (along with Nirvana, Foo Fighters, and many others) Soundgarden's black hole sun has to be one of my favorite songs, next to "I Am The Highway".
Chris Cornell thought up the song in his car on his way home one day in Emerald City.
Cornell doubted that people would even like the song, and now it's one of the songs they're most known for, with band member Thayil stating "it's the 'Dream On' of our set."
8. Self Esteem – The Offspring
Another rock track, Self Esteem was one of the Offspring's more tame songs, but I could probably have chosen any of their music from the late 90s.
They were becoming pretty big, but by far Self Esteem had to be one of the biggest hits of the time for The Offspring, topping charts worldwide.
9. Flagpole Sitta – Harvey Danger
Flagpole Sitta really tells you a lot about the 90s when you listen to it, especially in context with a lot of the other songs on this list.
Truly a time for grunge and punk, Harvey Danger really managed to capitalize on the moment and made a huge hit.
Thickly laden with clever wordplay and catchy riffs, it's easy to see why this was a hit for the 90s.
10. Smells Like Teen Spirit – Nirvana
I don't think there are many songs from the 90s quite as memorable as this one.
Sadly, Nirvana didn't last long enough to become as big as they were always destined to be, true to Cobain's words, they burnt out instead of fading.
Smells Like Teen Spirit was one of their more radio-friendly songs, with a bit of a nonsensical but catchy set of lyrics that both remain vague and also criticize America at the same time.
11. Heartbreak Hotel – Whitney Houston
Whitney Houston will always remain a legend in the R&B scene. With a few ad-libs and verses by some lesser-known singers added to the song, I have to admit that the guitar riff along with Houston's signature singing style really makes for a catchy song to jam out to, even today.
12. What Is Love – Haddaway
A 90s dance hit that took the world by storm, "What Is Love" became somewhat of an international success at the time of its release.
A mixture of 90s synth sounds and disco soul, you can practically still hear every club in the 90s playing this song every night.
I find it's definitely not a song to listen deeply to, since the lyrics are simple, but catchy either way.
13. My Heart Will Go On – Celine Dion
Originally written by composer James Horner and lyricist Will Jennings for the Titanic soundtrack, Celine Dion didn't want to sing this song at first, oddly enough.
She felt she would be pushing her luck after having already sung two other songs, namely Beauty and the Beast and Because You Loved Me.
14. Don't Speak – No Doubt
Strange to think that Gwen Stefani was once part of a politically charged rock band.
Don't Speak was one of their songs that appealed more to the masses, and it marked the start of a move from the deeper lyrics of their original band writer to the more simplistic sounds of Stefani's lyrics.
Don't Speak was a massive hit back in 1995.
15. Vogue – Madonna
Madonna was definitely a force to be reckoned with back at the height of her music career.
She's aged a bit like a prune nowadays, trying to retain her youthful looks, but she will always be a pop giant to her fans.
Vogue was a strike of her brilliance back in the 90s, having taken inspiration from 70s disco music, she set trends for dance music in the 90s with this.
The song is all about enjoying yourself and dancing no matter who you are.
16. Un-Break My Heart – Toni Braxton
Another R&B song.
Toni Braxton's deep female range really lent itself well to this song, giving it just the intensity and dramatic edge that it needed.
It's no surprise it was such a hit, with such a talented musician.
Oddly, Braxton expressed a dislike for this song, stating that she didn't want another heartbreak song, even though it was a worldwide success and won her a Grammy.
17. Genie In A Bottle – Christina Aguilera
Listening to this song makes you feel a bit like a teenage girl, which is weird for me because I'm a grown man.
But that was kind of its intended audience back when it was released in 1999.
A teen pop and dance-pop song with a mixture of R&B in it too, Genie in a Bottle was a huge success, with its message about self-respect and having standards.
18. Nothing Compares 2 U – Sinead O'Connor
Pretty much one of the only Sinead O'Connor songs that most people still remember today, Nothing Compares to U was pretty big for its day.
Even overshadowing O'Connor's other songs, Nothing Compares was originally composed by Prince for his side project, The Family.
Prince had composed it as basically a filler song, and it remained that until O'Connor came along and changed its arrangement for her style and made it a heart-wrenching classic about longing for unrequited love.
19. I Want It That Way – Backstreet Boys
You can't have a 90s countdown without mentioning the Backstreet Boys.
"I Want it That Way" was boy bands in a nutshell.
I personally dislike the song, but it has its place as a great hit for its time and I can respect that.
20. Wannabe – The Spice Girls
21. Linger – The Cranberries
22. Semi-Charmed Life – Third Eye Blind
23. Truly Madly Deeply – Savage Garden
24. Livin' La Vida Loca – Ricky Martin
25. Baby Got Back – Sir Mix-a-Lot
26. Sometimes – Britney Spears
27. Random Rules – Silver Jews
28. Alright – Supergrass
29. Damn, I Wish I Was Your Lover – Sophie B. Hawkins
30. Loser – Beck
31. Rebel Girl – Bikini Kill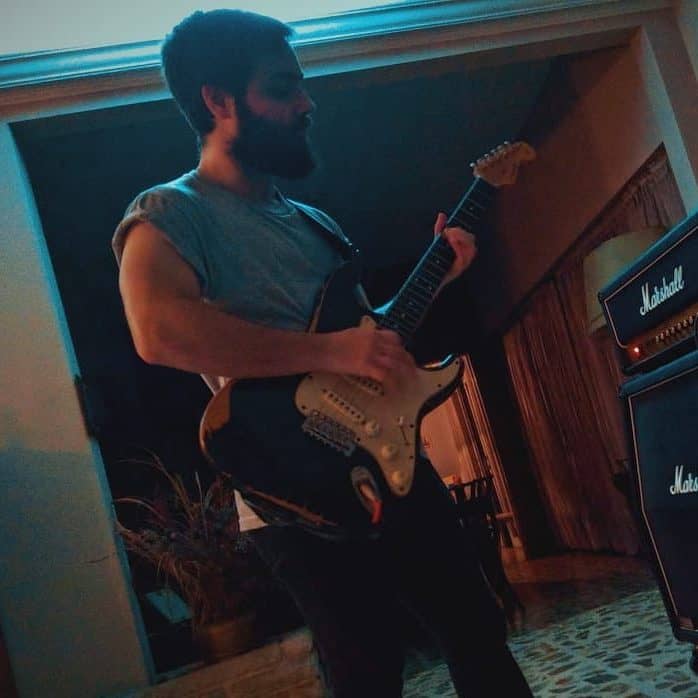 Hello there, my name is Ramiro and I've been playing guitar for almost 20 years. I'm obsessed with everything gear-related and I thought it might be worth sharing it. From guitars, pedals, amps, and synths to studio gear and production tips, I hope you find what I post here useful, and I'll try my best to keep it entertaining also.