Ah, Saturday!
The ultimate weekend day.
You can recover from Friday's shenanigans while looking forward to more tom-foolery before recovering for the work week (that's what Sundays are for, right?)
Every weekend needs a great soundtrack, and thankfully many artists have written fantastic songs about Saturday.
Here are a few to add to your weekend playlist:
1. Saturday Night – The Bay City Rollers
This Scottish band scored a no.
1 hit in the US in 1973 with this smashing party tune. From their album Rollin', this song drives with some great energy.
You can also keep your spelling of S-A-T-U-R-D-A-Y in check during the song!
2. Saturday Night's Alright For Fighting – Elton John
It's hard to find a standout track from an album full of standout tracks (Elton's fantastic Goodbye Yellow Brick Road).
This one is arguably Mr. John's most rock n' roll song, with its driving piano, a band that doesn't let up once they step on the gas, and lyrics that tell the vivid tale of a man that's ready to get rowdy.
Forget Nickelback's cover of this tune, go spin the original!
3. Saturday Night Special – Lynyrd Skynyrd
OK, this one is technically not about the day of the week, but the cheap pistol that some people tend to carry around.
The song, off the album Nuthin' Fancy, does talk about violence, particularly the impulsive kind, matched with a driving rhythm and great guitar work from Gary Rossington, Ed King, and Allen Collins.
4. Saturday in the Park – Chicago
One of the great and groovy songs on this list, it's hard to not bop your head and strut to this track.
From 1972's Chicago V, the album is all the things that make Chicago (the band) great, with the great vocal work, shifts in mood and tempo, and those horns! Gotta love the horns!
The slice-of-life lyrics about a day in New York's Central Park are the kind that anybody can relate to, conjuring images of good times.
5. Another Saturday Night – Sam Cooke
Who knows that a song about a lonely guy could be so upbeat?
From 1964's Ain't That Good News, the song tells the story of a lad who has a bunch of money to spoil a lovely girl, but alas, he's alone.
Cooke delivers a fantastic, upbeat performance, soulfully backed by the musical juggernauts known as The Wrecking Crew (a group of session players that were Los Angeles' equivalent to The Funk Brothers from Detroit and The Swampers from Muscle Shoals).
6. Another Saturday Night – Yusuf / Cat Stevens
Wait, didn't we just do this song? Yes, yes we did. If you consider both versions though, both should be welcomed to the party.
While Sam Cooke's version is classic soul, this 1974 single version brings a more laid-back groove that is just as effective, making you bop and strut in very different ways.
The production also brings in some cool elements, from the mariachi-style horns, and a double-time ending that just drives the bus home.
7. Saturday Nite – Earth, Wind & Fire
No list of Saturday songs would be complete without the mighty Earth, Wind & Fire.
This banger of a funk tune off the album Spirit is groovy and very reminiscent of a killer Stevie Wonder track.
Unlike the more dense September, Saturday Night is more sparse in its arrangement.
The major standout is the fantastic groove set up by Verdine White on bass. You can't help but dance to this!

8. Saturday Sun – Vance Joy
This one is a great pop song with some great sing-along vocables and a strong ukulele rhythm.
This song, off the album Nation of Two, was inspired by Joy's trip to Venice Beach, Malibu, and the Pacific Coast Highway.
The carefree lyrics about meeting someone and not wanting to walk away from it are very relatable.
9. Saturday Sun – Crowded House
No, this is not a cover version of Vance Joy (or Vance Joy didn't cover Crowded House either).
Off the 2010 album Intriguer, this track has some huge shades of U2/Eno/Lanois and a very up-front production.
Fans of Crowded House will no doubt enjoy it, along with anyone who digs fantastic pop-rock songwriting (courtesy of the great Neil Finn).
10. Mr. Saturday Night – John Pardi
John Pardi is probably one of the few mainstream country artists that really wears the country badge proudly.
The lyrics speak of love and loss, a happy-go-lucky guy that enjoys a good time while regretting losing the girl.
But don't let the lyrics fool you; it's still an upbeat tune that will keep country fans happy and have everyone ordering another round.
11. Single Saturday Night – Cole Swindell
If John Pardi has his feet in traditional country music, Cole Swindell is the exact opposite, embracing the new country sound.
No love-and-loss here, the song talks of Mr. Happy-Go-Lucky finding the girl of his dreams at the bar, and having his last "single Saturday night".
The song is just as upbeat as it gets, and there's no mistaking that this sounds like what is coming out of Nashville in these times.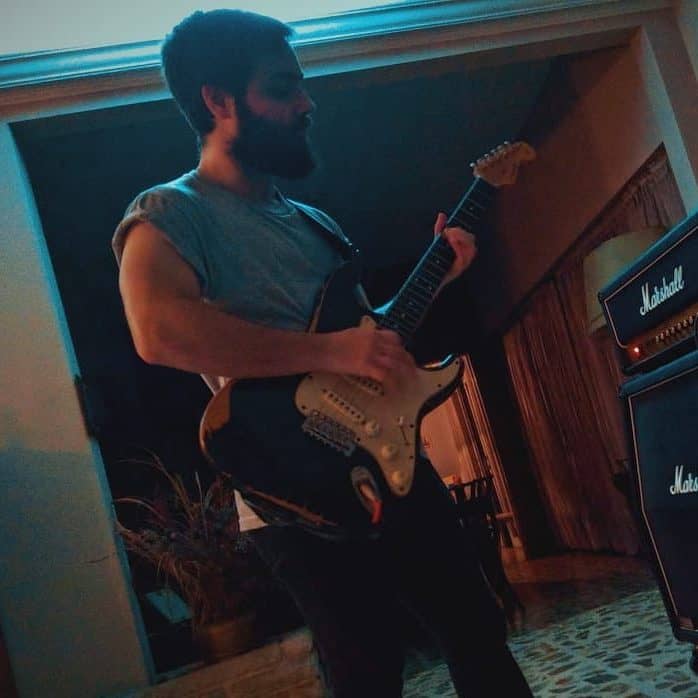 Hello there, my name is Ramiro and I've been playing guitar for almost 20 years. I'm obsessed with everything gear-related and I thought it might be worth sharing it. From guitars, pedals, amps, and synths to studio gear and production tips, I hope you find what I post here useful, and I'll try my best to keep it entertaining also.